If your dog has a serious accident in which he has lost a lot of blood, sometimes only a blood transfusion from a dog donor can save him. Then you just want them to save your puppy, and don't even think probably not that some four-legged animal donated blood, which then saved your life.
Until recently, donors were pets of veterinarians, their friends and acquaintances. Three years ago, four fellow veterinarians Metka Simundic, Darja Pavlin, Tina Roskar in Alenka Kropivšek, encouraged animal lovers to the Paw Donate project, where they create a database of proven dog or cat blood donors. The sponsor is the Veterinary Chamber of Slovenia, which covers most of the costs incurred.
"Blood donation in veterinary medicine has existed for a very long time. However, so far, whenever we needed blood, we borrowed a dog from friends and colleagues, and my Bondi has already donated twice, " said Tina Roškar, one of the initiators of the project and co-owner of the Moj Vet clinic. »He once helped a bitch with hemolytic anemia, a disease in which the blood breaks down due to autoimmune processes. The second is a bitch whose vein ruptured during a congenital defect operation. " Thanks to Bondi, they both survived. "Since there was an increasing need for blood, we said to ourselves that it would be good to do a bigger project that would cover the whole of Slovenia and include as many people as possible with their pets in the base." By doing so, they want to spread awareness about animal blood donation among people. Last but not least, there are many grateful owners of animals in Slovenia who have been seriously injured and whose lives have been saved by a transfusion.
We don't have a blood bank
Some big countries, like America and England, have a blood bank. They raise blood donors who can donate blood three to four times a year. "In our country, it would be absolutely too expensive, so for now the Tačka donate project is working quite well." They started three years ago. "Blood donors are mostly animals of our customers. Social networks are a great medium for getting new ones. If someone writes that his Piki is seriously ill and urgently needs blood, many donors respond, which we then try to persuade to join our online database. Its advantage is that it contains checked and tested dogs and cats, we already have a certain blood type, and when we need a blood donor, by filtering the database we quickly get information about who has, say, in the Ljubljana region a dog ready to bring. . But before, say, we would think about which of us and our acquaintances has a big dog that he would be willing to bring. Those who are registered in the database respond as soon as possible when we call them. "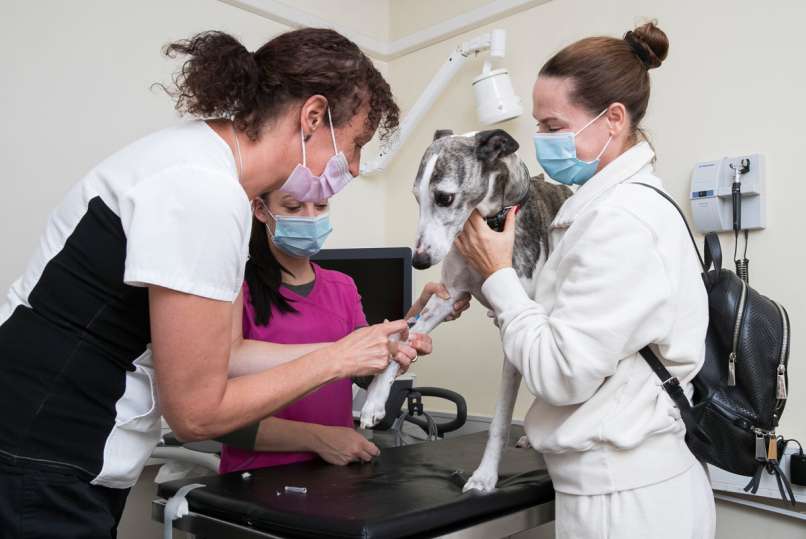 Photo: Andrej Križ
Blood donation in veterinary medicine has existed for a very long time, says Tina Roškar.
There are never enough of them
There are currently 250 registered dog blood donors, Tina says, but there are never enough. "Dogs are getting older, eight years can be the highest age of a blood donor, some get sick and die in the meantime … It would be ideal if the database was constantly renewed, but unfortunately information about the project is not so widespread, so the media with such publications you help a lot with that. " The project came to life the fastest in the Ljubljana region, where veterinarians were the biggest users of the online database. "Thanks mainly to the Faculty of Veterinary Medicine, where colleagues were most active in obtaining blood donors, as they have a 24-hour on-call service. However, we also helped some private clinics a lot. It's slower on the periphery, so we're still encouraging younger colleagues who may not be so good at transfusion to join the project. " They do not take blood in advance unless they are planning an operation where they know they will need it. "If we don't use blood during the operation, we inform the rest of our colleagues on social media that it is available if they need it." Transfusion is most often needed in dogs that have been involved in major accidents, poisonings, diseases that cause blood breakdown. , in chronically ill and cancer patients. Dogs need it more often than cats, although the number of cat patients in Slovenia is growing.
Blood groups also in animals
Like human blood, animal blood is divided into blood groups. "We have more than 12 blood types in dogs, but the most important group is DEA.1.1. Dogs are tested for this group and are labeled as DEA.1.1 positive or DEA.1.1 negative. In cats, we have the A, B and AB systems. In dogs, the rule is that they can get any blood for the first time, but we still encourage them to get their blood type if at all possible. The cat, however, must get exclusively its own blood type. Otherwise, hemolysis and a transfusion reaction occur, which means that the blood begins to break down and the animal may die as a result. But there is another interesting thing, namely, a cat can get dog blood once in a lifetime, and then develop antibodies against it. But these are really very rare cases. "
Dedicated owners
Some owners who invite them to the Paws donate project decline the invitation because they feel sorry for the animal, fearing that it will suffer too much when it is stabbed in the vein during retrieval. "But we also have a lot of brave blood donors who come several times. We are especially grateful to one lady. It has four short-haired black retrievers, all of which are DEA.1.1 negative. The blood of such dogs is more sought after, as negative dogs can get the blood of positive blood donors, while negative dogs are supposed to get their blood at the first transfusion. This lady is really very kind, she always responds. When we call her, she even shifts her job and organizes herself so she can bring one of her puppies. They are all big, healthy dogs and peaceful blood donors. "
Which is very important, as such dogs lie still while giving blood, and do not need to be particularly calmed. "Dogs mostly just lie down. We also collect those who do not need to be given sedatives. It's different with cats. The cat will not lie still, so it gets a little sedative to calm down and taking blood is less stressful for it. " They take so much blood that the animal can then continue to function completely normally. "It's nice to get a good can that day and not be too physically active."
Suitable blood donors
Suitable canine blood donors are between one and eight years old and weigh at least 25 kilograms. They must be healthy, free of internal and external parasites and protected against heartworms. Cats should be indoor, large, weighing at least six kilograms. It is important that they are healthy, that they do not have chronic or respiratory diseases. "We currently have 25 of them in base. They are harder to get than dogs. Maybe it's because they have a different character than dogs and it's more stressful for them, so we still often borrow our own cats. " Tina admits that sometimes it's still easiest to use your pet's blood. "Especially if we have it with us. It happens to take an hour, two, three to get someone who can come. In certain diseases, say autoimmune hemolytic anemia, we have from a few hours to a day to get a blood donor. For those who experience severe trauma, an accident – we had, say, a puppy whose leg was cut off by a train – blood must be obtained at that moment. Then we are really grateful to the one who responds immediately. " In such cases, of course, smaller animals can also donate blood. "We had a bitch with a serious illness whose condition was getting worse day by day. However, the owner's friend said that the blood would be donated by her Božo, an English bulldog. So it is not necessary for an animal to be rescued by a German Shepherd or a Golden Retriever. When we calculate how much blood we need, even a smaller dog can save the life of another puppy. "
Animal blood donation is charitable, because it means the most to the owners that they have saved a life or even more lives with their pet in this way!
Read more interesting content in the new issue of Zarja Jana magazine.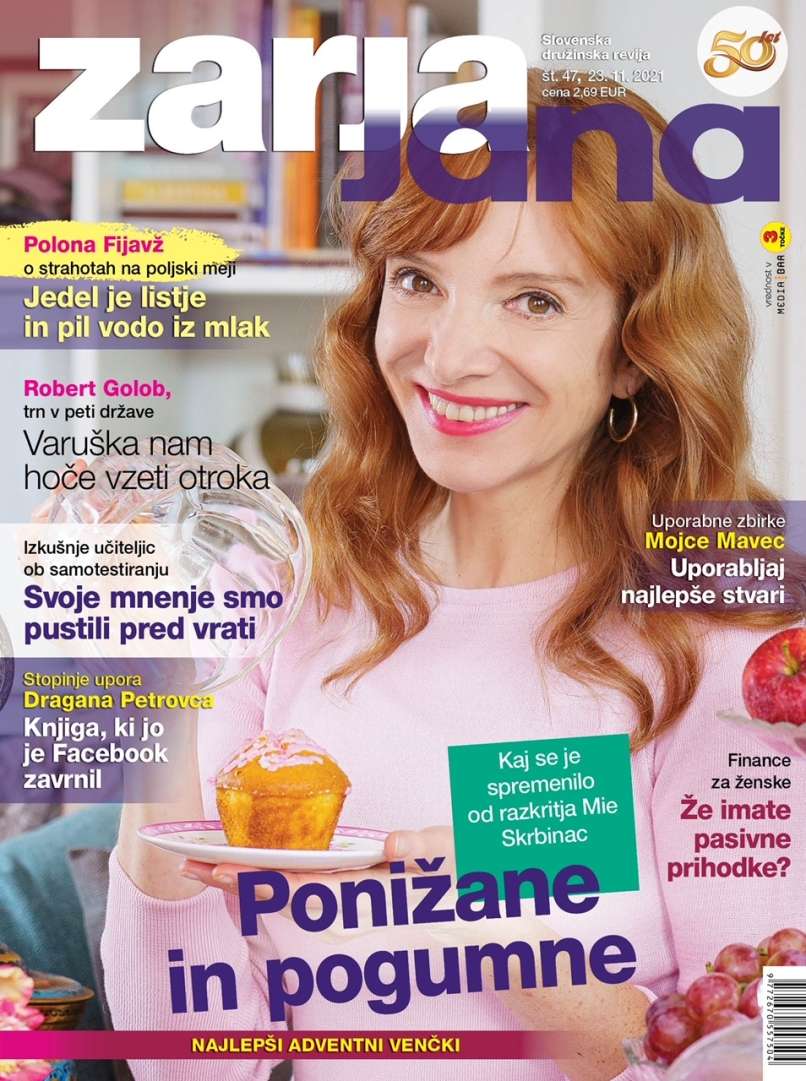 zarja jana
cover
---
Source: Svet24.si by novice.svet24.si.

*The article has been translated based on the content of Svet24.si by novice.svet24.si. If there is any problem regarding the content, copyright, please leave a report below the article. We will try to process as quickly as possible to protect the rights of the author. Thank you very much!

*We just want readers to access information more quickly and easily with other multilingual content, instead of information only available in a certain language.

*We always respect the copyright of the content of the author and always include the original link of the source article.If the author disagrees, just leave the report below the article, the article will be edited or deleted at the request of the author. Thanks very much! Best regards!
---