What is the purpose of your life? You are probably having a hard time answering. It is OK! Just close your eyes and imagine your craziest desire to receive flesh and blood.
Feel the emotions of joy and excitement flooding every inch of your body. What if they told you that there is a notebook of dreams and realizations that is just waiting for your pen to unlock your most magical wishes?
Because in the end we are all the genies and our story begins exactly the moment we decide to write it.
An exciting 12 month adventure
The book by Nikolaos Smyrnakis "Write your own story" by Dioptra Publications is a different diary, a flight to the stars of happiness and a journey to the poetry of existence itself. You do not need to start now because it is the beginning of the year even though it is a good reference point. It is always an opportunity for a new beginning. When you feel the need to start then is the right time.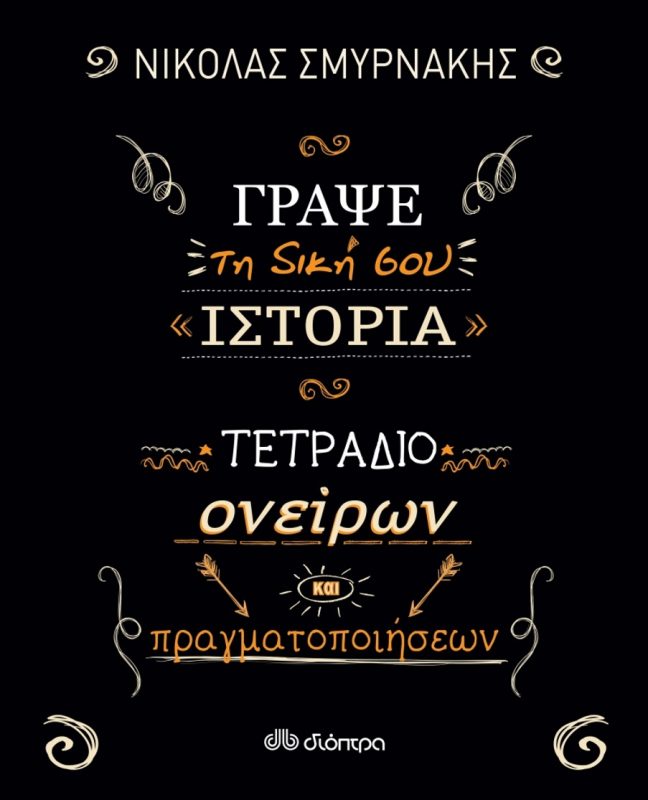 We do not always have to worry about a Monday, a September or that New Year in order to be transformed into our fullest version. Let's start whenever we feel ready for an exciting 12-month adventure that only requires a pen or pencil but promises miracles.
By recording our thoughts we will feel even greater longing to realize them. And simple ideas will meet other simple ideas, which together will become great. We will remember what we have to do and after relaxing we will come in deeper contact with our unconscious. After all, writing is like an anchor that ties the mind to a port and the first moment that a thought invades from the world of fantasy to that of matter.
The game of life becomes more fun with a purpose
First, let us clarify the following: Life is a game. But every game to become fun needs a motivation, the one that will help the player to enjoy it to the fullest, enduring the difficulties. So how do you turn your life into a pleasant experience? Of course, following your dreams. What is your fundamental "why"? Make sure you include as many teammates as possible in your circle, as you will need allies on the way to winning the trophy.
Make your goals specific, set your own schedule that will act as an antidote to utopia. And to avoid stress, focus on regular activity instead of the result. Say "I will write 20 pages a day" instead of saying "I will finish my novel in 6 months". Do not be afraid of failure. Spend all your energy on the effort and enjoy every minute of it. Do not forget that once a goal comes to life on paper, a variant of it is already preparing to reward you. Focus on the dream. If you know the "what" and the "why", do not worry about the "how".
So write down the purpose of your life. When you feel you know him. Feel free to update it as many times as you deem necessary. But answer honestly: What is it that makes your heart sing? Then break the big goal into sub-goals. Record 5 for each month. And then keep a daily plan. Today is Monday and you will complete the work project, water the plants, call the friend you are arguing with. Very nice. Delete everything you complete from the list. Don't you already feel great about your discipline and dedication?
Make your winning list. What were the small or big triumphs of the month? What difficulty did you overcome, what challenge did you face? And of course do not neglect the list of gratitude. You have good health, wonderful friends, a warm home. Cheer up. In fact, establish a celebration ritual every month, even for your small conquests.
Did you spend 30 days in the gym while you are the guy who struggles to get out of bed on his couch? Congratulations! Enjoy it. As for that list of accomplishments that includes what you neglected, do not worry, it happens to all of us. Just make a note of the major postponements and schedule them for next month.
Try systematically and dare to change
Change is not the good godmother of Cinderella, who will automatically transform the carriage into a pumpkin. It requires your systematic effort. To constantly grow taller, to expand mentally, to learn. Start simple: Arrange your space. Then join an environment full of stimuli, surrounded by people who evolve you. Ask yourself the key questions that will connect you to your true purpose: Why do you wake up every morning?
Leave procrastination behind. For the next 24 hours why not do everything you could postpone for tomorrow? Then turn time into your friend. Steal a moment in the day to enjoy an activity with all your senses. Imagine yourself in the future, experiencing his most exciting desires and getting rid of his problems. How do you feel; Unbelievable, right? Now get out there and apply the theory. So simple!
Do not hesitate in the face of the unusual. The pioneers see the new before the rest even suspect it. They are the crazy and the daring, the idealistic and the eccentric who oppose conventions. Keep alive the spark of madness that differentiates you from the crowd. And follow her. This is how others will follow you: If you have a magic to offer them, a melody to sing to them, a gold dust to scatter.
Success equals happiness
And the fear? It will always accompany your mortal existence. Understand him. Take him in your arms. But then get over it: Once a week try something that makes your legs tremble. Victory is the conquest of the awkward, remember. Express your gratitude. Tell today 3 people close to you how much you care for them. Notice the smile on their faces.
Make time for what you love. Success equals happiness. Draw, write. Even in the afternoons. At worst you will feel joy, at best you will grow. Connect with people. Deep, complete. Always give them something more than they expect or think they deserve. You will receive back an invaluable treasure.
For every story that is written, the world is rebuilt
Nikolaos Smyrnakis with the book "Write your own story", invites us to join the pieces of the puzzle. And we realize that this is the puzzle of our own existence. With awe we now hold the pieces in our hands. But we find that in the end the end was never the end destination but what we learned along the way, the tears and laughter, the defeats and the victories that transformed us into who we are today.
Nikolaos Smyrnakis's alternative diary is equivalent to our golden opportunity to think and review, to overcome our weaknesses and to strengthen our talents. It is the leap into the unknown and our great shift. Each of the 12 months brings us closer to our ideal self and whatever dream we record is embodied in the story that is worth experiencing and in the wish that finally meets us. And for each of us who writes his story, a world is changing. We will change it together!
---
Source: Εναλλακτική Δράση by enallaktikidrasi.com.

*The article has been translated based on the content of Εναλλακτική Δράση by enallaktikidrasi.com. If there is any problem regarding the content, copyright, please leave a report below the article. We will try to process as quickly as possible to protect the rights of the author. Thank you very much!

*We just want readers to access information more quickly and easily with other multilingual content, instead of information only available in a certain language.

*We always respect the copyright of the content of the author and always include the original link of the source article.If the author disagrees, just leave the report below the article, the article will be edited or deleted at the request of the author. Thanks very much! Best regards!
---