3rd anniversary of the UNESCO World Heritage List'Seowon of Korea'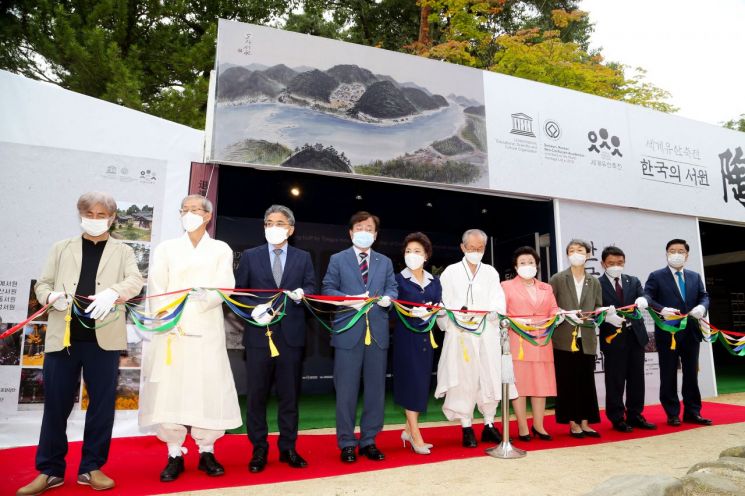 [아시아경제 영남취재본부 박동욱 기자] '2020 World Heritage Festival-Opening Ceremony of Korea's Seowon' was held on the 3rd at the World Heritage Dosan Seowon, located in Andong City, North Gyeongsang Province.
The opening ceremony of this festival was decorated with a celebration concert and an exhibition commemorating the 1st anniversary of Korea's Seowon registration last year under the theme of'Flying the fragrance of Ongojishin'.
The '2020 World Heritage Festival' consists of a variety of programs, including traditional performances and representation events aimed at world heritage, as well as seminars and experiences related to world heritage. Starting with the opening ceremony on this day, it will be held in Gyeongsangbuk-do (Gyeongju and Andong) in August, and Jeju Island in September.
At the ceremony ceremony held at Dosan Seowon, a performance drama'The Teacher of Mankind's Toegye Teacher' was put on the stage. At the festival concert, a fantasy of music unfolded with 12 Korean songs including Dosan chorus, pansori, and gayageum and western music such as soprano, baritone, cello, and violin.
The Dosan Seowon Exhibition will also be held for two weeks until the 19th with the theme of'Dosan Seowon, telling the spiritual values ​​of mankind.'
Kang Seong-jo, the governor of Gyeongbuk Province, attended the opening ceremony of the day. Gyeongbuk will take the lead to make it possible."
Reporter Park Dong-wook, Yeongnam Interview Headquarters [email protected]