Genre
Action
Publisher
Blowfish Studios
Publisher in Russia
Not
Developer
Sky Machine Studios
Minimum Requirements
Processor Intel Core i5-6400 2.7 GHz / AMD Ryzen 5 2600 3.4 GHz, 8 GB RAM, DirectX 12 graphics card and 4 GB memory, such as NVIDIA GeForce GTX 960 / AMD Radeon R9 380, 10 GB hard disk space
Recommended Requirements
Intel Core i5-7400 3.0 GHz / AMD Ryzen 5 1400 3.2 GHz, 8 GB RAM, DirectX 12 capable graphics card with 6 or 8 GB of memory, such as NVIDIA GeForce GTX 1060 / AMD Radeon RX 580
release date
April 19, 2022
age limit
From 16 years old
Localization
Text
Platforms
PC, PlayStation 5, PlayStation 4, Xbox Series X, Xbox Series S, Xbox One
Official site
Played on Xbox Series S
As bloodthirsty as it sounds, handing out headshots right and left is one of the most fun things to do in video games. On a basic level, this is one of the main reasons why shooters are so popular. Some developers even pay special attention to the sound that follows a well-aimed headshot, such as the authors of Overwatch. And if you shoot not from a banal pistol, but from a bow, the effect is even cooler: you pull the string, aim from cover, and then you see an arrow in someone's skull. It's a pity that the authors of Winter Ember don't treat archery with the same love.
⇡#Deceived expectations
Here, the bow is practically useless as a weapon against guards scurrying back and forth. This is despite the fact that the protagonist's arsenal is rather meager, because he is a thief in a hood, capable of climbing cornices and hiding behind low shelters. When you shoot a target for the first time with a bow, and it only gets wounded and runs at full speed at you, you have an unpleasant feeling that you did something wrong. It can't work like that! But that's exactly how it's meant to be.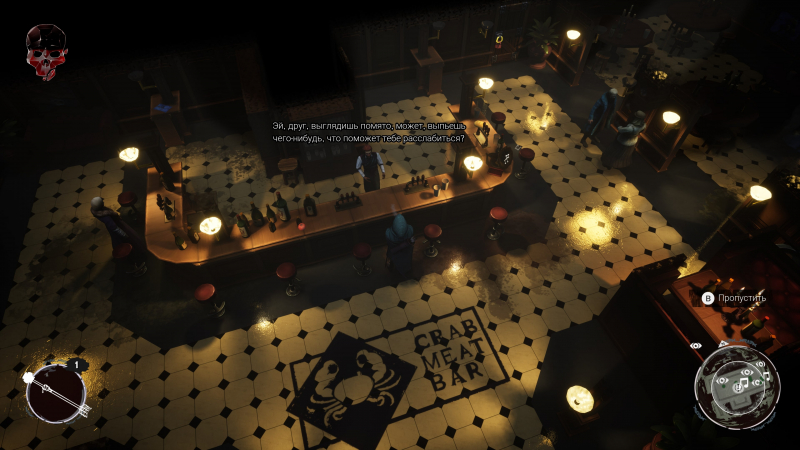 At this point, Winter Ember begins to fall apart, because after such a scoundrel, the imperfection of all its elements, without exception, becomes more and more obvious. You lose interest in the plot instantly, right after the strange anime-style introductory video, which seems to be taken from another game altogether. From it we learn that the main character is a certain aristocrat, to whom one night a gang of villains made their way into his house. They killed the butler and his mistress with all cruelty, and for some reason they preferred to burn the protagonist alive – naturally, he survived and is going to take revenge.
The gameplay is best described with the phrase "Thief with a top view" (sorry for this comparison, Thief): we get into a large area, get tasks, move from point to point and do everything as stealthily as possible. The main feature of Winter Ember is that here you can create arrows from the resources found, and there are already three dozen types of them. This seems to be a significant advantage, but the scope of these arrows is very limited.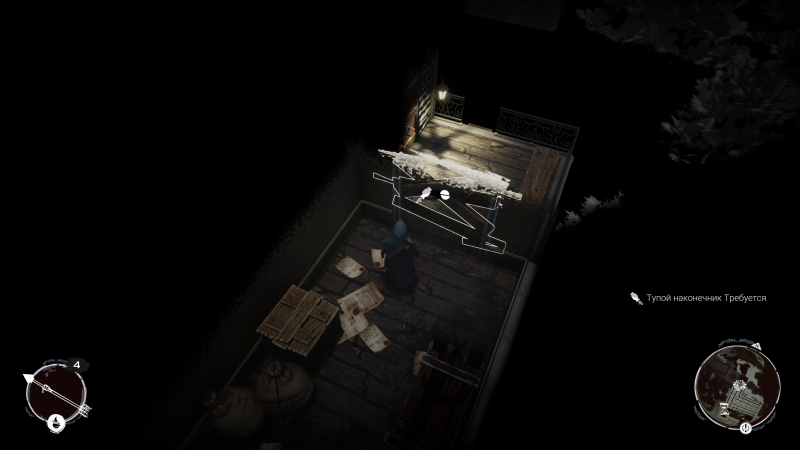 For example, you stumble upon wooden boards that do not allow you to enter somewhere. The first thought is to cut them with a sword, which the main character is fluent in. Unfortunately, this doesn't work. When you approach the boards, the game prompts that you need an arrow with a blunt tip – only it can destroy the barrier. If it is not in your inventory, you decide to experiment – you create a fire arrow and hit one of the boards. It burns for a couple of seconds, but does not fall apart. The game is adamant – they told you, with a blunt tip, then with a blunt tip!
No reaction to experiments and logical assumptions, everything is strictly within the narrow framework of what was planned. Even if you bring an ordinary arrow to a fire or a candle (of which there are a million), it will not light up. You encounter restrictions at every turn, especially when you explore locations and try to find a way to get somewhere. The hero can climb the boxes, but he does so very selectively, even if the objects have the same height. In general, there are very few opportunities, the game is sorely lacking at least some variability.
⇡#There are no tears under the hood
Instead of a full-blooded and varied stealth, you get an indistinct puzzle "guess what the developers want from you": which window to climb into and which board to go through. The difficulty is that the camera is unsuccessful (well, at least you can turn it), and the map is not very useful – it seems dirty due to an overabundance of pixel spots, and even opens with two clicks. Locations are gray and boring, it is difficult to distinguish one apartment from another, everything is mixed up and causes confusion at the same time as a headache.
Stealth elements are implemented more or less well, although Winter Ember does not offer anything new at all. You can squat down, quietly get close to the target from behind, and then kill him or knock him out (no difference, it does not affect anything). They also allow you to rob the enemy, and not eliminate him, but there is little point in this – neither the plot characters, nor passers-by on the streets will appreciate your humanity. Corpses can be dragged and hidden in the bushes, and the character himself is able to both "stick" and look through keyholes to assess the situation before opening the door.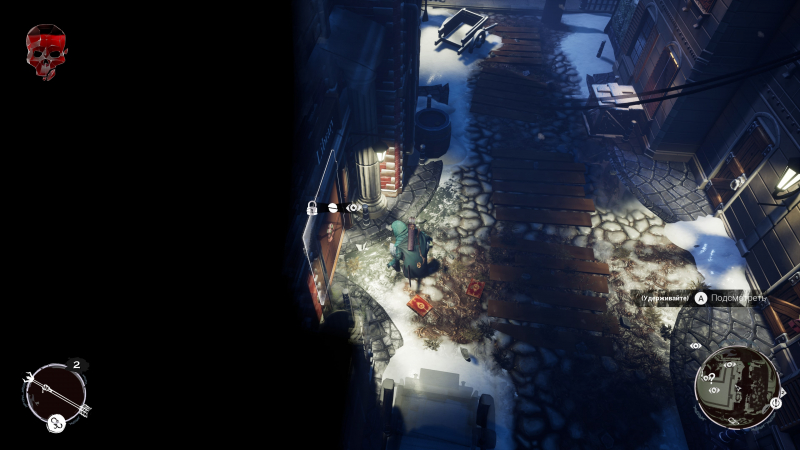 The idea is not bad, but you don't use it very often, nor do you hide in large boxes and cabinets. Enemies follow the same routes, always behave predictably, so there are no difficulties. And if you are still noticed, then fight with swords: put a block that no one is able to break through, quickly respond to attacks and parry – everything is as primitive as possible. The alarm is not raised, so that the enemy on the next street will not know about a comrade killed at some intersection until he sees him.
At the same time, there is a risk of reaching a dead end, from which the game will no longer lead. For example, if the infamous blunt-tipped arrows fail to create due to lack of materials, then there are two options: either search every corner in search of resources, or go to the store and buy them. Both may not lead to the desired result. There are a huge number of forks, bowls and rings in the cabinets and chests of drawers, which are only suitable for sale, and the goods from the merchant are not endless – if you have already bought all the materials, then he will not have new ones. It remains only to load an older save.
Well, the last problem of Winter Ember is a nightmarish optimization on the Xbox. When you go through a similar game on a new generation console and watch about 15 frames per second, there is little pleasant. Because of this, even basic mechanics cause difficulties: it is almost impossible to parry attacks, and even more so to break complex locks. The delay the game takes to respond to a button release makes it easy to make mistakes and lose valuable lockpicks – finding new ones is easy enough, but in a couple of places the frame rate was so low that it took more than ten attempts to pick the lock.
***
Winter Ember is not hopeless: the locations are pretty, though monotonous, and hiding behind carts and sneaking up behind patrolling targets does not bother you. However, it is too low-budget, too simple – many of its elements have not received proper development. The arrow idea is good, but it's fenced in with restrictions and the level design leaves a lot to be desired. I would like to see the same game with the shortcomings corrected – for sure, something more or less worthy would have turned out. But this is unlikely to happen.
Advantages:
nice locations;
basic stealth elements are implemented well.
Disadvantages:
uninteresting plot;
arrows of many kinds create not variety, but a mass of restrictions;
locations are straightforward and do not offer many ways to solve problems;
inconvenient interface;
bad optimization.
| | |
| --- | --- |
| Graphics | Locations are mostly dreary and monotonous, although at times they look good. Terrible optimization spoils everything. |
| Sound | The music will not be remembered, as well as the acting. |
| Single player game | Even the most ardent fans of stealth games will certainly be bored – everything that the novelty has to offer, we have seen a hundred times before. Monotony, inconvenience and many strange decisions – that's what awaits you in Winter Embe. |
| Estimated travel time | 15 hours. |
| Collective game | Not provided. |
| General impression | Unsuccessful attempt to make Thief with a top view. The further you go, the harder it is to get rid of the feeling that the game is stealing your time and offers nothing in return. |
Rating: 4.0 / 10
Learn more about the grading system
Video:
If you notice an error, select it with the mouse and press CTRL+ENTER.
---
Source: 3DNews – все новости сайта by 3dnews.ru.

*The article has been translated based on the content of 3DNews – все новости сайта by 3dnews.ru. If there is any problem regarding the content, copyright, please leave a report below the article. We will try to process as quickly as possible to protect the rights of the author. Thank you very much!

*We just want readers to access information more quickly and easily with other multilingual content, instead of information only available in a certain language.

*We always respect the copyright of the content of the author and always include the original link of the source article.If the author disagrees, just leave the report below the article, the article will be edited or deleted at the request of the author. Thanks very much! Best regards!
---