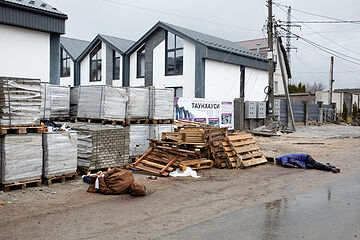 April 3, 2022 | Murdered civilians in Butsha (Ukraine) lie on the street.
Reuters (CC-BY-SA-4.0)
Horrific images from Butsha (Ukraine) at the beginning of this month: the streets were strewn with corpses of tied up citizens. Bodies had been left in mass graves. As evidence of Russian atrocities against Ukraine mounts, calls for the perpetrators to be brought to justice are growing.
US President Biden spoke of genocide and wants Putin to be prosecuted as a war criminal. In a recent rapport The Organization for Security and Co-operation in Europe (OSCE) concluded that war crimes were indeed committed in Ukraine – not only on the Russian side, by the way.
Still, it remains to be seen whether Putin (or any of his senior associates) will ever stand trial. Because Russia does not accept the jurisdiction of the International Criminal Court. We discuss this with Marten Zwanenburg, professor of military law at the Faculty of Military Sciences of the Netherlands Defense Academy and the University of Amsterdam.
Rules of War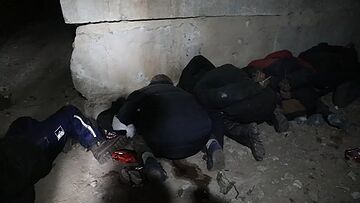 April 3, 2022 | Executed people with wrists tied behind their backs, in cellar in Butsha (Ukraine).
CC BY 3.0
Is President Biden right when he talks about war crimes and genocide in Ukraine? "That's a simple question, but the answer isn't that simple," says Zwanenburg. It's tempting to think that Putin is committing war crimes because he illegally invaded Ukraine, but that's a bit different.
Invading another country is not allowed just like that. This is laid down in the Charter of the United Nations, says Zwanenburg. There are two exceptions: if the UN Security Council authorizes the use of force or if a country exercises the right to self-defense. Putin wrongly invokes the latter.
However unjust the invasion of Ukraine may be; That does not mean that there are war crimes. "The law of war assumes that there is a conflict, and does not interfere with the question of who the aggressor is," says Zwanenburg. "Just because Russia has illegally invaded Ukraine does not mean that all actions by Russian military personnel are war crimes, or that Ukraine can do anything to defend itself."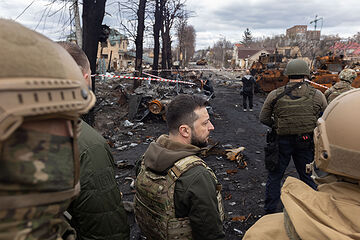 April 4, 2022 | Ukrainian President Volodymyr Zelensky in Butya, Ukraine after the Russian invasion.
Oleksandr Ratushniak (CC BY 4.0)
Rules apply in a war. If you want to talk about 'war crimes', then there must be 'serious violations of the law of war'. This right is enshrined in, among other things, the four Geneva Conventions, a series of humanitarian rules that must be observed in war. "An authoritative list of violations that are considered war crimes can be found in Article 8 of the Statute of the International Criminal Court," says Zwanenburg.
The four Geneva Conventions, adopted in 1949, deal with the protection of civilians, prisoners of war, naval forces and land forces. "Russia and Ukraine are both parties to the four treaties," says Zwanenburg. "They are also parties to the first additional protocol from 1977, which includes rules about attacking persons or objects."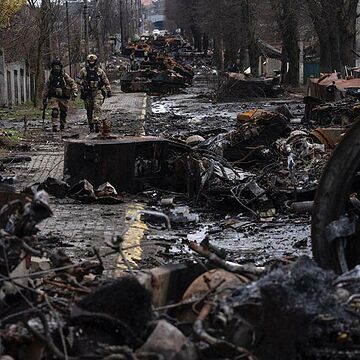 April 4, 2022 | Butha (Ukraine) after the Russian invasion that resulted in civilian deaths, massive devastation in urban centers and destruction of civilian infrastructure.
Ministry of Digital Development Mikhail Fedorov
"In a war you may only attack soldiers or military objects, not civilians or civilian objects. Now it appears, as the OSCE report shows, that civilians in Ukraine have been deliberately attacked. So many civilian objects are being hit (schools, apartment buildings, hospitals) that it is unlikely that the Russians tried to hit only military targets."
Rules are also being violated on the Ukrainian side, the OSCE report says, although the scale cannot be compared with the Russian violations. "Prisoners of war must be treated fairly according to the law of war," says Zwanenburg. "Last week a video surfaced of Ukrainians shooting Russian prisoners of war in the legs. If that's true, then that's a war crime."
This also applies to the Ukrainian unit that stated 'it will not take prisoners of war'. "Then you imply that you are going to shoot them," says Zwanenburg. That is not allowed: "You have to give someone who wants to surrender that chance."
A judge will ultimately have to determine whether war crimes have been committed in Ukraine. "But I think there is little doubt about that," says Zwanenburg. Whether there is also a question of genocide – a term used by Biden and Zelensky – he finds 'a lot more difficult'. "Genocide is more difficult to prove," says Zwanenburg. "You would have to prove that the intent of Russia is to completely or partially exterminate the national group of Ukrainians because they are Ukrainians."
The tribunal
The International Criminal Court is currently investigating war crimes and crimes against humanity in Ukraine. The International Criminal Court, the world's first permanent tribunal for international crimes, is based in The Hague, but has 123 member states around the world. The task of the court is to try serious crimes such as war crimes and genocide.
But there is a problem: Russia does not recognize the jurisdiction of that ICC. That makes it more difficult to prosecute Russian soldiers, explains Zwanenburg. Suspects can only be prosecuted if they are handed over to the Court. Russia can decide not to extradite soldiers or not to cooperate with investigations.
Nevertheless, a lot is still possible, thinks Zwanenburg: "Ukraine is not a party to the International Criminal Court either, but has accepted the jurisdiction of the court. This means that the ICC may rule on crimes committed on Ukrainian territory, including crimes committed by Russians in Ukraine."
"States are not obliged to join the International Criminal Court," says Zwanenburg. "The United States is not affiliated either. Countries make a risk assessment of whether their own nationals should appear before the Court. If I had been Russia and had known that I was committing war crimes, I would not have become a party to the Statute of the International Criminal Court."
Are Ukrainians more at risk of being tried than Russians simply because Ukraine accepts the jurisdiction of the International Criminal Court? Zwanenburg: "They run the risk that the court will eventually also prosecute Ukrainians, but I would rather turn it around: it is good that Ukraine submits to monitoring by the International Criminal Court, because apparently their assessment is that crimes are mainly committed by the Russians. committed."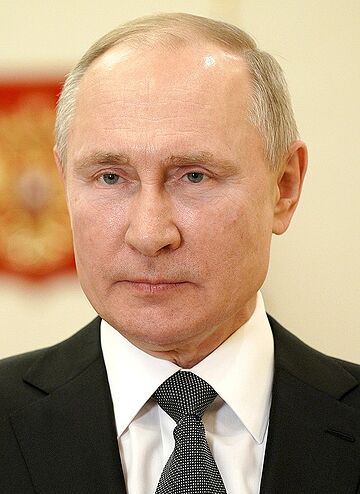 Russian President Vladimir Putin.
Kremlin.ru (CC-BY-4.0)
Will Putin ever appear before the International Criminal Court? "I think the chance in the short term is very small," says Zwanenburg. "But since the International Criminal Tribunal for the former Yugoslavia, we also thought there was little chance that President Milošević would ever stand trial for war crimes. In the end it did. And earlier this year, a Syrian was convicted in Germany who headed an Assad torture prison."
Although the chance is small that Russian rulers will appear in court in the short term, Zwanenburg certainly does not rule it out in the long term. "At the very least, the pressure is ramping up. Putin and his associates cannot simply travel for fear of being arrested. That measure is valuable in itself."
---
Source: Kennislink by www.nemokennislink.nl.

*The article has been translated based on the content of Kennislink by www.nemokennislink.nl. If there is any problem regarding the content, copyright, please leave a report below the article. We will try to process as quickly as possible to protect the rights of the author. Thank you very much!

*We just want readers to access information more quickly and easily with other multilingual content, instead of information only available in a certain language.

*We always respect the copyright of the content of the author and always include the original link of the source article.If the author disagrees, just leave the report below the article, the article will be edited or deleted at the request of the author. Thanks very much! Best regards!
---