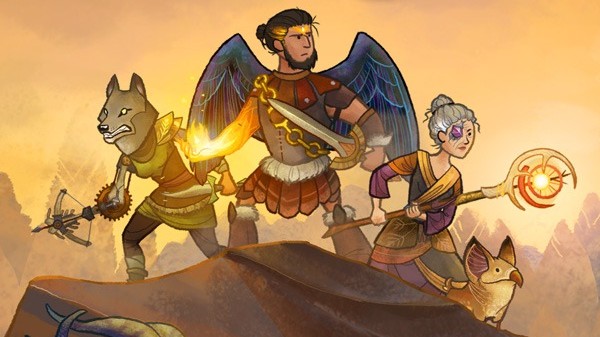 When I look 50 years into the future, I see myself swinging in a chair. A fireplace flashes before my eyes, bare feet huddled in comfortable slippers. I press a pipe between my teeth, unlit, because tobacco has been banned for decades. And a computer is on my knees. A prehistoric model, made in 2032, running on good old Windows 12. And it runs Wildermyth.
Wildermyth tells me story after story to the sounds of crackling logs. Heroes are born and die, captivated by the fires of love and hatred, trying to save the world, but often unable to save themselves. They meet dragons and gorgons, they fight with animated machines, they turn into frog creatures, they sprout their wings, they age until their hair is whiter than mine. Always different. Always original.
Of the young grandfathers
Wildermyth is a turn-based RPG in which you put together a bunch of adventurers, mages, warriors and border guards, you travel around a map of the world, and if you encounter any monsters, you smash them in turn-based battles on a square map. Or they'll break you, which has Xcomov effects, say – whoever of your boys and girls dies is just dead, even if he's more self-evil.
The joke is that heroes are generated randomly, just like the landscape, as well as the enemy forces. That you don't find it so funny? Prepare your diaphragm. Wildermyth can also create a unique, albeit randomly composed, but still controlled by certain rules narrative.
Your party will arrive at the new location. The game reflects on what heroes came where and chooses one of the pre-prepared short stories. And so, in comic book style, you watch your cowardly mage fear the coming attack of the gorgon, how he is reassured by his kind border guard, how they quarrel with an explosive warrior because of it. If you had three brave fiery heroes with you instead, the scene would adapt.
Relationships develop, friends become rivals, young lovers wrinkled parents of the next generation of adventurers. Sometimes there are downright strange events, such as when a god of the wilderness chooses a member of the party as his avatar. It's a call you can resist, but if you don't, the unfortunate person will start the transformation into a wolf. He is a hybrid monster, a man with a wolf's head, and later wolf's limbs, but he is also faster and stronger, so from the point of view he could easily consider himself a lucky man.
Stop kissing that pooch!
It's true that although the game responds very dynamically to developing interpersonal relationships, it can't quite cope with those really extreme changes in the nature of your heroes. For example, when a border guard becomes such a good dog as I described, sometimes a specific event peeks out at you, which reflects his hairy status, but otherwise everyone behaves as if nothing had happened. Even including the fact that our newly baked Azor is having fun in the hay with his girl and they are exchanging passionate kisses during the moonlight, which is, let the dogs forgive me, damn disgusting.
What else is disgusting? Literary level of individual events. They are disgustingly good. It is evident that several very talented screenwriters worked at Wildermyth – in a small space, bound by the variability of the protagonists' natures, they manage to draw touching moments, extremely funny dialogues and epic culminations of quests to save the world.
Heroes tease, philosophize, cry. There are truly wonderful things going on in the world around them that call the fantasy genre the way it is called – just wait until you first meet a smiling demigod turtle, a silent giant that leaves no traces, an immune system in the form of a cunning wild boar. You will watch. Your characters will be watching too. And together you will enjoy it because you love each other.
In addition, you have the opportunity to assemble the party as you wish, which we showed in our LongPlay, where the heroic burden was taken over by the Games.cz editorial staff. Your friends, acquaintances and family can fight: You adjust their appearance, characteristics, statistics and then just watch in amusement as everyone quarrels or loves passionately while saving the world.
Paradise in the workshop
The game can charge personalities with both randomly created dolls and those you enjoy yourself, although it is true that you must not poke so much depth into their characteristics. It is better to approach Wildermyth as a dream, as a half-forgotten legend, in which not everything makes sense. Then you will no longer mind inconsistencies in the story and characters, such as suddenly brave cowards or meetings of people who are at opposite ends of the map.
What bothers you are recurring events. Because the game tells you something literally in one piece, the rich well of pre-prepared stories will gradually dry up and you will start to meet what you have already seen, which is unpleasant. Then one easily gets into a situation where everything clicks without reading, because he already knows what is going on in that strangely cold cave – and thus loses, for example, new, for example, fun pieces of dialogue between his charges.
But there is a reason why this seemingly critical problem is far from critical. It's the same reason why I don't need to talk at length about too limited a selection of faces, armor and hairstyles. And that is why the creativity of the community is.
Extremely modular, Wildermyth makes it easy for users to create and share everything: new stories and events, hero traits, visual enhancements, and often creations that interfere with the gameplay itself, as if your warrior becomes a galloping centaur. The quality level doesn't always match what the original game has to offer, but often it does – and given the warm welcome Wildermyth has received, I don't think the stream of community improvements will just dry up. Just head to the Steam Workshop and choose what you like.
Death for error
The reason why Wildermyth is an extremely pleasant surprise for me and one of the best games of this year, however, is not only his storytelling skills. A smile as wide as a lake during the rainy season often spills over my face, even when I find myself in battle.
I've already written that it's basically a turn-based matter on a square field, plus only a few fighters on each side. Combined with the fact that there are really only three different classes of heroes, it might seem like a primitive, relaxing affair. It's not working. This is mainly due to the constant fear of what could happen to your pets.
The fighting is damn fast, and it can easily happen that one ill-considered step forward will cause the violent death of a once-hopeful adventurer. Mostly, it's true, you have the choice to avoid the final end and prefer some little disfigurement, but sometimes it makes more sense to sacrifice your border guard in the last noble gesture of resistance than to make him a blind poor man who won't help you much next time.
Therefore, you will ponder, ponder and once again ponder exactly how you will use the short list of abilities of each of your subordinates. And sometimes it doesn't even help if, again, a little xcomovsky, you don't hit a cut with a 95% chance of success, but that's simply part of life – and if you play optimally, you shouldn't theoretically get into a situation where you two, three bad throws lost the battle and the campaign.
I love Wildermyth as a generator of nice stories and interesting destinies, but I also respect him as a strategy and RPG.
You further increase your combat chances on the campaign map, by cleverly distributing skill points, creating new equipment, recruiting fresh forces or improving buildings scattered around the game world. Often you have to decide at what point it is wise to divide the team into two halves and set out to deal with several crises at once, because in one clump you simply do not have time to protect the whole kingdom.
Therefore, although I love Wildermyth mainly as a generator of nice stories and interesting destinies, I also respect him as a strategy and RPG. Specifically, the rare species that you can play perfectly comfortably in one long session and immerse yourself in the epic saga up to your ears, or enjoy it in short doses, complete two or three tasks and walk away. Due to the strongly episodic nature of the narrative, this fragmentation is not a bad idea at all, also because it is much easier to overlook some inconsistencies in the behavior of individual characters.
Inconspicuous but great
I'm not naive, I know that in 50 years I will probably squat in a hovercraft chair, not a rocking chair, that I will be dressed in a haptic jumpsuit and that my VR glasses will run from the unrecognizable Half-Life 6.
But a bit more. And when it stops, I will at least have memories of one inconspicuous, charming prank that I probably would never have learned of without our Discord. On an RPG full of quiet optimism, adventure and emotion, which, despite all its shortcomings and imperfections, illuminated a couple of already quite sunny summer weeks.
---
Source: Games by games.tiscali.cz.

*The article has been translated based on the content of Games by games.tiscali.cz. If there is any problem regarding the content, copyright, please leave a report below the article. We will try to process as quickly as possible to protect the rights of the author. Thank you very much!

*We just want readers to access information more quickly and easily with other multilingual content, instead of information only available in a certain language.

*We always respect the copyright of the content of the author and always include the original link of the source article.If the author disagrees, just leave the report below the article, the article will be edited or deleted at the request of the author. Thanks very much! Best regards!
---