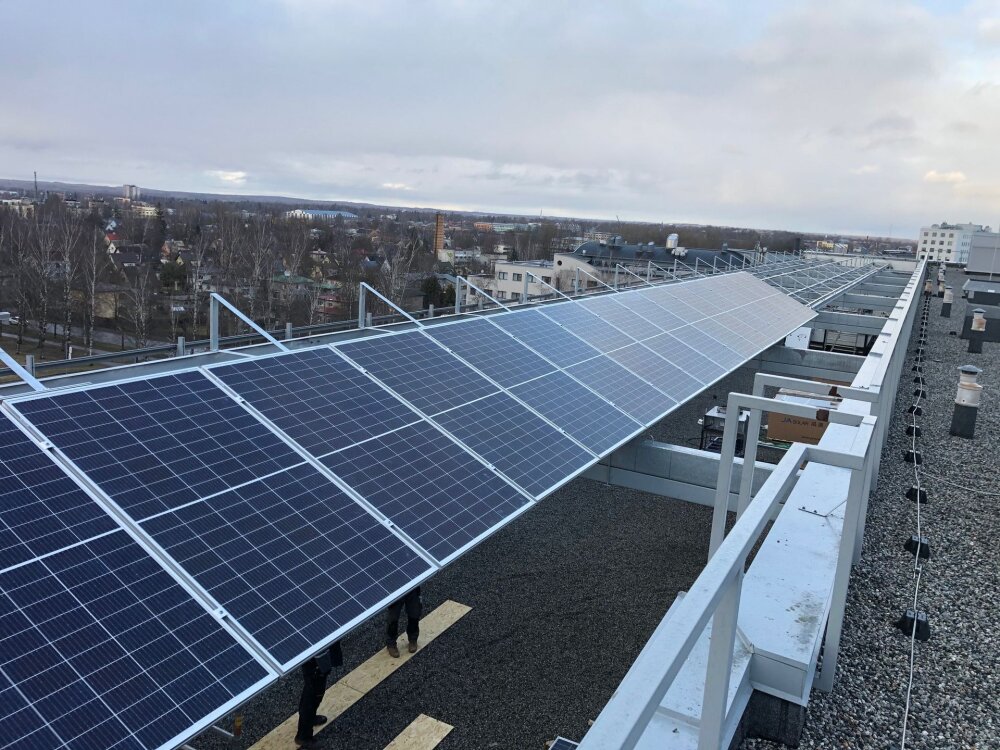 The energy storage system allows the energy produced by the solar panels to be stored during a favorable price period in order to use it during a more expensive price period or to sell it to the grid. Ideally, the storage system will feed the owner's self-consumption in the evening hours of the sunny period and in case of power outages.
"The storage system is an excellent solution in a situation where electricity has a very different price at different hours, allowing the use of electricity stored at a favorable time at a more expensive time. And, of course, the use of stored solar energy is a substitute solution in case of grid electricity interruptions, while working in off-grid mode," explains the founder and manager of RP Kuubis OÜ, a company that mainly offers independent renewable energy solutions. Rein Pinn.
An ideal solar energy storage system can choose the most favorable price for charging the batteries and use it automatically for expensive grid electricity, as well as sell expensive electricity directly from the batteries to the grid if desired. The system itself monitors the electricity exchange price and operates according to a predetermined program, ensuring the most optimal energy use. The idea of ​​storing energy in batteries is to help balance electricity consumption and reduce grid costs. RP Kuubis has built several such solutions, an intelligent 45-kilowatt hybrid system was recently built near Paldiski.
"Unfortunately, most storage systems are not that smart, and choosing the right inverter can be another concern. If the customer does not know how to ask and the salesman does not tell the whole truth, it can lead to the fact that the purchased inverter does not support the storage system and inter-grid communication," Pinn points out another fact that must be paid attention to when building a solar plant with storage.
When building a solar plant with storage, however, the most expensive parts are the batteries, which, unfortunately, occasionally have supply problems. In general, according to Pinni, the availability of complex and high-quality components is like a lottery today, where half-yearly to yearly queues have become completely natural. RP Kuubis has therefore stocked both the most commonly used and the rarest components in the company's warehouse.
Social media is not a place to get adequate information
Pinn states that it is worth being careful when looking for a cooperation partner, because today the company dealing with renewable energy is divided into two camps, so to speak. "Estonian Solar Electricity Association brings together strong players in their field who cooperate with all parties influencing the development of the sector, such as regulators, network companies, research and development institutions and technology developers. Another company is those who give advice on social media, but in reality social media is not a place to get adequate information."
According to Pinni, the threshold for dealing with renewable energy solutions is actually not very high today – figuratively speaking, you need a few workers, a tester and a screwdriver. "This means that there are many players in this market. At the same time, however, experience costs a lot, because without experience, even an electrical engineer may not know how to correctly assemble and dimension renewable energy solutions. However, it is very important in terms of productivity!"
RP Kuubis mainly deals with offline solutions. Their motto is to bring electricity to places where the grid does not reach, i.e. to islands, forest farms and people who do not want to depend on the general energy grid. Off-grid is a domestic, grid-independent power plant that produces and charges energy directly from nature. And in order for the energy supply to be stable, energy storage devices play an important role in the off-grid solution. RP Kuubis has long experience in various renewable energy solutions and recorders.
"I built the first solar park for myself based on my needs, because in 2005 it would have cost one million Estonian kroons to get electricity for my rural home in Otepää kand. I didn't have that kind of money from anywhere, so I had to approach the matter from the other side, i.e. come up with my own solution for getting electricity. But then it turned out that there are other people facing the same problem and that's how it all started. I have tried all the errors and mistakes on myself. Off-grid requires a slightly different way of thinking, and in the absence of experience, it would be very difficult to offer the best solution to the customer," says Pinn. "In my rural home, we have tested a wide variety of systems and products and aimed to sell only components of the quality that we would install ourselves. And of course, we also offer a warranty and maintenance for every product we sell."
In this regard, it is important that the solar parks built in RP Kuubi have remote monitoring. "We don't give a guarantee for batteries without remote monitoring, because if we can't see what has happened in the system in the log, we don't know if the system has been used according to the instructions or if the empty batteries have been left standing for a long time," explains Pinn.
Solar panels are not for heating the building
This needs to be constantly explained. As a rule, we need heating when there is no or little sun – in autumn, winter and spring. Pinn states that there are four hours of darkness during Christmas in Estonia and there is no sun at all, which means that a building without electricity should be able to withstand this time on batteries that are charged with a generator. But if a household also takes 30 kilowatt-hours of energy per day for heating with a heat pump and for reasonable battery and generator use, the battery bank should last two days, i.e. have a capacity of 60 kilowatt-hours. Unfortunately, the price of a battery with this capacity reaches around 30,000 euros at today's prices! Therefore, it is not conceivable that the house relies only on solar panels all year round, because there is not enough sun for heating in winter. If there is still a desire to use a heat pump for heating, it requires a large battery bank with a powerful and very expensive diesel generator.
"At the same time, off-grids are constantly getting smarter and more powerful. Previously, off-grid systems with an output power of 3-4 kilowatts were considered large and powerful, but today they are already 5-10 kilowatts. And it doesn't make sense to put less than 5 kilowatts in private houses, but it will cover most of your energy needs, and you can safely be independent from the general energy network from March to October. I have an 8 kilowatt system, and I can already cut trees and do welding with it."
Another thing to pay attention to is the power of the inverter and the capacity of the battery bank. If the power of the inverter is 2.5 kilowatts, but the battery bank is 3 kilowatt-hours, then it has been calculated that, for example, water from the well can be pumped with a powerful pump for a while, phone batteries can be charged and LED light can be used in the house. However, if a 2-kilowatt electric stove at full power is placed on such a system, the battery will run out in an hour. This apparent power can be confusing, but that's what specialists are there to explain everything to the customer.
Small wind turbines are not worth it in Estonian conditions
RP Kuubis is one of the few companies that also deals with the installation of small wind turbines. The power of these wind turbines can even be up to 30 kilowatts, but their profitability depends on many circumstances. "Unfortunately, the turbulent wind spinning near the surface does not produce electricity. Windmills are more successful on small islands and on the coast, but in this case their mast must be high enough. Here, however, big sea winds and storms come into play, which tend to harm small wind turbines," explains Pinn.
Our wind conditions are completely different even in places two kilometers apart, the wind changes direction quickly and it breaks the windmill. This means that the wind turbine must have high-quality coils and electronics, which makes the system expensive. Pinn, who put up a wind turbine in his yard to test himself, cools the enthusiasm of those interested, saying that his wind turbine produces only about two percent of the annual production of solar panels. And certainly the wind turbine must not be attached to the building, because the vibration of the wind turbine is generally transferred to the building, which is very unpleasant. Therefore, the beautiful pictures of windmills on the side of the house are either stupidity or photomontage. And it is still worth giving preference to solar energy.
RP Kuubi's main activity is the design, construction and maintenance of off-grid electrical systems. The company has more than 16 years of experience in this field. The installations mostly use Victron Energy components and Exide Sonnenschein or BYD batteries, which guarantee quality, provide a long warranty and the possibility to monitor the systems remotely.
Electricity where the network does not reach!
To use My Business Day log in or to fifty.
---
Source: https://www.aripaev.ee/ by www.aripaev.ee.

*The article has been translated based on the content of https://www.aripaev.ee/ by www.aripaev.ee. If there is any problem regarding the content, copyright, please leave a report below the article. We will try to process as quickly as possible to protect the rights of the author. Thank you very much!

*We just want readers to access information more quickly and easily with other multilingual content, instead of information only available in a certain language.

*We always respect the copyright of the content of the author and always include the original link of the source article.If the author disagrees, just leave the report below the article, the article will be edited or deleted at the request of the author. Thanks very much! Best regards!
---