What magic has entered everyone's heart, brother Mizan!
Utpal is white

2021-01-12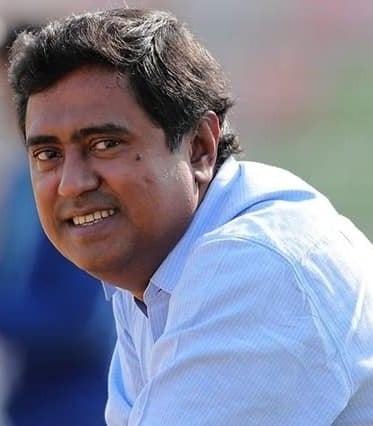 Brother Mizan, where are you now? Supreme Court, DRU, Press Club in the first light? Then the routine is fine. He returned to the office a little earlier today, this is it! If you go to the seventh floor, then you are being met.
Let me know what will happen next. You will say with your trademark smile, 'Shuvrada, how are you?' I will do mischief by not answering straight away as per my nature. You will laugh again.
This laughter will sometimes be delayed by the level of humor. I will understand from your response whether the joke should be explained or not. No matter how much it has happened, after making a joke, you are looking at the expressionless face. After making a joke, there is no embarrassment to explain it. But in your case I would gladly do that. After hearing that, you have said many times with that famous smile, 'Shuvrada, you are a very funny person.'
One day when I heard that, I said with a serious face, 'Brother Mizan, no one has given me this compliment before you. Do not write the word on a piece of paper! I will show everyone. '
You were very surprised and said, 'What are you saying! Why write it down? Everyone enjoys your words. ' After saying this, Zakaria, who was sitting next to him, asked for support from someone.
You had to talk to a lot of people on the phone to write. And talking on the phone means a full-fledged audience. One day your loud conversation just ended. I went to you and said, 'Brother Mizan, if you are free, I will tell you a story.'
You showed great interest, 'Say, say.'
The story is by Winston Churchill. One day Churchill is doing something. A little farther on, someone is talking loudly on the phone. After a while, Churchill called someone and said, 'Tell that man to use the phone.'
Telling the story I'm looking at you a little scared. You don't mind again! But looking at your face, I realized that the story ends here, you did not understand. You're excited to hear more. When I explain, the story ends here and here is a message for you. I think you should also use the phone while talking. You said in surprise, 'Why, I was just talking on the phone.'
For those who know you just by reading text or listening to talk shows on TV, your response is likely to seem unbelievable. It is really difficult to reconcile all this with your knowledge of the role of the superpowers during the law-court-constitution-liberation war and your ability to explain it in great eloquence.
Those who have come in contact with you not only know that the subject matter of your writing and the language of your writing were as complex as you were human. In this so-called modern civic life, full of hypocrisy and crap, you sometimes felt like an 'uncreated'. Mizan bhai, you can understand the meaning of non-creation. Or do you have to explain it?
You were just like you. Friend Mitun means Anisul Haque often said, Mizan Bhai is a character in the whole novel. How many people are writing about your simplicity and forgetfulness. Almost everyone in Prothom Alo has some or the other story about you. As Debabrata Mukherjee wrote, even after many formal acquaintances with you, you had to introduce yourself anew every time. The story of Jamil bin Siddique is known to all your old colleagues like me. The Prothom-alo was then in the CA building. You and Jamil sit on the same floor. One day you go to Jamil and say, 'Well, there is a person named Jamil bin Siddique in our office. I heard he quit his job. Everyone says he did a good job. Would it be right for him to leave? '
It was a little difficult to answer whether it would be right for Jamil to let Jamil go or not. After overcoming the initial surprise, Jamil continued the conversation as a third party without revealing his identity. Later we heard what we laughed at.
I read another story of CA building in Kar's writing. The elevator door is closed, but it is fixed on the ground floor. After opening the elevator by pressing a button, it was discovered that you were standing inside. Got on the elevator, but forgot to press the button. Even if someone else continued to do this in your name, we would have believed it. You were like that. Alavola, Absent Minded Professor ….
When I saw you, I thought you were in a trance. You would have been in a daze. The depths of journalism. The urge to find new things to write about. I have never seen a person like you immersed in journalism. You are an exception to the conventional trend of quick journalism. Looking for information, one of the prot প্রতিg ওs of old fashioned journalism to write with understanding to experts.
There was a lot of fun in everything you said and did. But which one is my favorite, have I ever told you, brother Mizan? The attitude of informing Moti Bhai about a new topic of writing or after talking to someone. Two hands close to the chest, fingers clasped, looking into a distance and speaking in a standard accent. I said 'Saratsar', but in fact the full details of your conversation with someone could be found in it.
I called him and told him ….
He said, ….
When I asked the counter question, …. he was silent for a while. I realized he was a little upset.
When I went to write, I realized that it is not possible to explain it in writing. Mizan bhai, you used to speak in your mind, our eyes would not change and the soft smile on Moti bhai's face would not catch your eye. That smile is the smile of indulgence. A smile of affection. Your relationship with Moti Bhai became more like a father-son relationship than a professional one. You two are opposite poles in character. Moti Bhai is a disciplined man, whose everything is tidy. And you are the one …. In the words of Moti Bhai, 'Aula Jhaula.' So there were all the sour-salty-sweet elements about you with Moti Bhai. Only because of some of your unique qualities, Moti Bhai would be forced to come out sweet in the end.
'I don't talk to Mizan for days' — I don't know how many times I have heard that word from Moti Bhai. The reason the dot dot was given the day before, the number was constantly changing. How many times has this happened, I heard this in the morning, I see at night, you are in Moti Bhai's room. Some are saying something and Moti Bhai is listening to it with deep attention. I immediately realized that in the middle of the day, you forgot the time to come and go in the office and you brought out something that Moti Bhai doesn't remember anymore, he wanted to make the time to stop talking to you much longer.
Worked in the editorial, again all the great reports for the first page. The series has done innumerable reports. All interviews brilliantly brilliant in their own right. Your office hours therefore had no address. I saw you in the office till late at night, so long after I got you as a colleague in the first light, I had the idea that you are not married, you are not married. Even though I knew that I was married, I understood that the family does not do it. I also joked with you about this, 'Brother Mizan, you will go out that morning and go home so late, will the future let you enter the house?'
I don't know Bhabhi like that, but I can write without asking her, she must have understood that journalism is your family.
Just as you have given journalism, journalism has also given you its reward. This overflowing love of people towards you, how many journalists in Bangladesh have got it! Even after writing about such a serious subject, the whole country knows you by one name. Instead of just recognizing the names of those who had the opportunity to mix with you a little, what a magic spell I see all of them have entered your heart.
I know what your reaction will be if you say this face to face. At first you will feel a little ashamed, then on the contrary you will fill it with praise. But I have never found any evidence that you have a keen interest in sports or game writing. Yes, I saw interest once. The reason is conceivable. The game instead of the field that rolled into the tribunal. When Ashrafuls are being tried for fixing in BPL, how many questions do you have about this? Although he did not know about the game, he knew about the imprisonment of Amir-Asif in England for fixing. In the subcontinent, then, why not jail for fixing — that was the premise of your planned writing. You do not have the permission required to post. You do not have the permission required to post. Starting with the penalty of fixing you are therefore the scope of work of ICC, ECB, BCB; Question after question about all of the code of conduct in cricket made me a little annoyed. One time I got a call after your phone so I was forced to raise my hand and surrender, 'Brother Mizan, I can't memorize laws, such and such a section like you. I am sending you the link, you see. ' Then the day we met, you said with a simple smile. 'I'm very upset with you, aren't I?' I wasn't really upset. One of the realizations I had while explaining this was that Alavola forgot a lot about this guy, but he didn't forget anything related to journalism. Otherwise, even if I did not express annoyance, how did you guess and remember it!
Brother Mizan, I remember another conversation with you. At the beginning of 2019, several people lost their jobs from Prothom Alo. Extreme instability in the office. Hut in that damadol, one day I also sat with the letter of resignation in the hands of the editor. I am still working in the office. One night you and I went downstairs together. Standing in front of the office, you said this and that and suddenly asked, 'Well Shuvrada, what is happening in the first light, can we call it Glasnost or Perostroika?'
I laughed out loud at not being able to figure out how to reconcile Gorbachev's two world-changing reforms with the jobs of a few in the first light. At first I was a little embarrassed but later you joined in the laughter.
Brother Mizan, I haven't seen your smile for a long time. It has been almost a year since I last met you. Even then I did not go to see you today. I wanted to go once. Then I thought, stay, there is no work. I can't see your smiling face. It will be a day to see, so Mizan brother? [ লেখকের ফেসবুক স্ট্যাটাস থেকে নেওয়া]
Author: Renowned sports journalist.
---
Source: Dhakatimes24 Online by dhakatimes24.com.
*The article has been translated based on the content of Dhakatimes24 Online by dhakatimes24.com. If there is any problem regarding the content, copyright, please leave a report below the article. We will try to process as quickly as possible to protect the rights of the author. Thank you very much!
*We just want readers to access information more quickly and easily with other multilingual content, instead of information only available in a certain language.
*We always respect the copyright of the content of the author and always include the original link of the source article.If the author disagrees, just leave the report below the article, the article will be edited or deleted at the request of the author. Thanks very much! Best regards!
---