It would be said not much and very much…
Have you ever wondered why certain architectural practices are not on LinkedIn, when all the important people have been for a long time? If they are experts in their industries, but also clients there, what are we waiting for to create a personal or company profile? Why not architectural bureaus, companies, but also charismatic individuals use the full potential that this platform provides?
A waste of time or profit ?!
An example of good practice how to use this platform, in order gaining new clients and concluding partnerships with investors, from the angle of the architectural bureau it is Zabriskie Studio. I emphasize that not only do they have a completed, but they also have one optimized profile. That way, they send a clear message who they are, what they do and what investors can expect from them.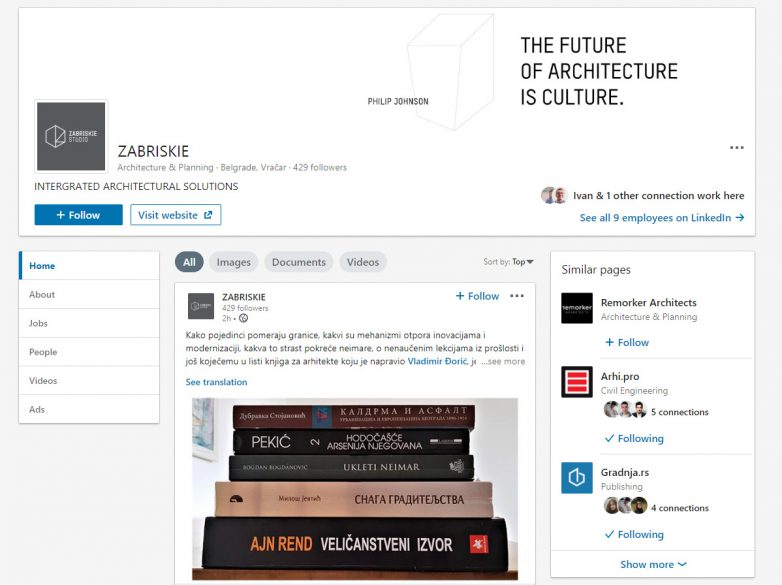 LinkedIn is a great and unfairly neglected B2B tool.
What many of their colleagues make at the start is that, even if they start appearing more often on this platform, they put photos or renders of projects in the foreground, rather than presenting their functionality and purpose. It will never be clear to me how it is for architects to sell a service and advertise the final product?
It has not been enough for a long time that something on social networks, in this case a project, is just that aesthetically pleasing and beautiful. You need to show how exactly your project can save clients from the tragedy of bad design, if they don't opt ​​for you.
Satisfied employee or magnet for customers?
Every company and its employees can connect with potential investors or clients via LinkedIn. In order for that to happen, it is necessary to reach the right people in the right way, both through the content and through branding your employees.
What your future clients want to see are the other people behind these beautiful projects,
Let's be clear, if someone spends over 10 hours a day on a construction site or simply in their daily work duties, employer branding it doesn't even occur to him. Despite this, the company 3LHD she decided to invest in her performance on the LinkedIn platform, keeping in mind what results this could bring them. On the one hand, 3LHD presents its completed projects in the best light. At the same time, as a pillar of support, they also try to pay enough attention to their employees and invest in their presentation on a business social network.
The hidden potential of a personal profile
Personal branding it is no longer an option, but a real need to either work independently or be employed in a bureau or company. Especially if you are in an industry where the competition is great and the supply of qualified staff is small. Ideology "if you don't want to, there are those who want to stop". Young architects can choose where and when to work.
Although a small number of architects are working on their appearance on social media, what they miss they can see in the performance of professionals from the digital world. Although from another area, perhaps the most prominent example of good practice in using the full potential of a personal profile on LinkedIn is Janja Jovanovic, marketing expert. On her personal profile, she clearly emphasizes her specialization, but also provides all the necessary information that the client needs to know about her business.
Start creating a community of people who specialize in certain things and who would actually use your service or product.
As an individual, you should not try to unnecessarily add founders and people to top management positions if you want to reach clients. On the contrary, start building a community of people who specialize in certain things and who would actually use your service or product.
Another trend in a row or a long-term investment?
Start from the end in mind. You should be aware that message, which is sent to the community via LinkedIn, is: Why would a client hire you? Why would some promising architect work just for you? What do you offer to employees and what to clients, without being able to get it from the competition? Who is the ideal person for your team through whose appearance on this social network you address the business community?
What architects (don't) know about LinkedIn and how much they (don't) use it. It would be said not much and very much. A clear message, precise specialization and a guarantee of quality are later the key to identifying your ideal clients with your ideology, that is, identifying with the values ​​you yourself believe in.
When you are already here…