Android supports 64-bit systems starting with version 5.0 Lollipop, which debuted in the summer of 2014. Google has given app developers and developers plenty of time to change to a new standard, but this time is slowly coming to an end. In January 2019, Google announced that from August 1, apps that do not have their 64-bit variations will not be allowed in the Play Store.
Although Android has been supporting 64-bit apps for almost 6 years, and 1.5 years have already passed since the publication of new guidelines for developers, Chrome – Google's flagship application – it still works in 32 bits, which is why is not able to fully use the potential of the equipmentwhich has been the standard for many years.
That it would be more embarrassingly funnier, Chrome for Android remains the only version of this browser without the 64-bit version. In the case of iOS, Apple stopped accepting only 32-bit apps as early as 2017.
Chrome for Android finally 64-bit version
As noted by the service Android Police, test Dev and Canary versions of Chrome 85 and 86 they already work in 64 bits. However, some users report that Chrome 84 Beta is also being installed on selected phones in the 64-bit edition.
For now, it looks like 64-bit Chrome is only available on smartphones with Android 10 or newer. According to current statistics, this criterion meets only suddenly 8.2 percent equipment, so let's hope the final version of the browser – which is expected to debut in August – will also work on older releases.
If you have installed the trial version and want to check if it works in 64 bits, you can do so by typing "chrome: // version" in the address bar.
Chrome on Android has the chance to accelerate with 64 bits
64 bits in theory should ensure higher performance and make the browser ready for the implementation of more advanced and resource-consuming solutions in the future. Whether and how much the change will be felt in everyday use, tests will show after the appearance of a stable release, but the benchmarks are optimistic.
By using the test Basemark Web 3.0 I compared Chrome 83 (32 bit) and Chrome 86 (64 bit) on the Galaxy Note 10+ model. The second browser dialed out 37% higher result Synthetic tests herald a significant increase in performance.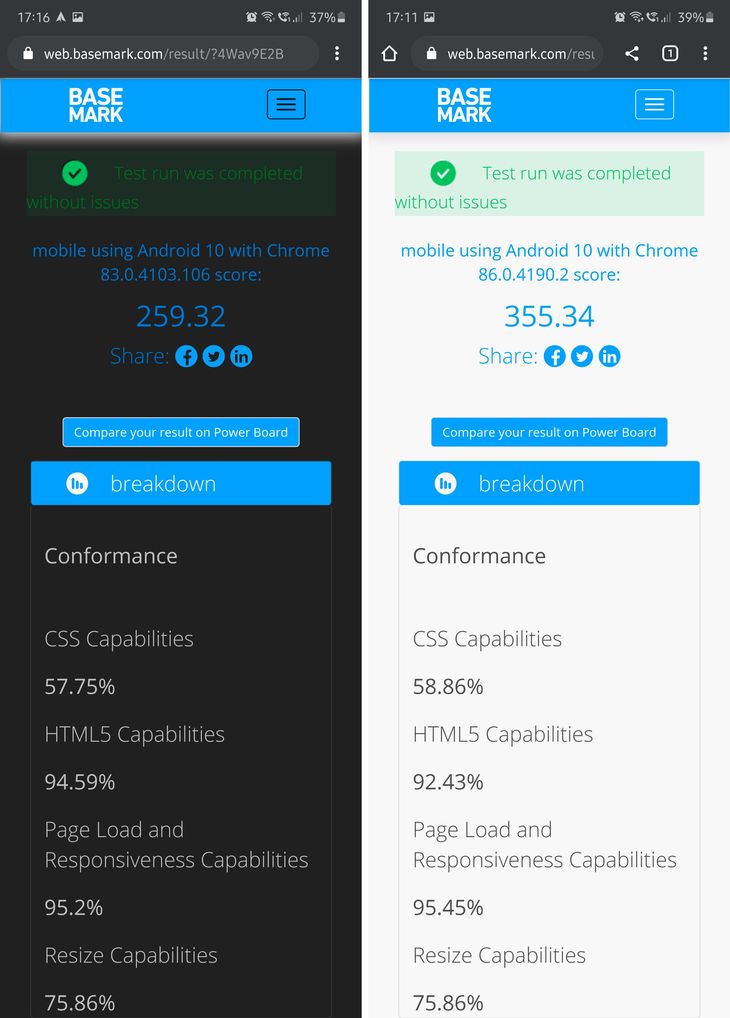 I would like to emphasize that I compared a stable 32-bit version and a 64-bit development one. When the latter leaves the testing phase, the differences can be even greater.
Google took a long time to adapt to its own guidelines, but better late than never or something.