Publisher:
Skystone Games Inc.
Developer:
Coffeenauts
Website
System requirements:
Minimum: Windows 7 SP1, Intel i3-3220 or AMD FX 6300, 4 GB memory, NVIDIA GeForce GTX 650, 10 GB free storage
Recommended: Windows 10, Intel i5-4590 or higher, AMD FX 8350 or higher, 8 GB or more memory, NVIDIA GeForce® GTX 960 or higher, 10 GB free storage
Similar Games: Overcooked! 2, Unrailed!, Moving Out
Category: cooperative, indie
Local cooperative games have gained explosive popularity in recent years. This is especially true for the Overcooked series, for example, and our current game rests on similar foundations. The fun is designed for 1-4 players, but noticeably more players are needed for an optimal experience. It will be the job of our own and enterprising peers to take as many passengers as possible from one point in the galaxy to another by managing a space airline.
Of course, accomplishing this is by no means an easy task. Initially, we can create our own airline, which we can also name by randomly generating three words. In addition, we can choose a logo and color for our company, which will be reflected in the clothes of the pitches and employees (players). Once we're done with that, we'll drop into the management part of the game. Before our first trip, of course, we need to buy a spaceship. It is already evident here that different ships have different statistics. We have to transport passengers in such a way that the evaluation of our company is as high as possible. If that still wasn't enough, some rogue-lite elements would also be included in the mix.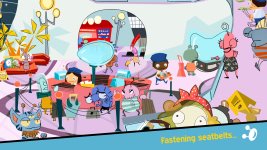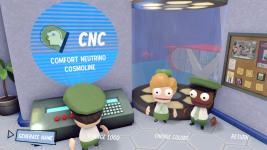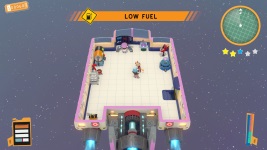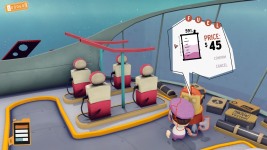 As with similar games, we have to manage a myriad of things at once. As a single player, we often find ourselves having to do at least three things at a time while watching the spacecraft travel. These tasks are quite diverse. The main consideration is the status of our spaceship. If we collide with asteroids or something similar affects us, its structure is damaged. Fuel is also constantly running out, especially when we switch on, taking advantage of the bonus speed. Of course, no one would want to get in a dirty vehicle, so we have to pay attention to its appearance.
The next important aspect is to meet the needs of passengers. This greatly affects the judgment of our company. The more stars we have, the more money we can collect from picked up passengers. In case of a 5-star rating, we can ask for an 80% increased ticket price from the spaces that choose us. Passenger comfort is also important. Not only is it worth providing them with a seat, but feeding and entertaining are also part of our job. When a passenger is very bored, a musical note icon indicates that they need entertainment. The easiest way to accomplish this is to reserve them by dancing to an impromptu DDR-like floating arrows. The same is true of hunger, only when cutlery appears. Once the meal is done, it doesn't hurt to have some kind of washbasin at our disposal. If we don't have one, a possible malaise or urgent squirting can ruin our beautiful furniture.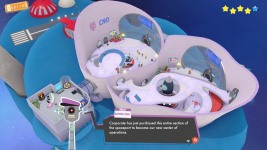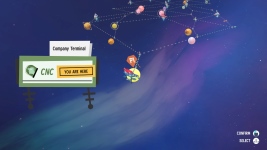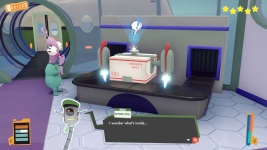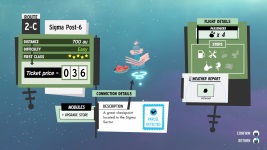 If something goes wrong, we need cleaning staff or we can stop at a spaceship washer on the way. Of course, it will all cost money, and we will need more and more of it. This is the cycle you can expect in this game. In order not to be able to prepare in advance for the opportunities before departure, the game makes us random trips every time. With the help of a radar, we can constantly scan our surroundings and even search for them. Here we can pick up passengers in our spaceship, refuel, etc.
Of course, no device lasts forever. In addition to the mechanics mentioned so far, the 15 different systems on our ship require constant maintenance and attention. In addition to keeping them intact, we also need to develop them to meet ever-increasing expectations. If something goes wrong, we need to fix it along the way, and that will affect our judgment. If we let the number of stars fall very low, even an inspector will come to inspect our ship. If you can't find things right, it will stop traffic with it.
There will still be a lot of chess during the trips (especially at the beginning of the game) to ensure a proper power supply. Our battery can hold a finite number of devices at a time, indicated by battery icons. Each machine is given how many such elements it needs to function. If the coffers are scarce and we can't improve, we'll find ourselves often enough to disconnect and connect the various structures used along the way. Here, too, we need to be sensible, because we can travel without a food-warming laser, for example, but without a gravity-supplying system, passengers with upset stomachs fill our decks very quickly with vomiting.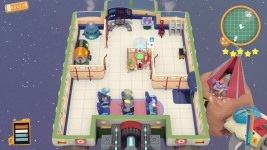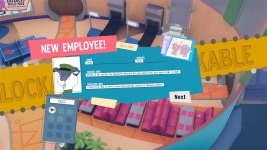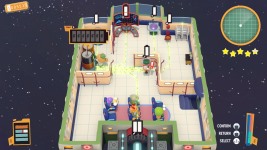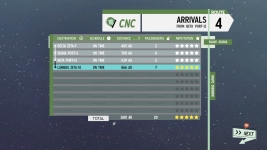 Graphics:
Although the look of the game works with rough figures and a bit of a bubbly face, it specifically evokes the cartoon world of the Jetson family for me. It's good to see our brand appear in different parts of the world and even in the design of the charging screen. The menu items and overall look are reminiscent of 60s promotional materials. The game works with bright colors, which brings out the weird look of various space creatures very well. The light from the flashlight has also been atmospherically resolved, which occurs when our generator somehow fails. In this case, a zero gravity mode is also activated, the appearance of which is ensured by a ragdoll system.
User interface, controllability: It is important that the dumping of information that is continuously received is available to us in a clear form in such a game. In my opinion, the current status of passengers would have a place on the screen all the time. If we go close to a particular space creature, we will see what he wants and how much time is left until he gets angry about it. This could be solved by listing them all at the edge of the display so that you have a continuous status report. Looking at the radar, we can see when we will reach the final destination in time, but I think the same display could be associated with the fuel gauge. Because if we run out of fuel, we'll be stuck in the middle of nowhere and the journey is over. Management is not complicated. The game supports several different inputs at the same time.
Playability: The routes are created entirely at random, so we will almost never have two identical trips. An additional twist to this is how much we feel like exploring. Basically, the game can be completed without any problems, even if we are only moving straight to the end goal. In addition to the driving sections between the stops, we also have a more serious management task, which gives the game a pretty solid foundation. We are always working towards a big goal, namely to build our own airline. There are quite a few changeable elements between the mechanics that allow the game to entertain us for a very long time.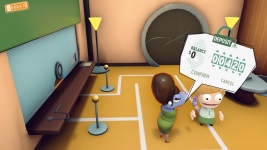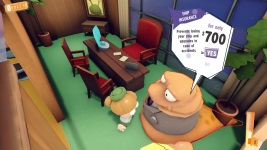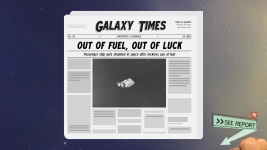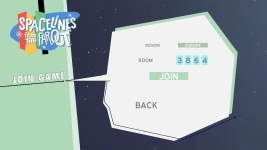 Intelligence, difficulty:
The game is not necessarily ideal for younger players. We need to pay close attention to a lot of tasks and get them done in no time. Although the control is easy to learn and the story begins with a tutorial session full of useful information, I don't think they would be able to react fast enough or see the connections between tasks quickly enough on more serious journeys. Progress can also be a bigger headache for lone wolf-like players. For some reason I don't understand, the difficulty doesn't scale with the number of players. It is very difficult alone when we are already embarking on more serious journeys. A matchmaking system could be a good solution for this, but we can only join online matches based on 4-digit lobby codes.
Sounds, music: The music falls a bit into the stereotypical "elevator music" category. When there is an emergency, the background music also reflects that. Suddenly everything will be faster. Let's not have too high expectations in terms of synchronization. I'd rather just hear some muttering from the characters. Somehow, however, this world of music and sound fits in very well with the visual style of the game.
Summary: We got cozy couch co-op fun in this airline manager. Randomization helps you get the most out of your mechanics. Comprehensive, continuous improvement and customizability can also set an extra goal for us. The journey, on the other hand, can drown in disaster at any moment. A journey of several hours to the final station can even go to the trash due to a single poorly handled asteroid field or out of fuel. Thanks to its basic concept, it can be used very well as a party game. It's easy for anyone to get started, even if you're not an explicitly experienced player. In the version on Steam, it can be played with either the online lobby code or the Remote Play Together option. This allows our friends who do not have the game or even a gaming PC to join. Xbox gamers can play on both the console and PC with a Game Pass subscription.
---
Source: SG.hu Hírmagazin by sg.hu.

*The article has been translated based on the content of SG.hu Hírmagazin by sg.hu. If there is any problem regarding the content, copyright, please leave a report below the article. We will try to process as quickly as possible to protect the rights of the author. Thank you very much!

*We just want readers to access information more quickly and easily with other multilingual content, instead of information only available in a certain language.

*We always respect the copyright of the content of the author and always include the original link of the source article.If the author disagrees, just leave the report below the article, the article will be edited or deleted at the request of the author. Thanks very much! Best regards!
---