Publisher:
Team17
Developer:
3DClouds
Website
System requirements:
Minimum: Intel Core i5-2500K 3.3 GHz or AMD FX-8150 processor, Nvidia GeForce GTX 550 Ti or ATI Radeon HD 6790 graphics card, 4 GB RAM, 4 GB free space
Recommended: Intel Core i5-4460 3.2 GHz or AMD Ryzen R5 1600X processor, Nvidia GeForce GTX 960 or ATI Radeon HD 7950 graphics card, 8 GB RAM, 4 GB free space
Similar Games: Pirates
Category: action role-playing game
A Sid Meier's Pirates! intellectual heritage or just a pirate strategy in line? None of it is a completely accurate statement about the King of Seas, but the biggest problem with it is that what the creators envisioned under the name has not been fully realized.
We would not say that the market has been flooded with pirated video games recently, but it is a fact that there are many more works on this subject coming to us than we did many, many years ago. Almost every style has been conquered by wooden-footed, rum-smelling, rum-like Caribbean vandals, but there are still genres that can accommodate one or two such works. * For example, action-role games embedded in strategy, such as Sid Meier's Pirates at the time, can be listed here.
How did the developers of 3DClouds try to steal its intellectual heritage? It is an exaggeration and a vile slander at the same time, but it is a fact that the history of the work could have started from the basics. What finally baked out of it? A video game based on pleasant ideas, but ultimately specifically annoying, full of childhood illnesses and able to get even more patient fans out of the wind very quickly.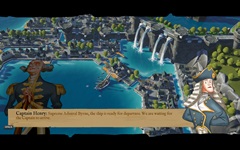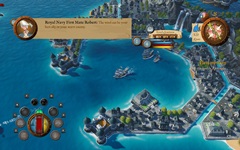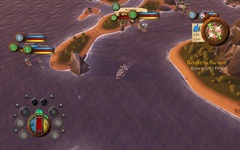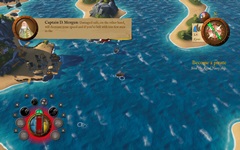 Let's start all over there that we can't really talk about a story about the King of Seas. This is a big mistake for a work that is advertised as a road-and-play role-playing game, and it certainly doesn't take long to put the formula together: RPG elements are exhausted in some developmental system, but unfortunately the plot falls far short of the strict requirements for such works. The point of the story is to dive into a pirate world, an alternative Caribbean, where we have to maneuver among a wide variety of factions while getting higher and higher in the ranks. There is no specific act, most tasks are given without explanation, just to go, to do the necessary things, and not to ask questions.
Sometimes we get a little addition during dialogues, but there's no question of a controllable story, for example, the whole thing is a big and aimless mix. And all of this, unfortunately, has been combined with boring, one-tailed quests by the makers, which are most often exhausted to go to a point on the map, gather someone there, or sink an enemy ship and grab the reward. Obviously we could do all this with a good garnish, but when we are sent away for the tenth time just to fight for something for no reason, our smiles are not necessarily honest.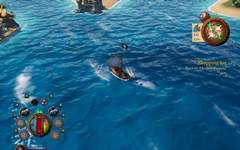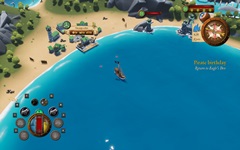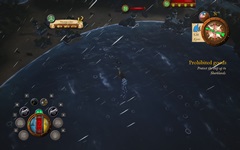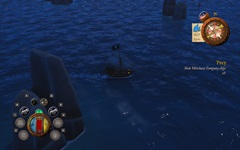 An even bigger concern is that there are also problems with the gameplay. Basically, King of Seas is a boat action game that can be experienced from a tilted top view, in which we set off with a weak lad on the big water, where fate will bring us together with many other, smaller and bigger, weaker and stronger boats. Our freedom is relatively huge, we can look at the map, we can collect everywhere, we can mingle in newer adventures – we could rather mix if the secondary tasks were enjoyable, but the same problem as the main missions – but in vain the many possibilities if the whole game is basically annoying. The mini-map, for example, is completely useless, you can't navigate it, it's untraceable.
During missions, we are often sent so far that it is not uncommon for us to sail 10-15 minutes for nothing. What's even worse is that if we run halfway into an enemy fleet who are destroying us and haven't saved us in a harbor on the way, we can start the quest from scratch, including the extended cruise. These are small, but all the more unpleasant features that it would not have hurt to pay more attention to the creators, since one can wish the whole work to hell from the very first minutes. Well, even if we find out that we can't use a mouse for control, which was such an ox error on a PC that it shouldn't have been released like this anymore.
Of course, the King of Seas also has good qualities if we get used to the above or try to forgive him. For example, fighting can be especially enjoyable if we can control our ship. It may seem simple, but we will have plenty of options for playing the piano on the keys – unfortunately almost literally – so we can speed up and slow down, we can decide to open fire from the right or left, or fire both rows at once, but choose from different projectiles and later even special attacks, such as an accessory like a flamethrower, get on our ship.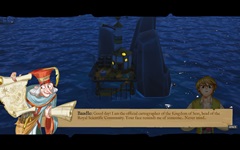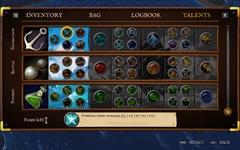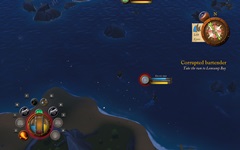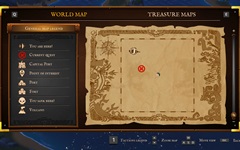 The range of possibilities is really extremely wide, and even more, we can continuously improve our ladik, and later we can replace it or add new ones. By the way, on the basic tone, we can replace almost everything or raise it to a higher level. The sails, their guns, but even the crew. We can buy, sell, exchange in larger ports, but after shipwrecks or defeated opponents we can also pick up many interesting accessories and, of course, experience points.
Because we can also dissolve various passive properties for our ship. Basically, it can be stated that the development system can be considered tangled in this field, it is almost impossible to adjust to it, and basically an ability makes so many changes that it is possible to browse for hours before making a decision. The system is overly complicated in this area, which is a problem because if, for example, the creators kill this resource into a story, or at least one more usable mini-map, we would already be more satisfied with the game. The situation is exacerbated by the fact that the fictional pirate world is surprisingly empty, the ships that show up on the map are unpredictable, and in vain give us the opportunity to be pirates or merchants, or even couriers, in fact it is always . Too bad because it puts role-playing elements in the background even more!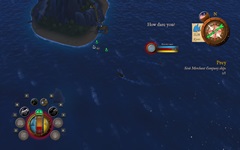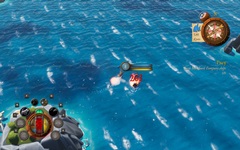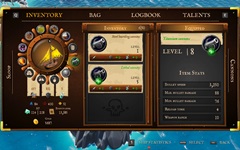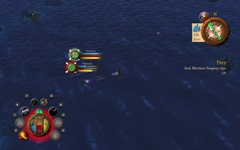 Graphics:
Basically, we wouldn't call the King of Seas ugly, noticeably modeled on the Sea of ​​Thieves, so the creators became quite cartoonish – the depiction of characters often leans towards anime – so we'll have to swallow some to accept what we see everywhere. The advantage of all this is the machine requirement, as the end result runs comfortably with maximum settings, even on a multi-year PC.
User interface, controllability: There is basically a lot of illogicality in terms of the game interface and controls. It's hard to forgive the makers for leaving the mouse out of control, as it would have been much easier to handle everything, as in this form it can be troublesome to manage the menu, but the battles aren't too easy for that, though the basics are pleasant.
Playability: If we have nerves, we will certainly be able to get long, long hours out of the King of Seas, but unfortunately, during the first missions, a variety of inconveniences and shortcomings can cause a lot of inconvenience. It's as if the whole piece was designed as a kind of MMO that will be populated by the players, but was prematurely released as a single player piece where everything is completely empty and full of gaps.
Intelligence, difficulty: It's very easy to paddle into waters in the game where we come across boats we won't have a chance against. Basically, however, much more headaches and difficulties are caused by frequent illogicality or most of the shortcomings associated with design errors. It was a huge offense to release the game in this form, as even though it could be easy to love, it all has a semi-finished effect, and with that, unfortunately, it also comes with the fact that sometimes we can run into difficulties.
Sounds, music: It may come as a surprise, but it was the sounds and music that became perhaps the game's greatest strengths. If there are syncs, they're downright good, the effects aren't bad either, but what we really locked into our hearts for a few moments are the melodies that sound in the background.
Summary: Overall, the King of Seas in this form, if not unplayable, makes it an amazingly flawed overall effect. It could be a shame to publish it this way, as it could easily have become a super Pirates supplement, but this way we can only see it as a work suffering from childhood diseases, which could have been much, much better under ideal conditions. It is feared that, even if it is improved later, it would be worth forgetting this in this form and beautifying it with a second part, because the foundations are quite okay.
---
Source: SG.hu Hírmagazin by sg.hu.

*The article has been translated based on the content of SG.hu Hírmagazin by sg.hu. If there is any problem regarding the content, copyright, please leave a report below the article. We will try to process as quickly as possible to protect the rights of the author. Thank you very much!

*We just want readers to access information more quickly and easily with other multilingual content, instead of information only available in a certain language.

*We always respect the copyright of the content of the author and always include the original link of the source article.If the author disagrees, just leave the report below the article, the article will be edited or deleted at the request of the author. Thanks very much! Best regards!
---