Publisher:
Xbox Game Studios
Developer:
Playground Games
Website
System requirements:
Minimum: Intel i5-4460 or AMD Ryzen 3 1200, 8 GB RAM, NVidia GTX 970 or AMD RX 470, DirectX 12, 110 GB free space
Recommended: Intel i5-8400 or higher / AMD Ryzen 5 1500X or higher, 16 GB RAM or more, NVidia GTX 1070 or higher / AMD RX 590 or higher, 110 GB free space
The game can also be played offline, only content that requires the Internet will not be available.
Similar Games: The Crew 2, Need for Speed Heat, Test Drive Unlimited
Category: MMO, open-world, competition, sports
Forza Horizon is a popular arcade car racing "MMO" that has now truly entered the next generation in its fifth installment. Not only in terms of graphics, but also in terms of sound and mechanics. Buyers of higher-level releases were able to start the game a few days earlier, and after the official release, Phil Spencer said the game was the biggest Xbox Game Studios release to date. This is largely due to the fact that the standard edition was also available on consoles and PCs as part of the Game Day on the first day.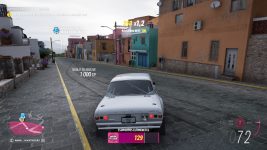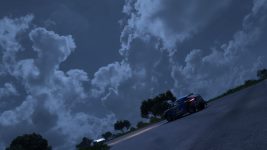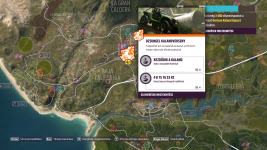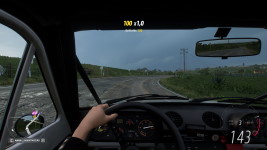 Based on the fourth part, the sequel is really "the same, just more". This now exceptionally does not carry any negative charge. We are talking about an excellent foundation that has been further thought through by the makers in all its aspects and given 110% to the preparation. However, there are still elements that still seem strange, out of place. Let's start with the most important thing, the cars. At the time of release, you can choose from 534 cars. This, of course, will certainly swell further in the form of paid DLCs like its predecessor. If we played with other games from the makers, we can still get cars as a loyalty reward. For example, through Horizon 4, a 2018 McLaren Senna will be in our garage, which is an outstandingly good starter car.
We also have the opportunity to use the auction house here, where we can bid or buy cars. Unfortunately, this is one of the oddities I mentioned above and it still works cumbersome. In many cases, it is a mistake to place a bid, or the auction is closed due to a simple UI error, but is not updated in time. A better thing is to give a car as a gift so we can send a new car to others. Let's say we have two identical cars. Then by giving one of them, we can surprise someone with it. You can also set the host to be a new player, for example, so you can be rewarded for your help.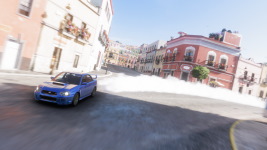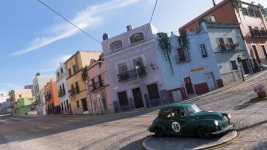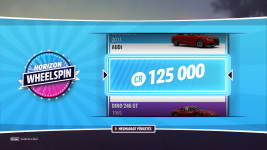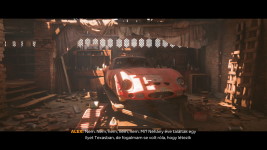 The basic gameplay hasn't changed much now either. We're heading to the Horizon festival area with a spectacular race where we have time to calmly set up the controls and aids because we can't really fail this race. After choosing the starting car (which we didn't choose, it will get into the garage regardless) we can start the first major story-based quest and then the whole world will open up to us. From here, you are free to choose tournaments or the Horizon Super7 mode based on challenge cards. With these, we level ourselves up pretty slowly, and gaining recognition opens up new parts of the story.
The latter is now divided into categories, so at some level we will have a say in playing the most interesting categories first. The other oddity can be attributed to this. For some reason, this own character system (drivatar) is still very much forced, but no substantial development is still felt in it. The characters continue to stare blankly at each other during conversations while sometimes pointing. In the case of the main stories related to the Horizon festival, however, more sophisticated animations can be seen, so it is unfortunate that none of this was included in the "smaller" pass-throughs.
It wasn't too hard to get to levels in the fourth part either, but now so much is giving some growth already that we're almost hurrying our heads. Almost anything we can do in the game will result in some kind of progress. Leveling up gives you a fixed spin every time that helps your wallet and car collection grow. In addition, some recognitions have specific rewards. For example, the recognition called "The First Few Miles" rewards an epic quality Ford Focus RS car. If possible, don't forget to accept them after you've earned them, otherwise you'll only get the points after them, but not the reward. The Automotive Excellence System has also been retained.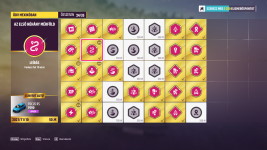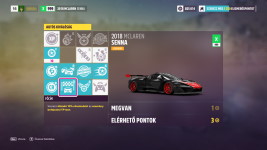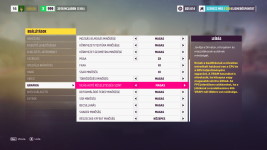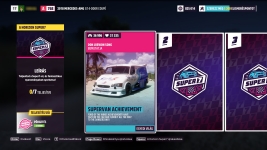 There will be no shortage of multiplayer options now. One of the easiest multiplayer activities is Arcade, which sends a warning to players at the start and takes you to a variety of tasks within the specified zone and time limit. For example, within a given time, all players must achieve a certain number of destruction tricks. As a novice player, this can be a good boost to getting XP and money. We can also make convoys, which is the party system of the game. We can create teams of 11 so we can start tournaments with them (instead of AI or random players).
We can create custom tournaments, for which we also get a track builder (no need to think too, but we have a number of unique placements available). Here we have the option to set the destination and set the available camera position for the season / weather / time of day. Of course, we have to complete the competition once, thus validating that it can be completed at all, and the time and score we set will be given as a goal. These will be stored in cards that other players can complete and rate if Horizon Super7 mode randomly pulls them out.
As the Battle Royale frenzy continues to rage, as in Part Four, Eliminator mode is available here. It is essentially a variant of the basic concept transformed into a car race. Everyone starts with a basic weak car, and then players knock each other out in 1v1 sprints. The open-world area is constantly shrinking, and the last one to stay afloat is the winner. The concept seems very strange, but it can be an adrenaline pumping towards the end.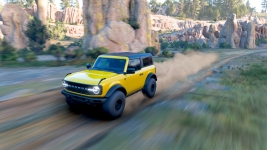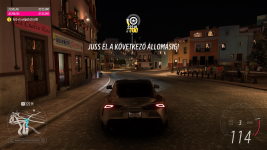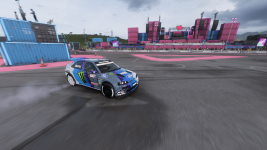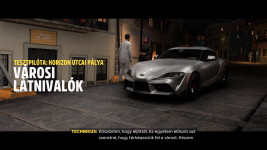 Graphics:
Graphically, like Part Four, it has set the bar high for open-world car games, and it will probably stay that way for years to come. We managed to optimize the game to such a level that we can produce a spectacular image even on weaker hardware. Auto Calibration also successfully shoots the best but most stable settings for us. At the same time, it allows stronger configurations to squeeze the maximum out of their system.
I have to say that while Ray Tracing is available in the game, we don't necessarily get much worse results if we don't use it or it's not available on our card. With sufficiently high graphics settings, we get almost the same image without RTX. However, its absence is clearly felt when we turn the car in the garage and look in the rearview mirror. The environment is incredibly detailed and not just compared to a car game. According to the authors, making the skybox alone required more than 400 hours of photography and 75 TB of data.
User interface, controllability: The interface is retained in the tiled layout. Slightly easier to navigate than its predecessor, but the main menus are the same. The layout can be changed and reliable steering can be used using the keyboard. Compared to the fourth part, the number of governments supported also increased. Unfortunately, there is a "controller disconnect" error on a PC that constantly drops the connection to the government. Currently, tricky gamers have found two solutions that work (an external program and a permanent trick at the touch of a button), but the makers have promised an official fix within a week. This problem did not occur when using a gamepad.
Playability: Microsoft has come to the forefront of accessibility lately, and has put some cutting-edge solutions in the current section. Different presets are available for color-blind players. The size of the captions can be quite huge. Using voice chat, you can type messages that will be read to others. In offline mode, the game speed can be reduced from 100 to 40, so those who require it have more time to react to certain things in this adjustable slow motion mode. Because it cannot be used in multiplayer mode, there is no competitive advantage. The biggest innovation is the possibility of an upcoming sign language interpreter. This feature will be available during the videos in the game.
Intelligence, difficulty: The difficulty can still be set on a wide scale so that everyone can find the challenge that suits them. From the simulator to the easy arcade driving, you will find adjustable options. Of course, those who choose the heavier grades will receive a percentage bonus to compensate for the level difference. The abilities of our opponents are also adjustable, but only the truly sadists are advised to use the highest rank. The delay effect called "rubber banding" isn't as rough as it used to be, but it's clearly there. And at the invincible stage, we have to face incredibly stiff competition. Here, the makers were actually loyal to naming the degree of difficulty.
Sounds, music: The musical offering is still extensive. You can tune in to Block Party, Horizon Bass Arena, Horizon Pulse, Hospital Records, Horizon XS and Radio Eterna while driving. Each represents a direction so that we can listen to the music we like best. To name just a few of the performers, Beastie Boys, Lil Nas X, Deadmau5, Dua Lipa. What is definitely a notable change is the quality of the engine sounds. On the one hand, we get a much cleaner, more realistic effect instead of the late vacuum-like hum. This is well noticeable in both external and internal camera views. On the other hand, replacing car parts also makes an audible difference. A serious positive change is also when a larger engine is greeted by a much busier, more powerful sound while driving.
Summary: We've got a carefully put together sequel again that builds on the foundations laid by our predecessors to create a much bigger and better one. It sets an example for all similar games. From beginners to professional players, everyone can find their own challenge. Accessibility settings allow as many users as possible to enjoy the game. The myriad things to do and the content generated by the players will tie us down for a very long time. The Game Pass is definitely worth a try.
---
Source: SG.hu Hírmagazin – Játék by sg.hu.

*The article has been translated based on the content of SG.hu Hírmagazin – Játék by sg.hu. If there is any problem regarding the content, copyright, please leave a report below the article. We will try to process as quickly as possible to protect the rights of the author. Thank you very much!

*We just want readers to access information more quickly and easily with other multilingual content, instead of information only available in a certain language.

*We always respect the copyright of the content of the author and always include the original link of the source article.If the author disagrees, just leave the report below the article, the article will be edited or deleted at the request of the author. Thanks very much! Best regards!
---