Publisher:
Warner Bros. Games
Developer:
Turtle Rock Studios
Website
System requirements:
Minimum: Intel Core i5-6600 (3.3 GHz) or AMD Ryzen 5 2600 (3.4 GHz), 8 GB RAM, NVIDIA GeForce GTX 1050 Ti or AMD Radeon RX 570, DirectX 12, 40 GB free space
Recommended: Intel Core i5-8400 (2.8 GHz) or higher, AMD Ryzen 7 1800X (3.6 GHz) or higher, 12 GB RAM or more, NVIDIA GeForce GTX 970 or higher, AMD Radeon RX 590 or higher, DirectX 12, 40 GB free space
Similar Games: Left 4 Dead 2, Killing Floor, World War Z: Aftermath, GTFO
Category: cooperative, FPS, zombie
In collaboration with Turtle Rock Studios and Warner Bros. Games, the successor to the Left 4 Dead series, Back 4 Blood, has arrived. Unlike its predecessor, it was no longer made under the name Valve (anno bought Turtle Rock Studio from Valve), but again as a result of a separate development. Maybe if their paths weren't separated at the time, the current version could have been called Left 4 Dead 3. So instead we now got a game with a similar name but a different franchise. Luckily, there was more to the game than a simple name change.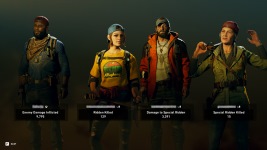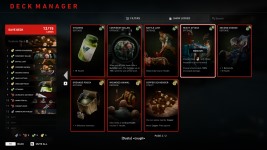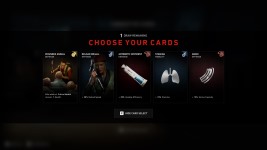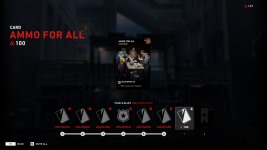 Our basic concept was the same as its predecessor: four survivors trying to get from one safehouse to another while a horde of zombies try to break into their lives. Of course, even now there are special zombies that also have a slightly larger toolbar than before. Our stock has also expanded in the field of weapons, and we can even install various accessories on them. These improve the values ​​of the weapons or give it some special bonus. These bonuses and combinations can be tried out in a relaxed environment in the game's hub zone, where we have a furnished shooting range at our disposal.
In this section, instead of four, we have eight different so-called Cleaners. Each has its own starting weapon and some kind of bonus. One bonus applies to yourself, while the other helps the entire team. Initially, we can't use all of them yet, they become available as the story is completed. The game consists of four acts with a total of 33 levels. Luckily, we don't have to accomplish the whole thing in our single seat, after closing each saferoom we can drop out of the game and our achievements will be saved. This is also a good solution because if we play with our friends, we can move forward with them together, while, for example, we can walk on the last track with another saved state.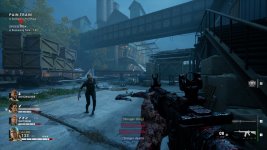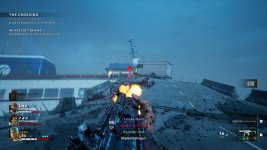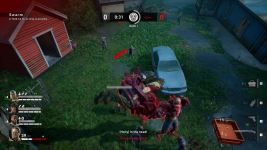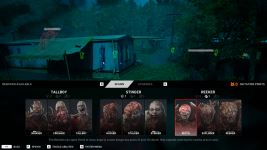 One of the big twists in the gameplay compared to its predecessor is the card system that has been included in this section. With the help of cards that can be unlocked continuously throughout the game, we can build a deck that can be pulled out and activated by arriving at the safehouse during the campaign. These can be modifiers that affect our own character or bonuses that help our entire party. For example, using the Vitamins card, our character gets 15 bonus HP, or using the Ammo For All card, the entire team has + 10% increased ammo.
On higher difficulty levels, the correct combination of these cards can be crucial. The game selects a pair from the deck we have compiled, and we can take a specified number of active cards from it. The game itself chooses so-called Corruption cards for the "level," which affect the properties of the level. It can also be a simple challenge for an end-of-course bonus (e.g., all Cleaners should be alive when the safehouse door closes), but it mainly gives bonuses that strengthen our opponents.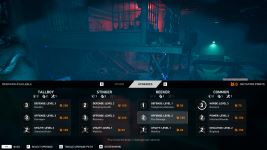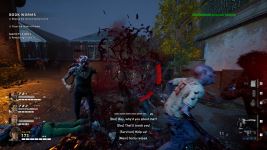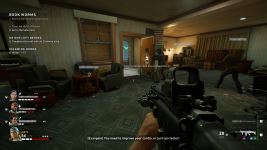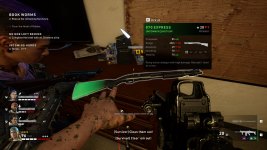 The development studio also noticeably took elements from the other previous game, Evolve, and kept thinking about them. (By the way, Evolve got quite a few negatives when it came out, then switched to a free to play model, and later even that version was taken off the Steam store.) This is mostly felt in PvP mode, which this time takes place not in campaign maps but in a separate arena. Here, four players fight a monster controlled by four players in a constantly shrinking circle. The goal is to keep the surviving side alive longer than the enemy team. These elements come into play here, as the abilities of the monsters can also be developed from a point system within the matches. The longer the survivors can endure, the more points the players on the enemy side have that they can spend on upgrading their own monster type or horde.
There are two ways to play through the campaign, but unfortunately one of the options is almost pointless. We can play in the usual cooperative way, where we fight alongside the tracks with three other players. In contrast, there is also a solo game mode where we can experience the story with sticks. There would be no problem with the latter, but in some incomprehensible way, if we play alone, the game will turn off all sorts of progressions. A short list of what it means to cut for him alone: ​​we get all the cards, but we can't modify the cards used by the bots; does not track our statistics during missions; does not give supply points at all, which is the point used within the game for cards, cosmetic items, etc. to dissolve; we cannot get achievements; does not open checkpoints resolved during the campaign in the multiplayer section.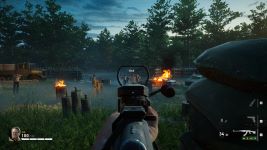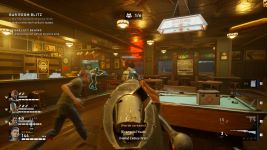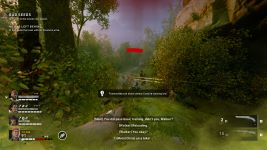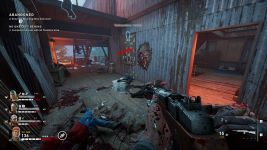 Graphics:
In terms of graphics, we get enough settings to achieve optimal performance in all configurations. If we have a very high-end machine, we can roll up the settings to the maximum, but if we have a weaker system, we will still find ways to produce the best image quality. For the latter, for example, we can use FidelityFx Super Resolution, which allows even less powerful video cards to stably produce 4K 60 fps. There's a big red dot in that if we send a zombie in the face with, say, a shotgun, we're visibly covered in blood that sticks to our weapon and the body of our character. In my own experience, it's worth turning off Chromatic Aberration. You can also choose the DirectX 11 API, but I prefer DirectX 12. With some settings, it showed even better numbers than version 11.
User interface, controllability: The menu system is noticeably designed to be easy to navigate using a controller. The UI is highly transparent and has informative icons arranged in the corners of the monitor, and we can also adjust text or image elements to fit our vision. The movement of the characters is responsive and also allows for tricky jumps if we are skilled enough. In the case of weapons, the use of ADS would be recommended, but in fact all weapons are surprisingly well used from hipfire. Quite to the extent that after a while I was no longer concerned with using targeting. Throwing allows you to throw in the right place while holding it in your hand, but you can also set up a quick throw option that instantly discards what's in your hand at the touch of a button.
Playability: Thanks to the card system, there is little chance that our two matches will be the same. The Cleaners and the cards they use greatly change the style of the current match, which Corruption cards further modify. If that weren't enough, the game itself will adapt to the current state to keep the gameplay exciting. Unfortunately, solo play is not a really viable option.
Intelligence, difficulty: The monsters 'AI continues to geniusly try to corner us. They climb deftly, run, and always try to hunt down our fallen or lonely companions. Stronger monsters have more than once combined their abilities (e.g., Tallboy raised and a Reeker underpass). The sticks used as our own team members, on the other hand, are less intelligent. In many cases, I expected a little help from them, but when I turned around, I was confronted with them standing still, not shooting, and simply dying. The difficulty levels are also fairly well balanced. In the light gear, for example, there is no co-injury. In return for more effort, however, we get more points at the end of the match that we can spend.
Sounds, music: The music and especially the music of the main menu creates the right atmosphere for the game. The sound of the guns is also percussive, and not just random puffs. Zombies can quickly make a big fuss, so captioning can be a pretty good option if someone requires it. During the beta, word spread like wildfire that zombies would shout that certain letter "n" in many cases when they saw the player. According to the official response, these sounds are randomly combined, and one possible outcome of this was very similar to that word. This is no longer included in the final version.
Summary: After a terribly bad beta test, we got a well-matured game. Bring in the classic formula, but still put in a little twist to keep the sequel from flattening. AI and matchmaking are still areas for improvement, but the core gameplay is fun. During the competitive match search, he was among some of his Asian teammates, and as a result, I had such a ping that the delays of each action could be measured in seconds. Fortunately, there were few examples of this, but it is worth mentioning. I don't recommend playing alone, but friends are guaranteed to have fun. If we only wanted a little more Left 4 Dead, we got it, and maybe even more.
---
Source: SG.hu Hírmagazin by sg.hu.

*The article has been translated based on the content of SG.hu Hírmagazin by sg.hu. If there is any problem regarding the content, copyright, please leave a report below the article. We will try to process as quickly as possible to protect the rights of the author. Thank you very much!

*We just want readers to access information more quickly and easily with other multilingual content, instead of information only available in a certain language.

*We always respect the copyright of the content of the author and always include the original link of the source article.If the author disagrees, just leave the report below the article, the article will be edited or deleted at the request of the author. Thanks very much! Best regards!
---