The design of buildings and the interior design of public and personal spaces have undergone consistent changes during this period. And we are no longer just talking about what seemed like a timid trend a few years ago: replacing plastic and various tiring imitations with natural materials, but also our needs, which have changed radically in the last year. That's what the architect says Eliza Yokina.
"Suddenly we don't need to travel for a meeting in another country or city, the office can also be at home, and relaxation and shopping must be accessible in a maximum of 15 minutes on foot. This means a new urban and architectural vision of the city, this means that we can create new models of spaces and programs, keeping in mind a flexibility that until recently could have seemed extreme "
We continue the discussions about space, but also about the evolution of the architecture and interior design market since last year with Eliza Yokina, founder CUMULUS and From Architecture.
Professional career
I come with a rather artistic training, from the age of 14-15 I started organized training for painting, which led me to an area of ​​formation of aesthetic sense and the development of the ability to observe with all aspects that are included here and what which helped me a lot in the professional training that followed. Then the specialization in Architecture meant an enormous volume of new information and the development of new thought models and spheres of knowledge.
Later, after college, the real knowledge began to physically make things happen while I'm still there. It is true when it is said that you never stop learning and that keeps our interest and curiosity alive or vice versa. There are three different worlds, more and more anchored in reality and dependent on it, but which complement each other and at some point can short-circuit each other. I look forward to discovering new ways of thinking, cultivating, practicing and realizing Architecture or anything else that can contribute to the way we build the world we live in.
Vision, style and influences
The gesture of building is, paradoxically, a primarily destructive gesture and therefore the need to contribute positively to all aspects with which we can enter into a relationship is essential for me.
I have always been concerned with inspiration and how it can be transmitted through art and architecture. Just as important is the footprint we left as humans on the planet – our home. Here I include how we manage our relationship with Nature, but also how we educate ourselves to evolve in a way connected to it.
The most important teachings
I had very good teachers at school, I practically started Architecture from 0 when I came to Romania and I learned a lot from them, so I think it would probably be even more to learn, but each assimilates according to his ability to assimilate at the same time I did the same. At the beginning of the first year it was Mr. Prof. Lucacel, Silvia Costescu, Anda Manu then Ștefan Gheciulescu, Florian Stanciu, Mac Popescu, then Lepădat, Petre Ciuta, Biciușcă, Ana-Maria Zahariade, Sanda Voiculescu, to All formed me, both as much as I could receive then.
Obviously at that time SMLXL had appeared by OMA and architects such as Jan Nouvel, Herzog and de Meuron, Mvrdv, etc., whose Architecture we looked at and studied. Later I learned by collaborating with architects or practicing with them. I learned quite a lot from Adrian Soare with whom I did SYAA and then from all my colleagues with whom I teamed up. Today I like to learn from people who act in other fields such as Branding, Art, writers, actors, etc. I believe less and less in the separation of things.
The most important projects in 2020
It was important to close some older but important projects for us from 2015 and 2017, a residential complex with 19 apartments on Badea Cârțan Street, number 13 and a Brand Marriott – Moxy hotel with 119 rooms, on Doamnei Street 17-19, both in Bucharest.
And a project recently completed in 2019 CATTIA- Brasov was awarded at the 2020 edition of the annual Architecture in Bucharest as well as nominated for the European EU MIES Awards, which brought us joy at the end of the year. The boring project, at least for me, will have a new direction, I want to give it to the things I do and I can talk about it on another occasion.


CATTIA Brasov – Cumulus Architecture, Exhibit Architecture
Changes in the profile market
We have had many projects already under implementation, but in the new projects we have noticed the need for a vision that manages to overcome the effects of the pandemic, on the one hand and on the other hand, an added security the need to reduce or at least to to control the risk. This meant slower design processes for us.
Customers, from what I noticed, fall into two categories. Some believe that the pandemic will end and we will resume our lives in one form or another – they are the ones who are waiting, waiting to see the end of the pandemic to assess the effects and resume investment with on board lessons. The others, more agile I could say, realized that the world will not be the same, and through their actions they adapt to the new situation, becoming more flexible, multidisciplinary or simply moving forward, finding new ways to grow.
The effects of the pandemic
It was Wow, unexpectedly how many certainties fell apart and how quickly we adapted to a new reality. Obviously, we are now redefining what living space and work space mean, how they are transformed, what new requirements appear, but more than adapting spaces, as we know them, it is redefining the functionality of spaces. Suddenly we no longer need to travel for a meeting in another country or city, the office can also be at home, and relaxation and shopping must be accessible within a maximum of 15 minutes on foot. This means a new urban and architectural vision of the city, this means that we can create new models of spaces and programs, keeping in mind a flexibility that until recently could have seemed extreme.
It is very clear that from now on we start to do things differently than we are used to, there will be more questions to ask, more options to try and more research, in any case it seems that any crisis has its good side – evolution. We worked this fall on a proposal for a fairly large residential complex in which we tried to implement all the new ideas and housing needs caused by the pandemic and the last confrontations before the crisis that we had to solve from an architectural point of view. such as sustainability, equal opportunities, climate change, increasing the quality of public and habitable space, making residential spaces more flexible, the mix between functions, the health of an inhabited space and last but not least economic development.


Silk District residential-residential ensemble proposal -Cumuls Architecture


Silk District residential-residential ensemble proposal -Cumuls Architecture
The impact on your business
The impact was negative, in the sense that the business decreased by at least 25%. Obviously we tried to balance this aspect with a small decrease in salaries for a limited time, but at the same time we try to return to normal, keeping the team and being proactive on the market. We managed to work most of the time at home – about 3/4 of the team works from home, and here it helped us a lot that we have been experiencing this for some time and the adaptation really happened in one day. , without practically interrupting the work. For us, the crisis is not over because its effects are felt late in our field of design.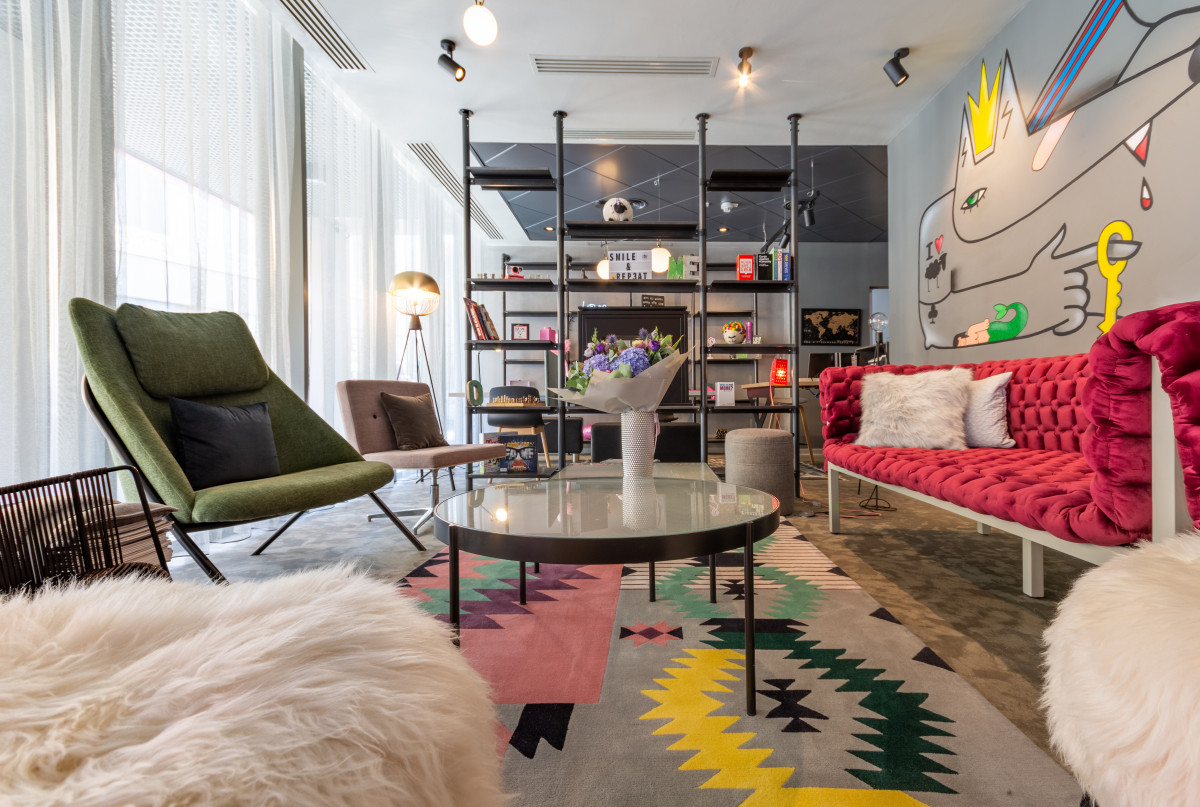 The evolution of the design and interior design market
Design is growing in Romania, at least in terms of quality. For this reason, more and more projects of a remarkable architectural quality, published and internationally, speak. The phenomenon can be followed over the years on the websites of the annuals and biennials of Architecture. For example. Anuala.ro for the annual in Bucharest, organized by the Order of Architects, Bucharest branch.
A few years ago I was answering questions about trends and I was saying that the trend is in natural materials, today this is already confirmed, we see more and more natural materials replacing plastic, imitations, decorative materials, composite surfaces, etc. We will see more and more stone, instead of composite or compact, lime-based plasters, instead of decorative and synthetic, wood or metal, instead of PVC and other composites, which will not exclude the use high-tech and high-performance materials.
What has replaced communist gray in the last 30 years
With a lot of plastic and PVC, I prefer communist gray, at least it was made of real materials. Oh, and speaking of trends, the communist one also stands out not only in the tabs, but also in the interior design, and the totalitarian architectural style, implicitly associated with communism, is very 'on spot'.
The relationship with the environment
We live in a period of awareness, involvement and information, and this aspect influences both our way of life, values, understanding, but also our requirements about the built environment and the living space. We approached this topic in detail in the concept NEW NATURE proposed for the world exhibition EXPO 2020 Dubai at the Romanian Pavilion. We try to find in each of our projects this balance between responsibility and economic development between nature and technology, between science and tradition, creating a new vision that allows a harmonious development, in response to the moment of crisis in which not only society, but also the planet.


Romanian Pavilion at Expo 2020 Dubai – NEW NATURE – Cumulus architecture
The future of public space
The public space is a topic that concerns us for a long time, in 2010 with the TUB project, and then in 2012 through PIDU we tried together with 10 other Architecture offices in Bucharest to reactivate some central public areas, connecting them in a pedestrian route that is defined by an urban identity. Regardless of the fate of this project, which has not entered the realization stage, the issue of public space in Bucharest is often treated by the attention of architects, whether they are studies, solution contests or drawer projects.
From the idea of ​​the square to the idea of ​​public space, Nordic design or Barcelona character, many discussions can take place and interesting approaches and ideas can emerge. There are attempts to characterize and understand the urban public space in Bucharest and it is a topic we can discuss, the potential of urban and natural spaces in Bucharest and the reasons for the lack of quality public spaces would be a topic to reflect.
In the "De-a Arhitectura în Orașul Meu" school curriculum, developed by the De-a Arhitectura Association, which operates with an optional course for Romanian schools enrolled in the program, we approached the subject of public spaces because it is also a subject related to education and tradition, what needs to be cultivated.
Trends in 2021
I would bet on dream capsules and virtual realities, in which each creator creates his own story, more joy, more creation, which comes to compensate for a life with less physical interaction. At the same time we maintain a balanced approach in which we look for unbreakable values, natural materials, traditional production techniques and manuals.
Thoughts of the beginning of the year
The beginning of each year is for me an opportunity to reset the energy with which I manage my daily life, be it professional or personal. I try to immerse myself with a smile in the spin program that the universe has offered me lately and to discover the joy of a roller coaster. I plan to do projects that are not necessarily buildings, but other constructions – but I will talk about that at the right time.
I continue to work in the CUMULUS architecture office and the De-a Arhitectura association and I try to expand the fields in which I work, thus erasing the professional limits in which we are comfortable to manage our own expertise. Basically, the pandemic situation gave me the courage to approach things that I used to think about only with the hope that one day they will be possible. I set this intention at the beginning of the year, as I used to do in yoga classes
---
Source: IQads by www.iqads.ro.
*The article has been translated based on the content of IQads by www.iqads.ro. If there is any problem regarding the content, copyright, please leave a report below the article. We will try to process as quickly as possible to protect the rights of the author. Thank you very much!
*We just want readers to access information more quickly and easily with other multilingual content, instead of information only available in a certain language.
*We always respect the copyright of the content of the author and always include the original link of the source article.If the author disagrees, just leave the report below the article, the article will be edited or deleted at the request of the author. Thanks very much! Best regards!
---