By the time the residents of Kyiv hear air raid sirens signaling an impending Russian attack, Ukrainian air defense units are already on the move. From camouflaged positions, they go out in trucks to the fields around the capital and are ready to shoot down enemy drones or missiles.
Since April 28, when Russia resumed regular air attacks on the metropolis after an almost two-month break, these actions have been almost a daily occurrence. Since then, soldiers have intercepted every drone or missile fired at the capital. It is a significant improvement from the first days of the war, when waves of Russian missiles and aircraft evaded air defenses and inflicted heavy losses on the Ukrainian air force, the American newspaper wrote The Washington Post.
With the help of Western weapons and growing experience, Ukraine's air defenses have made great strides in protecting infrastructure and lives over the past 14 months. Above all, it prevented Russia from gaining air supremacy, which is an essential thing at the time of preparations for a counter-offensive.
VIDEO: See the Patriot system in action
Air defenses have made it impossible for Russian aircraft to penetrate airstrikes deep behind the front lines and "significantly shaped the course of the war," Ian Williams wrote this month in an analysis for the Center for Strategic and International Issues (CSIS).
Since April 28, Russia has fired a total of 67 missiles and 114 drones into Ukraine, with only seven missiles and 11 drones getting through and none hitting Kyiv, according to the Ukrainian Air Force. Last week, the Ukrainian military announced that it had shot down Russia's most advanced Kinzhal hypersonic missile, which until then had been considered invulnerable. This was made possible by the newly acquired battery of the American-made Patriot air defense system.
On the first day of the invasion, Russia targeted Ukraine's land-based air defense systems, first with a barrage of missiles and then dozens of aircraft strikes backed by electronic warfare measures that essentially blinded Ukrainian radars, Justin Bronk said in an April analysis by the Center for Naval Analyzes (CNA) in Virginia. However, Ukraine received intelligence from the Allies before the Russian attacks, which allowed Ukrainian defenders to move mobile units to safety, although some fixed positions did not escape destruction.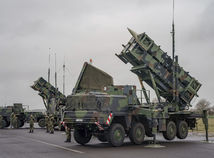 Read more The Ukrainians destroyed the "bulletproof" Kinžal. Patriot helped
However, air defenses were scattered and for a short time the Russian Air Force was able to fly over Ukraine with waves of helicopters supported by fighter jets, causing heavy losses to the Ukrainian aircraft sent to intercept them.
But the Russians failed to follow up on their initial attacks, allowing Ukrainian forces to quickly regroup, said military expert Douglas Barrie of the International Institute for Strategic Studies in London. "They didn't go back and check: Did we destroy it? Did they defuse it? Do we have to go back and do it again? Have they moved?" he said.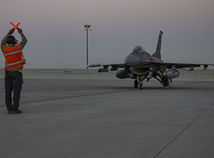 Read more Ukraine needs American F-16 fighter jets, the commander-in-chief of the army repeated
The brigade commander of the Central Air Defense Command is a colonel who, in accordance with the rules, could only be identified by the call sign Žula. During an AP reporter's visit to his unit this week, he said his brigade was hit by 20 Russian rockets on the first day of the war, knocking out barracks and command posts and killing people.
Abandoning fixed positions, they now operate solely as mobile teams that can quickly spring into action and just as quickly disappear—a tactic commonly referred to as "shoot and disappear."
VIDEO: Top Gun against Russia: Will the Ukrainians get F-16 fighters?
After the initial setbacks suffered by Ukrainian air defenses, by the third day of the war, enough mobile units were back in action that they were able to shoot down several aircraft. This forced Russia to withdraw its aircraft, depriving itself of a key advantage.
Despite this, many Russian missiles managed to penetrate to their targets. Zula estimates that in the first months, Ukraine was intercepting about 50 percent of Russian missiles. The CSIS report suggests that number may actually have been much lower.
With the arrival of new Western-made air defense systems during October and November and the growing capabilities of Ukrainian batteries, Ukraine reported in December that it had intercepted about 80 percent of all Russian missiles that month.
Today, Žula puts that number closer to 90 percent, and says defense systems around Kyiv have intercepted 100 percent of the rockets fired at the city since April 28. "Kyiv is protected," he said.
The two key systems Ukraine has used since the start of the war are the long-range S-300 and the Soviet-era Buk medium-range systems, also known as the SA-10 and SA-11. Gradually, Ukraine incorporated new systems from Western allies, including IRIS-T batteries delivered in October from Germany and US- and Norwegian-made NASAMS in November. Furthermore, last month it received the European SAMP/T systems and the American HAWK missiles, then put into service two Patriot batteries made in the USA.
VIDEO: Norwegian NASAMS. This is how the sky over Ukraine is already defending
Air defense is formed by overlapping rings of range of individual weapons – starting with a short one created by anti-aircraft guns and rockets fired from the shoulder, up to further distances. According to Barrie, a single layer would not be enough to stop all or even most of the blows. "But the more layers you have, the better your chances are," he says.
With so many Russian attacks, some speculate that Moscow's strategy is to try to exhaust Ukraine's air defense resources to the point where Russia can once again use its superiority in fighters and bombers. However, there are also indications that it is Russia, on the contrary, that is running out of missile stocks.
VIDEO: The Germans sent an (armored) marten to the Russian chicken coop
So far, Ukrainian President Volodymyr Zelenskyy is successfully pressuring the allies to provide additional air defense supplies. The United States on Monday announced $1.2 billion in military aid, including new HAWK systems, drones and air defense munitions.
Morale among the soldiers serving under Žul appeared to be high this week, even though they were on duty well into the wee hours of the morning. At that time, Kyiv's air defense shot down 35 Iranian-made Shahed drones. Around noon, the team returned to their posts as it turned out they had gone to another false alarm action.
A soldier with the call sign Chrobák shot down a Russian helicopter over Kiev with a shoulder-fired missile on the first day of the war. He said this success gave him a confidence that he still maintains. "I realized that it's not over, that we can fight," he said. "That they don't chase such fear," he added.
Range is a driver who joined the army on the first day of the war after seeing rockets falling on him. According to his words, he could not sit aside. "It's history," he said. "And we are currently writing it. "
---
Source: Pravda – Správy by spravy.pravda.sk.

*The article has been translated based on the content of Pravda – Správy by spravy.pravda.sk. If there is any problem regarding the content, copyright, please leave a report below the article. We will try to process as quickly as possible to protect the rights of the author. Thank you very much!

*We just want readers to access information more quickly and easily with other multilingual content, instead of information only available in a certain language.

*We always respect the copyright of the content of the author and always include the original link of the source article.If the author disagrees, just leave the report below the article, the article will be edited or deleted at the request of the author. Thanks very much! Best regards!
---