This year will be disastrous for many vegetable growers, due to the coronavirus and the consequences that will certainly remain until the end of the year, they will have a big loss of income. Will Slovenian vegetable growers even grow vegetables?
This is the question asked by many who point out the problems – some are a constant, many are new, brought about by the epidemic. According to the director of KZ Krka Novo mesto Martin Kambič, the coronavirus collapsed part of the market. The need for vegetables decreased due to the closure of public institutions (schools, kindergartens, universities, dormitories and, of course, restaurants and hotel chains. There were times when all growers were afraid that they would be able to grow enough Slovenian vegetables, or they will be able to meet the needs of the Slovenian consumer, what will happen if the state borders are closed. They were put to a very big test of whether they would be able to procure seeds and everything needed for production. Some have consciously decided to increase production, some have already set it up for schools, kindergartens, inns… And once you sow, there is no going back. But then there were too many vegetables. "Many institutions are still closed today. Purchasing power has fallen, market surpluses are too great. But we must not allow the farmer to be the one most affected, to pull short, in the end, " Kambič believes and explains that farmers sow and plant vegetables in accordance with the guidelines of traders.
MORE BINDING CONTRACTS
In the field of self-sufficiency in vegetable growing, Slovenia is only 35%, which means that there are still many reserves, and we have the conditions for production. And imports from abroad would not be necessary at all.
Guidelines on what and how many vegetables will be grown in the new year, what is promising and what is not, are made at the end of the year. "But now everything is different – for example, cabbage was instructed not to need it, and now we are getting information that it is lacking," says the director of KZ Krka, who sees the solution in concluding more binding contracts with traders, similar to the ones they have with foreigners: if they undertake to take something, they also have to, if they need it or not. Otherwise, everything remains on the shoulders of the farmer, who has the cost of seeds, labor and so on, but in the end he cannot sell the vegetables.
According to Kambič, this spring Šentjernej vegetable growers donated at least ten tons of lettuce. 'It's a disaster. Just think that maybe the whole family lives on this income, that maybe this farmer went into development and investment and therefore took out a loan that he has to repay now. The state should come to the rescue, as is supposedly the case in many places abroad, otherwise such a vegetable grower will not survive, " to me Kambič. They point out these problems to the Ministry of Agriculture, as they also want to help their vegetable growers. After the departure of six big ones last year, they now have about 15, mostly at the Šentjernej-Kostanjevica end.
CONSCIOUS CONSUMER
The vegetable chain's partners – growers, cooperatives and traders – have met several times. They note that the main problem is insufficiently planned production and disconnection between growers and traders. However, all members of the chain are urging vegetable growers that it is high time to connect more and plan production together so that there will be no surpluses on the market. Only in this way will the vegetable grower be guaranteed further production of Slovenian vegetables and will offer the consumer quality vegetables on Slovenian shelves. But we consumers must do our part too. "The long-term solution is to make Slovenian consumers aware that they will buy home-grown vegetables, meat and so on, and that they will demand Slovenian products from their retailer. This is the only way it can support Slovenian growers. It must be clear to us that the strawberries picked from our field will still be fresh on the store shelf tomorrow morning. And the salad, which was still growing in a nearby field eight hours ago, is certainly different from the one that came from abroad and traveled to our plate for a few days, but it may look fresh and beautiful, " explains Kambič.
Lidija Markelj
Marjan Jurečič with a crate of tomatoes
JUREČIČ: A BIGGER VISIT DURING THE CROWN
So does the farmer Marjan Jurečič from Veliki Mraševo in the municipality of Krško, which has been engaged in vegetable growing for three decades. On their farm, they offer home-grown vegetables, seedlings, wholemeal flour, cold-pressed oils and products made according to their own recipes and based on their own experience. On about 50 hectares (with crop rotation) they grow crops such as new potatoes, early and late cabbage, peppers, melons, and of course lettuce, cucumbers, beets, tomatoes, peppers, and on 25 hectares other crops (wheat, barley, spelled) …).
According to Jurečič, it was encouraging for them at the time of the coronation. Immediately on the second day of the introduction of insulation, sales at home – they have a nicely arranged store – doubled. "People preferred to come to our farm rather than to bigger stores, because they thought it was safer, and above all they wanted home-grown vegetables. Many also supplied themselves with seedlings, as self-sufficiency was emphasized. Many customers were completely new, from elsewhere, " says the interlocutor and adds that wholesale sales – after many years of loyalty to KZ Krka Novo mesto are now subcontractors of Krško's Eurosad – have greatly decreased. But this is the biggest part of sales. The reasons are less need as many institutions have been closed.
"We still kind of sold the first spring round normally, but then from May 1st everything went downhill. For example, we felled up to twenty tons of lettuce with a mulcher, " says Marjan Jurečič, who annually produces between 800 and a thousand tons of vegetables on the farm. Irrigation is regulated by the irrigation system Kalce – Naklo. This year, early cabbage has also been mulched, he says, as cheaper Serbian and Macedonian cabbage has hit the market.
"The problem is that we are a small market, we would need more fixed contracts with traders, but there is no one who would buy everything that grows. Sales in public institutions should be further encouraged. The question is also whether everything that is advertised for this is really domestic. There is still a lot of driving from Italian wholesale markets, then our prices fall, " farmer Jurečič thinks about the reasons for the problems in vegetable growing, otherwise he is satisfied that he has a successor on his farm, a son Tevža.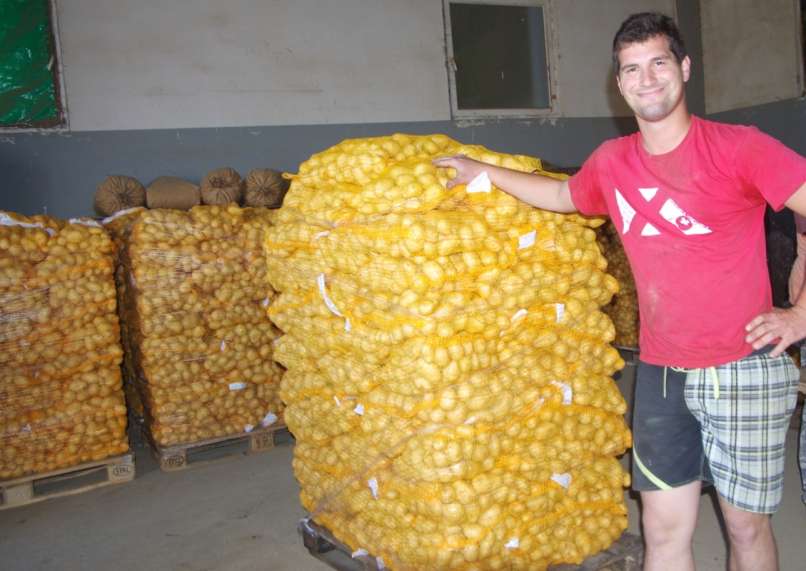 Lidija Markelj
Son Tevž, who will be the successor of the Jurečič farm, with sacks of young potatoes.
"As it turns out, we will persevere, unlike many smaller vegetable growers who have given up, which is understandable. Young people will no longer just work like us – they quickly put everything below the line, and because it doesn't pay off, they prefer to find a safer and more comfortable job, " says Jurečič. They want more covered areas in the future – now they have 3.5 hectares for seedlings, peppers, tomatoes … "But what if you need to get a building permit for areas over 150 square meters. For a greenhouse, this area really isn't big. We are waiting for these rules to be relaxed, " he says openly.