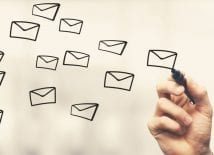 What are the hypes and trends of email marketing in 2021? And with what can you really not be left behind? As a marketer, make sure you are informed and make conscious choices. From interactive email, to Privacy Shield and dark mode: is it a hype, trend or given in email marketing?
Of course we cannot separate from the corona virus next year either. From the investigation of the DDMA it appears that 72% of those questioned currently see email as a more important communication channel than before the crisis.
Many organizations are marking time in 2020. They are aware of what they are doing and why they are doing it. But also gained insight into what could be done better and smarter. On the other hand, digitization went faster than ever because many organizations – out of necessity – became acquainted with it and now no longer want it any different.
Doing smart also means doing differently, daring to make choices and often stepping out of your old pattern. Would you like to make better use of interactive e-mails? Then your CTR to your website becomes less important. Do you want more automation to do? Then you may have to stop your regular newsletters and invest time in automating.
Yes, then I immediately come to the 'buzzword' growth hacking, which also applies to email marketing. Experimentation is needed. Take small steps to eventually become as big as possible.
That was always the motto within email marketing automation, but it has now been given a nice term. Find out more about the six email marketing trends for 2021 below.
1. Stop the newsletter, automation in place 1
Last year I wrote an article on email trends in 2020, in which I headlined that automation was still in its infancy. That is still the case in my opinion. This year, a lot of time was spent rethinking regular communications. Many organizations still have automatic email flows high on their list of priorities.
A frequently heard reason not yet to switch from mass to 1: 1 communication is time. How do you make time for this? Quit (temporarily) with your regular bulk newsletters and put the time into the back. That may sound intense, but this may just be the only way to break old patterns. Do you have any real news? Of course it is good to keep sharing that. Perhaps a little more personal than you were used to.
Has your organization already activated email flows? Then you will continue to update content in the coming year, due to the changing current affairs. You also see that organizations exist automation flows redesign immediately or use it more creatively. Because automation does not have to look like automation.
2. Smarter deployment through interactivity and creativity
If the presentation of the DDMA E-mail Awards en de Battle of the Agencies have shown something, it is that creativity in emails leads to better results. Standing out online and interacting more with your brand requires a smarter approach and interactivity and creativity are important ingredients for this.
The front runner of all email trend lists in 2020, AMP (Accelerated Mobile Pages), sadly seems to be falling right now. If you wanted to plan interactivity with AMP, I would personally be a bit more reserved about this. Because based on the withdrawn support for AMP by Microsoft, the chances that AMP will become the new standard are dwindling.
Be reluctant with Accelerated Mobile Pages.
Apart from that, interactivity in e-mail comes with trial and error anyway. I think that most organizations still see email as a 'transmission medium'. Interactive e-mail functionalities, on the other hand, are often easy to implement in your e-mail template.
Consider a swipe function such as with Tinder, but a carousel, countdown counter, video or search function in e-mail are also good examples. Look at e-mail like you view a website. What can you achieve in the email itself?
3. Integrate purchase data for smarter transactional emails
The following trend fits in perfectly with this. Transactional emails, such as order confirmations, package updates and other notifications and notifications, are often the most frequently opened. Why? Because recipients want to have the right information right away.
Organizations often forget that transactional emails are also part of the marketing mix. Why not use this contact moment better to increase the overall service level? Broadly speaking, two major steps can be taken here.
Redesign
Step 1 is redesigning transactional emails and measuring opens and clicks. The experience becomes more important and the consumer is more critical. Why should a transactional email be a boring, basic, automated looking email?
A good example of how it can be done is Hans Anders' simple but effective Post Purchase campaign. The campaign was awarded as the winner of the DDMA Email Campaign of the Year in 2020.
Integrate
Step 2 is to integrate purchase data into transactional emails, allowing you to set up product journeys. Consider, for example, segmentation and personalization based on purchase history, product recommendations, loyalty programs, the stimulation of repeat purchases or tips and tricks about your purchased service / product.
Again, don't think of integrating purchase data into your transactional emails as a goal in itself, but as a means to achieve your possible goals.
4. Personalization: more possible than you think
Personalize and segment emails. It sounds like a cliché that we keep on spooning, but that is not for nothing. Too much e-mail is still being sent in bulk and there are so many steps to take.
Did you know that 67% of recipients expect brands to offer personalized content, and 42% even get frustrated or annoyed when brands don't offer personalized content? (bron CM Group).
So the other way around: if you don't do personalization, it can even work against you. The customer is becoming increasingly critical. And your internet service provider too. Interacting with or in your email (open, click, forward, or move the email from 'ad' to your 'inbox') increases the likelihood of your email being shown directly in the priority inbox from your recipient.
The reverse is also true: the more uninteresting the subject line and content of your emails, the greater the chance that they will end up unopened in your recipient's trash. Your recipient is getting used to more and more personal experiences in the inbox and an impersonal e-mail is therefore less likely to be opened. Of course, the subject line for opening your e-mail is and preheader of crucial importance. Therefore always stay A / B test to carry out.
Opportunities in communication
When it comes to personalization, people often think in terms of limitations. For example, because the database is not complete or the input would make your communication prone to errors. Think in terms of opportunities and consult with the professionals of your email service provider. In many cases, much more is possible in your email content than you think.
When we talk about content personalization, you can go a long way. From personalizing based on purchase behavior and interests to triggering communication based on web behavior. Artificial intelligence (AI) and the personalization of content based on many more data sources than just e-mail, then come into play. This often involves a CDP / DMP or data warehouse.
5. De dark mode: hype of must?
As I wrote last June, we can't beat the dark mode in email marketing. Dark mode is a reverse color scheme that uses light-colored typography, UI elements, and iconography on dark backgrounds.
Users of the most popular operating systems and apps (Slack, Twitter, Facebook, Outlook, iOS mail) can switch to dark mode in no time. Of course, an email that looks good in dark mode will achieve your goals much better.
Unfortunately, with the current resources of the major e-mail clients (Gmail, Outlook, Apple mail & Samsung mail) it is not always possible to determine exactly what your newsletter looks like in dark mode. Because as a sender you have no influence on what your recipient has set up, I recommend that your email template is as good as dark mode-proof to have it made.
Don't have the resources for it? Then I give you a tip of the veil: some email clients can be targeted with what to do with your email in dark mode. For others there are best practices in how to optimize your template.
6. Privacy Shield, Brexit and Strategic Data Security
The Privacy Shield, the 'data exchange treaty' between the EU and the US, has been rejected. After Brexit, there is still no adequate decision from the EU for data synchronization with the United Kingdom. This means that the data that you store and exchange in connection with email marketing also comes under a magnifying glass. I would like to share the latest news with you.
The latest news is that the Dutch Data Protection Authority (AP) is slowing down:
Exchanging data from the EU with the US entails the risk that as a company you harm the privacy of customers, for example. Our Irish colleagues are sounding the alarm and are investigating the transfer of data by Facebook to the US. The AP has not ordered companies to stop transferring personal data to the US.
The AP, on the other hand, does call on companies to check whether personal data is being transferred to the US. Because you may harm the privacy of your customers and you are in violation. Data exchange can be stopped in the event of such privacy violations. As an entrepreneur, you should not want to run that risk. Prefer to store data in the EU dan in de VS.
Your customers also expect you to handle data safely
Regardless of what the AP reports, your customer is also becoming increasingly critical. They assume that you have arranged it properly. My advice in this case is always "better safe than sorry". But the minimum requirement is that you know where your customer data is and how suppliers deal with it. So that your choice is always a conscious one. This includes the storage of personal data in Europe, but also matters such as ISO standards and the (partial) protection of personal data for your staff.
An example. Volunteers or interns must be able to work with your mail marketing automation tool, but do not need to have insight into the database with contact details of your customers. Data security is therefore one hot and strategic topic, which we will continue to work on in 2021.
Your challenge for 2021
Of course I understand that – no matter how badly you want – you may not be able to keep up with every trend of 2021. Reading about it is a good start. Only working with it is really more fun and that is why I challenge you:
Set up at least 1 (extra) automated e-mail flow by 2021. A simple welcome flow can make a big difference!
Not every email has to be creative or interactive. For each email you send, write down what the purpose of your communication is and how you think you will achieve that goal. By (more) consciously dealing with your communications, your e-mails will probably change in content and form.
Do you send transactional emails? Ask your customers what they think about it and how the expression comes across to them. Or maybe your own critical eye is already sufficient for improvement.
Which personalization step would you like to make in your communication? Think without limitations and put a dot on the horizon!
Know what you are sending, even in dark mode. How? Always test your email before sending. For dark mode, for example, there are a number of quick wins that you can easily apply, such as the use of transparent images.
Data storage: if you do it, do it safely.
Questions or additions? Let me know!
Please leave a comment below this article if you have any additions. I always enjoy discussing this substantively. Perhaps you challenge me to cite your organization as an example next year as a trendsetter for 2022!
---
Source: Frankwatching by feedproxy.google.com.
*The article has been translated based on the content of Frankwatching by feedproxy.google.com. If there is any problem regarding the content, copyright, please leave a report below the article. We will try to process as quickly as possible to protect the rights of the author. Thank you very much!
*We just want readers to access information more quickly and easily with other multilingual content, instead of information only available in a certain language.
*We always respect the copyright of the content of the author and always include the original link of the source article.If the author disagrees, just leave the report below the article, the article will be edited or deleted at the request of the author. Thanks very much! Best regards!
---