Anamaria Ghiata he discovered in his childhood that he has a certain inclination towards the craft. The first piece of jewelry she created with her hands was a necklace of hand-shaped roses made of polymer clay made for her. The result surprised her, especially since she sold the jewelry before wearing it. Anamaria then realized that artisan jewelry is a creative area that she would like to explore. 8 years later, he learned a lot about jewelry, materials, developed his craft and creates for his brand, ArtizAna.
"I don't make sketches and drawings, I put the crystals on the work tray, the idea unfolds in my imagination, I choose my beads, the colors, and I start sewing, and unpacking and sewing again, until the object I'm working on takes shape".
With Anamaria Ghiață, we tell in the following lines about her brand of jewelry woven from beads, ArtizAna.
About you
I'm from Timisoara, but a few years ago I retired to the rural area of ​​Timis county, because I'm a big lover of "life in the country". Before becoming an artisan, I was a housewife for some time, a very creative and practical nature, but I couldn't find my ideal job, nor was I too sure of what I wanted to do.
How the passion for craft and creation appeared
Growing up in the village, everyone had to do some work around the household, even as a child I had certain duties, I often gardened 🙂 I liked to draw and paint, but I didn't think I was talented. As I progressed in life, I realized that I have a certain aesthetic sense. I don't know exactly how to explain, it was a natural process, everything came by itself.
The first piece of jewelry made by you
I made a necklace for myself, a black necklace, a kind of collar with roses, hand-shaped from polymer clay, I was very surprised when I sold it before I got to wear it. Then I realized that I could explore this area of ​​jewelry more and that I like it very much.
How is it now? What predominates in your creations
Now, 8 years later, I am sure that practice makes perfect, not just talent, I learned everything I know on my own, without studies, I first learned how to say No, then how to Give. :)))
I learned a lot on my own, so to speak, and I still have a lot to learn.
The basic material in my creations are Japanese sand beads, very different from the classic sand beads, different by their exceptional quality, they are tiny glass beads, equal in size, galvanized, in all kinds of finishes from metallic to matte, transparent And so on I use a lot of crystals, pearls. That's why I call them different jewelry, practically all ArtizAna pieces are sewn by hand, with needle thread and many beads.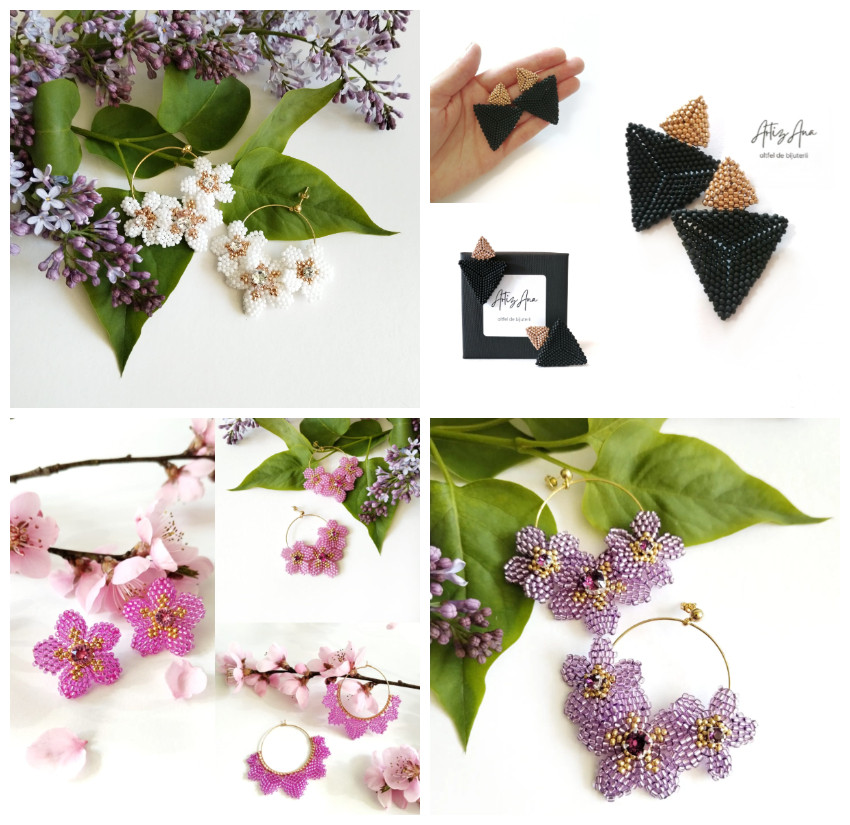 Creativity vs entrepreneurship
Fortunately, because I really like what I do, the creative and production process of a product still takes up much more time than entrepreneurship. The weaving of beads is an old craft, which I try to carry forward, in more current, more contemporary creations.
I still have a lot to learn about entrepreneurship, I'm not very good at marketing and I'm still asking for help from others more experienced than me, I'm lucky to have colleagues in the trade, we learn from each other.
What have you learned in the years of creative entrepreneurship
First of all, I learned that a quality product speaks for itself, I learned to listen more to my clients and their needs, although I don't work on bespoke products, I take into account what they like to wear the most. I learned that nothing is done overnight, I grew ArtizAna organically, slowly and with a lot of work.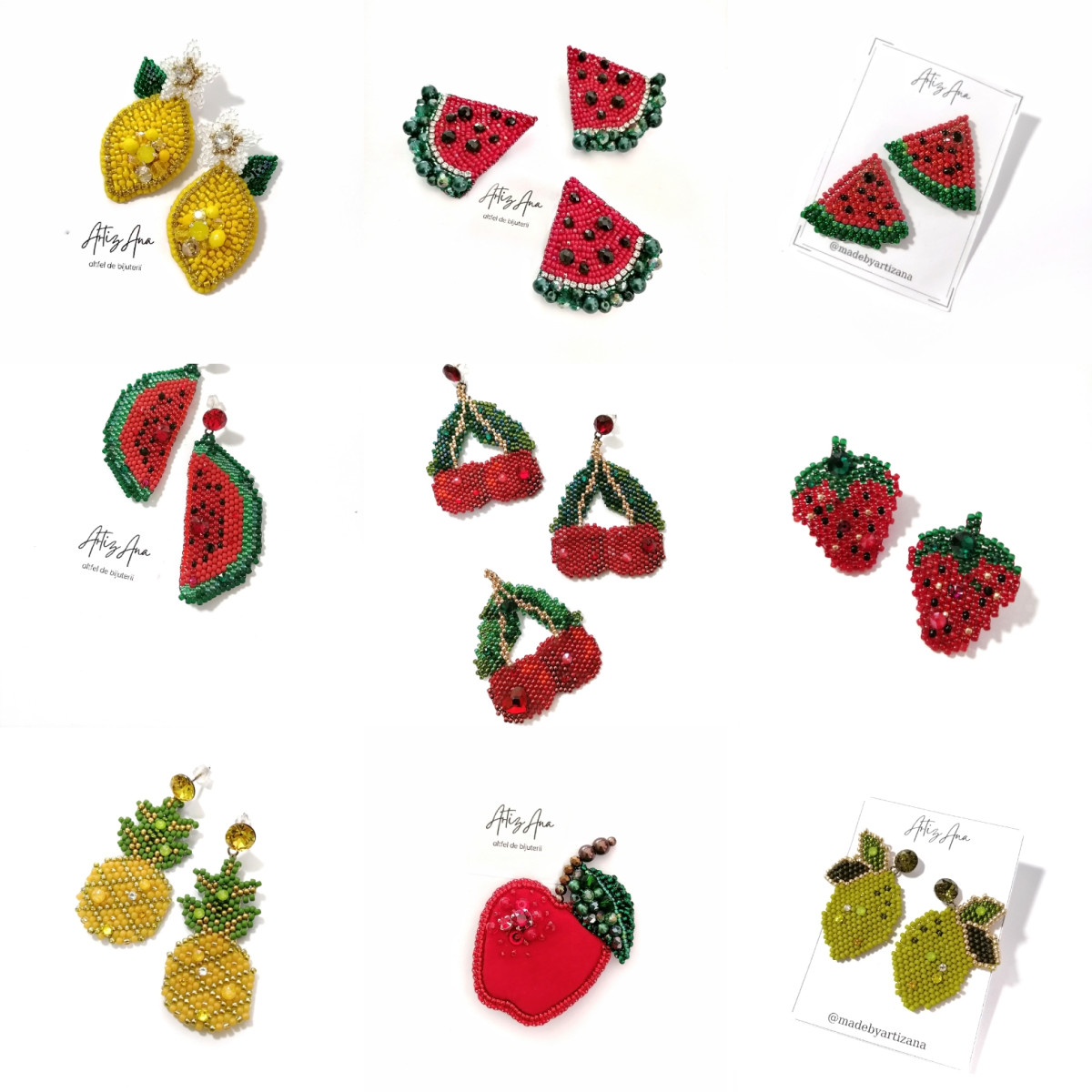 The creative process: from the idea to the final product
I have a creative process, as different as the pieces I make. 🙂 I don't make sketches and drawings, I put the crystals on the work tray, the idea unfolds in my imagination, I choose my beads, the colors, and I start to sew, and undress and sew again :)) until the object I'm working on catches outline.
Where do you find inspiration?
Many times, while I'm working on a piece, I get an idea for another piece, and in the same way, a crown or a bracelet can be made from a model of earrings with flowers.
I have those days when I feel like my brain wants a break, and I give it a break, at least for a day.
What a creative routine you have
I work from home, because I live a considerable distance from Timişoara, I can no longer consider a separate workshop. I like it this way, I start with my morning coffee necessarily drunk in the yard, now summer is gorgeous, after coffee I prepare online orders, make packages, then work, orders always have priority, I have a fix to finish an order as soon as possible so that somehow you're late :))
For a while now, I have been taking regular breaks, sitting too long gives me some back pain. I go outside, a shepherd and a shepherd are waiting for me in the yard, always ready to play. 😉
The super power of your jewelry
ArtizAna are different jewelry, they are jewelry for women who trust them and don't let the jewelry wear them. They are for those who know how to truly appreciate an object in which a lot of time and patience has been invested.
Color is, moreover, something that gives the jewelry made by me an advantage over metal ones, an infinite selection of colors and shades can be found in ArtizAna pieces.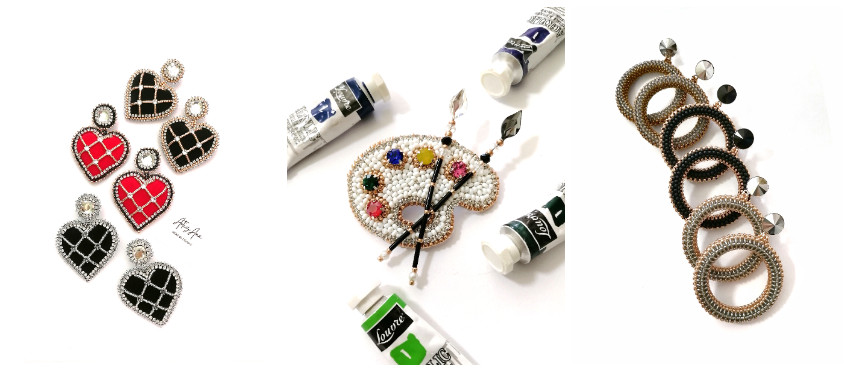 Your customers
They are mostly women, looking for a less ordinary piece of jewelry, ArtizAna jewelry is very easy to notice. I mainly reach through the Oline environment or through other clients who see my pieces.
I often hear the expression "it looks better than in the pictures" and I don't take the worst pictures, but it's hard for me to reproduce in a photo 100% the beauty of a piece. My clients come back because they were pleasantly surprised by the product the first time and pleasantly surprised the second time as well. And I am deeply grateful to them, thanks to them I work with great love every day.
Which products do you prefer from your collections?
She looks for special pieces, when she goes to an event, she doesn't risk meeting other ladies with the same jewelry. Because I work in very small or unique series. ArtizAna earrings are the most sought after, because they are easily noticed.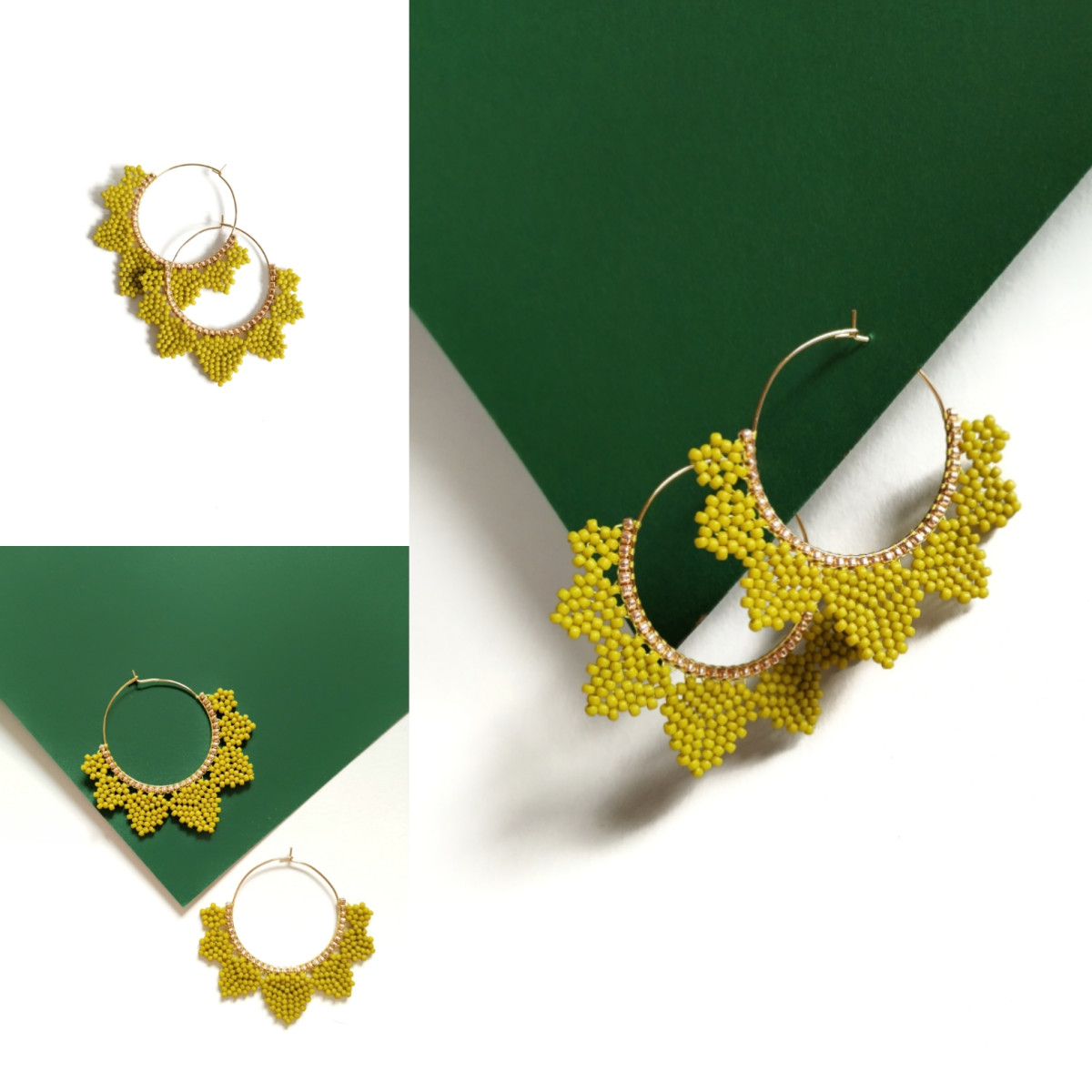 Online brand promotion
In the online environment, I use all the channels at hand, I have an online store on a platform dedicated to Romanian creators. I don't have a strategy, it's been said a lot, I generally like to let the products speak for themselves, I'm very communicative with anyone who wants to know something about ArtizAna or a specific product. I definitely have minus points on this side because, if you haven't understood by now, ArtizAna is a one man show, I order, I execute, and the production process of the products takes me the most time.
How ArtizAna looks in social media
I would like you to answer this question for me. How does ArtizAna look in social media, what do you like or not? That's how I learn something.
My online community is very beautiful, full of artists, artisans and people who love beauty, friends and many beautiful ladies and gentlemen.
What do you want next?
I want to enjoy what I do as much as possible, to grow as much as I have until now. To bring joy to as many women as possible through the jewelry I create.
---
Source: IQads by www.iqads.ro.

*The article has been translated based on the content of IQads by www.iqads.ro. If there is any problem regarding the content, copyright, please leave a report below the article. We will try to process as quickly as possible to protect the rights of the author. Thank you very much!

*We just want readers to access information more quickly and easily with other multilingual content, instead of information only available in a certain language.

*We always respect the copyright of the content of the author and always include the original link of the source article.If the author disagrees, just leave the report below the article, the article will be edited or deleted at the request of the author. Thanks very much! Best regards!
---