When Russia invaded Ukraine on February 24 of this year, it didn't take long before alarm bells went off in food country. The belligerent countries together account for about 30 percent of both global wheat and barley exports, 17 percent of all corn exports and about 75 percent of all sunflower oil. We have already noticed the latter in particular: you can hardly get a drop of sunflower oil in most supermarkets. But for oil there are alternatives; the grains are a different story. And of the grains, wheat in particular appeals to the imagination: it forms the basis of our daily bread. Is that now in danger?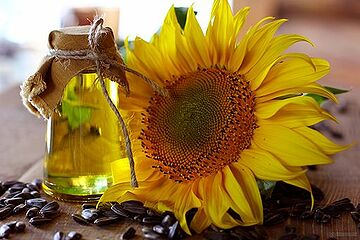 The shelves of sunflower oil are currently mostly empty.
That seems to work. After all, it is not about 30 percent of the worldwide wheat production, but about the export. Most of the wheat production goes to domestic consumption. Ukraine and Russia also export on a large scale: before the war together, some 7 million tons of wheat per year. But world production, i.e. all wheat grown in the world, amounted to 778 million tons in 2021. If you look at it this way, the 7 million that is now in danger is not that bad: it is less than 1 percent of world production.
Still, 7 million tons of wheat is nothing to shrug about. Certainly for Egypt, for example, that almost 60 percent imports of its grain needs from the Black Sea region, the war is potentially catastrophic. Food security there, but also in other countries in Africa and Asia that are net importers of grains, depends to a large extent on how the harvest turns out in these difficult circumstances. In the Netherlands, on the other hand, we don't have to worry about hunger for the time being. The European Union is self-sufficient and even an exporter when it comes to grains.
Grain is a collective name for a whole series of crop plants from the grass family (Gramineae or Poaceae, both species names are allowed). The best-known grains are wheat, rice and maize, which together provide almost half of the calories consumed by humans. Add species such as barley, oats, rye, sorghum, millet, teff, millet, triticale and fonio and you can see why the grasses are by far the most important food for humans.
Who domesticated whom?
These grains can be found everywhere in our diet. If you had breakfast this morning, chances are you ate them. If it wasn't the wheat from the bread, maybe the corn that makes up the cornflakes, oatmeal, or maybe a rice cake with cheese. Wheat alone is responsible for 20 percent of the calories consumed by humans. And all grains together are responsible for more than half of the number of calories consumed by humans. Not to mention animal feed, which is of course also indirectly responsible for human food.
Yet this has not always been the case. Before the agricultural revolution, the "invention" of agriculture, people didn't eat that much grain at all. The hunter-gatherers of that time had a particularly rich diet of tubers, wild plants, all kinds of fruits, nuts and seeds – including the precursors of today's grain – and wild caught themselves. It was a super healthy diet, but you were never quite sure you had enough. All that changed about ten thousand years ago, somewhere in what we would now call southeastern Turkey. There, man gradually began to domesticate wild wheat for the first time.
However, who actually domesticated whom, historian Yuval Noah Harari rightly asks in his worldwide bestseller Sapiens. 'Look at the agricultural revolution through the eyes of the wheat plant,' he writes. "Ten thousand years ago, wheat was just a wild grass, one of many, growing only in a small part of the Middle East. A few millennia later, it suddenly grew all over the world. According to the basic evolutionary criteria of survival and reproduction, wheat has become one of the most successful plants in the history of the earth.'
In other words, without the domesticated species of the family of grasses, agriculture as a model would be impossible. Why did this plant become so important to people?
Roots in the Black Sea Region
Wheat has a number of properties that made the crop attractive to the first farmers. For example, you can store a wheat crop well. As long as you do this well dry, wheat grains stay good for a long time and you have food on hand for lean times.
But also as a plant, grasses such as wheat have certain advantages over the other plants that people like to eat. "Grain 'seats out'. This means that they fill in gaps: a clump with several culms is formed from one seed. If one of the plants doesn't make it, a neighboring plant will fill the gap with extra culms," explains Ruud Timmer, researcher grains, protein crops and quinoa at Wageningen University & Research, over the phone. "That makes wheat quite harvest-secure. It is certainly susceptible to pests and diseases, but a total crop failure is unusual. And growing wheat is much less labour-intensive than crops where you have to work the soil heavily, such as potatoes."
"In addition, cereals are good for the soil: they have deep and broad roots. After harvesting, the large root remains in the soil where it slowly digests and disappears into the soil, as it were. In this way, grains add 'organic matter' to the soil. And that in turn is food for soil life, which makes a significant contribution to healthy, fertile soil on which subsequent crops can grow well," says Timmer. Crop residues such as straw and chaff also remain on the land after the harvest. That also creates extra organic matter.
This explains why the vast plains around the Black Sea are now called the breadbasket of Europe. Grass has grown there for thousands of years. Over the millennia, the extensive root systems of all that grass, and later, when humans came, all those grains enriched the natural loess (fine clay) soil with high concentrations of organic matter. The resulting soil is a beautiful rich black and is called chernozem. The result is very productive physically (in terms of structure), chemically (in terms of nutrients) and biologically (rich in life).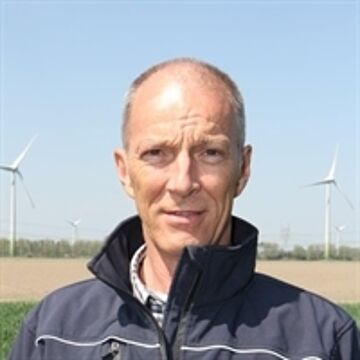 Ruud Timmer: "Perhaps the war will show us how dependent we are on grain."
Another plant
But there is another reason why cereals are good for the soil. In the Netherlands, most arable farmers today mainly grow wheat or other grains as a 'rest crop'. That is a cultivation that you do simply because it is crucial for the health of the soil and not so much to make money from it. Because Dutch farmers earn that mainly from 'cash crops' such as potatoes and onions. But it's important not to grow the same crop on the same piece of land every year. In the first place to suppress plant diseases and pests: if you grow potatoes on the same plot year after year, you also create a particularly pleasant habitat for the diseases and pests that are specific to that crop. On the other hand, if you sow a crop that is very different, most diseases and pests from the previous year can no longer survive.
And that's where grains take a special place: they're fundamentally different from virtually any other crops humans grow to feed themselves. "We call grains and other grasses monocotyl – in Dutch this is called 'monocot'. Potatoes, carrots and cauliflowers, to name a few, belong to the dicot, 'dicotyledonous crops'", says Ruud Timmer. This difference goes a long way to explaining why grains are so incredibly important to farmers: they are so different that the pests and diseases that can multiply in too many dicot crops are now reduced.
In practice, therefore, arable farmers rotate their crops: potatoes one year, beets the next, and then a type of grain. This is called a 'building plan'. "In the Netherlands, arable farmers traditionally learn to have a 'one in four' cropping plan, which means that farmers only use potatoes once every four years (the most profitable crop, JL) on the same plot of land. The following year, for example, wheat, a monocot crop. The following year beet – dicotyl – and the following year barley – monocotyl," says Timmer. "For example, farmers not only switch between mono- and dicot crops, but also vary within those main types." After four years, the circle is complete and everything starts again. However, due to the high costs for land, machines and labor in the Netherlands, arable farmers are forced to grow more cash crops and fewer grains. As a result, grain is often only grown once every four years. The arable farmers have several plots of land, so that they grow up to four different crops each year and thus spread their risks.
Agricultural production from the Black Sea region is therefore badly needed for the world food supply. Besides all the terrible war suffering, another reason that the conflict in Ukraine must quickly come to an end. "Perhaps the war will show us how dependent we are on grain, so that we can invest more in research into these crops," said Timmer.
---
Source: Kennislink by www.nemokennislink.nl.

*The article has been translated based on the content of Kennislink by www.nemokennislink.nl. If there is any problem regarding the content, copyright, please leave a report below the article. We will try to process as quickly as possible to protect the rights of the author. Thank you very much!

*We just want readers to access information more quickly and easily with other multilingual content, instead of information only available in a certain language.

*We always respect the copyright of the content of the author and always include the original link of the source article.If the author disagrees, just leave the report below the article, the article will be edited or deleted at the request of the author. Thanks very much! Best regards!
---