Maximum voltage in RTVE after the last dismissals carried out by Enric Hernández, director of News and Contents of the chain, who has changed the head of the Territorial Centers of the Corporation the same day that the director of RNE resigned, Zuriaga pigeon, and the news director, Raúl Heitzmann, for discrepancies with him. After the letter sent this Thursday by the directors of the territorial centers to Hernández complaining about these dismissals, this Friday it was the heads of the Territorial News who sent a letter to Rosa María Mateo, sole administrator of RTVE, and Hernández himself demanding that they be allowed to "work freely".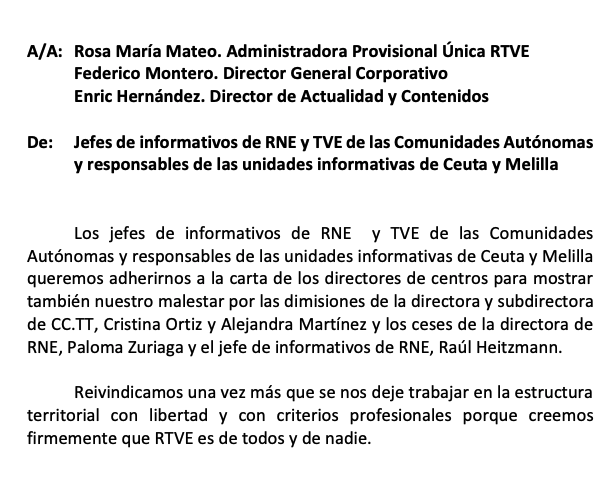 The letter from the news chiefs joins the one sent by the directors of the territorial centers, in which they complained about arbitrary dismissals not subject to professional criteria made by Hernández earlier this week.
Hernández responded to this letter on Friday, assuring that the dismissal decision was made for exclusively professional reasons. «RTVE does not belong to its managers and neither to its workers, but to all Spaniards. That is why nobody should try to appropriate it, totally or partially, in defense of personal or gregarious interests. The only interest to preserve is the right of citizens to receive truthful, objective and plural information from their public radio and television, both in their national broadcasts and in each of their territorial disconnections. The duty of the RTVE management structure is to ensure that this is the case, and intervene where journalistic malpractice may eventually occur, in order to reverse it. The demand for quality, rigor and impartiality must be identical in all our information platforms and in all the territories, "says Hernández.
The situation in the public network is of maximum tension due to Hernández's movements, which are interpreted as an absolute demolition of the managers closest to Podemos. The internal response was immediate and the exchange of letters was joined this Friday by the resignation of Fernando Martín, head of Radio 5, in support of Zuriaga.
In addition, workers in territorial centers have started a campaign on change.org for "anyone who wants to adhere to the manifesto of the directors of the CCTT against the impositions based on non-professional criteria and that have ended the dismissals and resignations that we already know".
«This is what we have come to in two years of the PSOE and Podemos Government. This is how public radio television is at the moment, "says a former manager of the network.