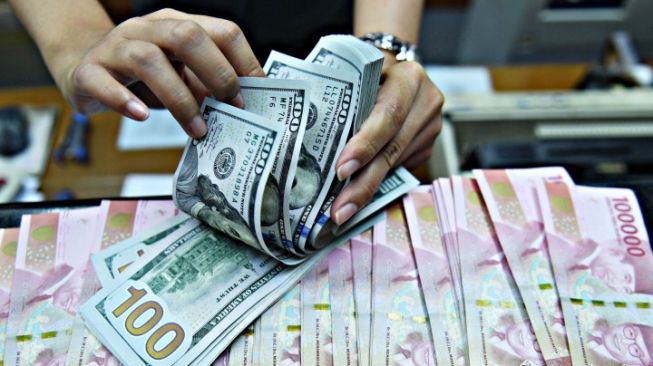 Suara.com – The exchange rate of the rupiah in trade this weekend Friday (07/10/2020) was observed to weaken against the US dollar. Citing Bank Indonesia (BI) the Jakarta Interbank Spot Dollar Rate / Jisdor exchange rate, the rupiah exchange rate was observed to have fallen 55 points to Rp 14,501 from the previous position at Rp 14,446.
While the Bloomberg Dollar Index data, on the spot exchange market, the rupiah exchange rate is at the level of Rp. 14,418 per US dollar, down 23 points compared to the previous trade of Rp. 14,395.
Today's exchange rate is traded in the range of Rp 14,399 – Rp 14,418 per US dollar. On a year-to-date basis, the rupiah was corrected by 3.98 percent.
Head of Monex Investindo Futures Research Ariston Tjendra said, fears of increased transmission of the global co-19 case returned to negative sentiment which could suppress the movement of risk assets in the Asian session today, including the rupiah.
"Data on Covid-19 transmission in Indonesia itself also continues to show an increase and has not been sloping," said Aris, his nickname.
These concerns mask the potential for economic recovery amid a pandemic. The yield on the 10-year US government bond has seen a downward pressure of 0.615 percent, down about 7 percent from Wednesday's trade close.
"This indicates the market is again looking for safe assets as an alternative investment by holding US dollar assets," he said.
He also predicts that the rupiah has the potential to weaken today to the Rp 14,550 area with potential support around Rp 14,400.