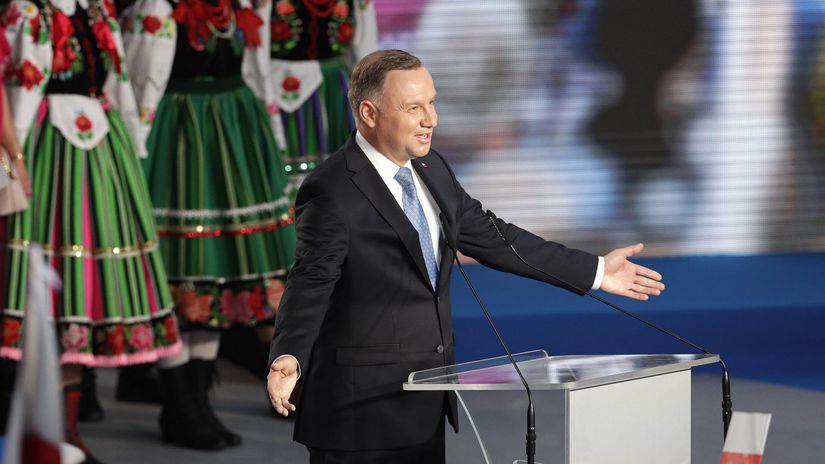 Polish President Andrzej Duda.

On Friday, Polish President Andrzej Duda indicated that Germany was trying to interfere in Poland's presidential election. Duda announced this after the Polish tabloid daily Fakt, which has a German owner, informed about the pardon granted to a man convicted of pedophilia. Reuters reported.
The owner of the daily Fakt is the German company Axel Springer.
The daily Rzeczpospolita was the first to report on the case in which the pardon was granted in March, but Fakt brought more detailed information on Thursday. Rzeczpospolita wrote, inter alia, that "the presidency refuses to provide information on pardons with reference to the privacy of the persons concerned. This is the argument (from time) of President (Alexander) Kwasniewski. "
Justice Minister Zbigniew Žiobro, who also holds the post of Attorney General, confirmed, according to a Reuters report, that the pardon granted relates to a case of pedophilia. However, he explained that it was only a matter of lifting the court ban on approaching / contacting his girlfriend and daughter, and that a man convicted of pedophilia had served his entire sentence. The Minister added that the President had granted this pardon at the request of the victim, who had since become an adult.
The daily Fakt wrote that the man ended his sentence five years ago – in 2015. In response to an article in the daily Fakt, a spokesman for Duda's election staff Adam Bielan on Friday called on the German ambassador to intervene and contact the owner of the daily Fakt. "We do not want this kind of foreign interference in the electoral process," Bielan said.
The German embassy in Warsaw has "shifted" the initiative to the Ministry of Foreign Affairs in Berlin, which has not yet wanted to comment on it. The daily Fakt himself has denied the allegations that it is trying to interfere in the presidential election. In a statement published on his website, he emphasized that it was led by Polish journalists and editors.
Reuters noted that the government's conservative Law and Justice Party (PiS), which supports Duda in the presidential election, has long accused foreign media of caring about Polish affairs.
In Poland, a pre-election campaign is currently taking place before the second round of the presidential elections, which will take place on 12 July. The opponent of the favored Duda will be the mayor of Warsaw Rafal Trzaskowski, a candidate of the centrist Civic Coalition (KO).
Do you like this article? Please support quality journalism.
The goal of the daily Pravda and its online version is to bring you up-to-date news, interviews, comments, reports, videos, other useful and practical information as well as reading and content for entertainment and leisure.
In order to be able to work for you constantly and even better, we also need your support.
Thank you for any financial contribution.