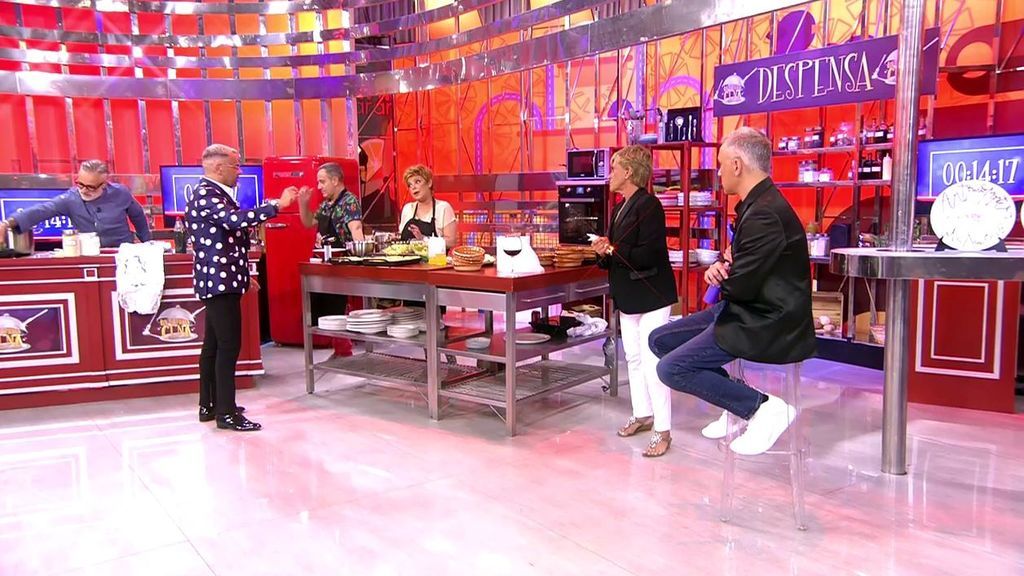 The dinner organized by Terelu Campos and Víctor Sandoval He has witnessed some of the strongest confessions. Diners have uncovered with which partner would they have a sexual encounter if the world ends and Terelu has revealed her opinion about the trios and she has become one in her life.
It all started because Jorge Javier Vázquez has asked the chef Begoña Rodrigo if it is true that she and Chelo García-Cortés They sleep every Friday in the same hotel. The chef has confirmed this, as well as that They have breakfast together every Saturday in the restaurant. In addition, Chelo has proposed to Rodrigo to meet his partner, Marta, to which Jorge has replied: "That smells like a trio." Chelo has denied it and the presenter has taken the opportunity to ask Terelu his opinion on this type of relationship: "For me three are a multitude, but to make a threesome, I would do it with two aunts and an uncle".
After this conversation and Terelu jokingly said that, if he had to have a threesome with a "Save me" partner, he would do it with someone who was "a slut", Jorge wanted to go a little further and asked: With which partner would they have a sexual encounter to avoid the end of the world?
Kiko Hernández has preferred that the world be destroyed, but the rest of those present did get wet. Chelo García Cortés has chosen Kiko Hernández and Kiko Matamoros; Terelu, by Matamoros and, among women, has chosen Chelo "since he has experience". This answer has made the aforementioned very excited. Jorge Javier also has a good face for his answer: "Without a doubt, with Rafa Mora. He seems to me an increasingly interesting guy. " This is because the collaborator has passed the entrance exam to the university with a notable. According to Kiko Hernández, other colleagues like Alonso Caparrós and Suso, from 'Viva la vida', would not have succeeded when they tried in the past.