Although file sharing portals such as The Pirate Bay are not used as frequently today as during their heyday in the 2000s, the film companies' efforts to shut them down have not ebbed out. Recently, operator Telia was convicted of the appeal to stop access to The Pirate Bay for the company's customers, and an attempt to provide information to Internet provider Obenetworks was recently denied by the Stockholm District Court.
Obenetworks was incorrectly identified as the provider of an IP address that was considered to be behind the operation of the file sharing site The Pirate Bay. The IP address in question was instead traced to the Internet provider OVPN Integritet AB, which provides both IP addresses and VPN services. The film companies Svensk Filmindustri and Nordisk Film together with the Rights Alliance therefore submit a claim for information disclosure to OVPN, which now disputes the claim.
The film companies and the Rights Alliance want information about the customer who has been assigned the IP address linked to The Pirate Bay handed out and seeks a fine of SEK 100,000 if this does not happen, reports Torrentfreak. Furthermore, a fine of SEK 100,000 is also sought if OVPN deletes data linked to the customer who used the current IP address at the specified time.
When the film companies and the Rights Alliance filed the case with the Patent and Market Court, there was a request not to notify OVPN about the case and that a decision should be made urgently, as they do not know how long OVPN stores the data that is interesting in the case. In the letter, Sara Lindbäck of the Rights Alliance notes that infringement of the film companies' work continues through The Pirate Bay and that it continues on a large scale, reports day Law.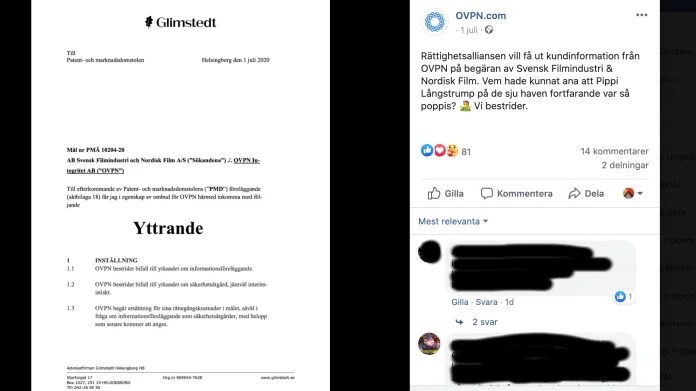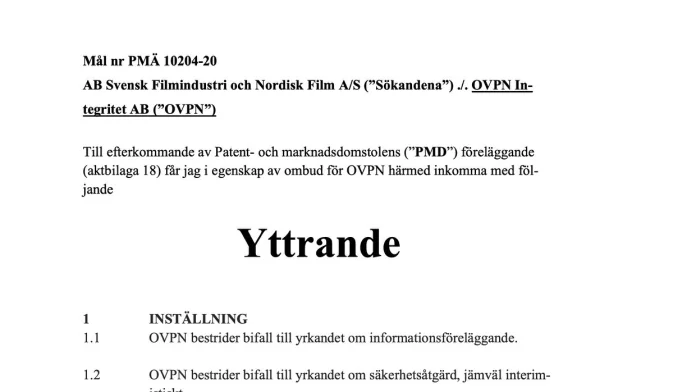 OVPN disputes the claim and has submitted an opinion to the Patent and Market Court, as stated in a post on the company's Facebook page. OVPN may be forced to disclose requested information about the Patent and Market Court on the lines of the film companies, but since OVPN does not require customers to disclose identifying information as physical or digital addresses, the requested information may not be available. OVPN's customers can pay in cash or Bitcoin currency.
In conversation with Torrentfreak, David Wibergh notes that OVPN only had 48 hours to produce a response to the claim, but that the company engaged legal aid and will contest the claim "to the very end to protect our clients' security and integrity".
Read more about the film companies and The Pirate Bay: