Very popular and almost essential on the streets of big cities, the Xiaomi M365 electric scooter is finally back at a price that is sufficiently attractive to consider changing its travel habits. It is currently trading at 299 euros instead of 399.

Xiaomi has made a place for itself in the field of urban mobility with its first electric scooter. Like its smartphones, its M365 was mass-imported even before the Chinese brand's official arrival in France two years ago. Therefore, it is the most widespread model and still the one with the best quality / price ratio.
In short
Easy to handle
Robust aluminum design
A comfortable range of 25 km
It is the good alternative to public transport
Instead of 399 euros at launch, the Xiaomi M365 electric scooter is currently available at 299 euros on Cdiscount, which represents a saving of 100 euros on its original price.
Find out more 👇
As said before, the Xiaomi M365 was one of the first electric scooter models to be available on the market and it is still a benchmark in 2020. Its sober design is known to all, especially since it breathes strength with a robust aluminum design that can support up to 100 kg. The scooter is also IP54 certified to resist a minimum during rainy days.
9 /10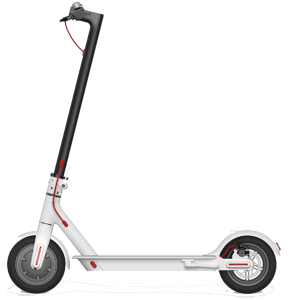 The speed being regulated in France, the M365 is restricted to travel up to 25 km / h at the maximum. It is also very easy to use, where a simple push button on the right of the handlebar makes it possible to gauge the speed. On the other end, there is a lever to operate the disc brake. The Xiaomi scooter is simply ideal for short or medium distance journeys (for shopping or going to work) thanks to its estimated autonomy between 20 and 30 km.
However, it should be noted that it loses a lot of speed and acceleration as the battery drains. It is therefore important to often check the four indicator lights and to adapt the charging accordingly. When it drops below two in four, it is better to recharge it if you want to be able to enjoy good acceleration on a daily basis.
To find out more, read the full Xiaomi M365 review in our columns.
---
The offer is no longer available?
If, later, the offer mentioned in this article is no longer available, please take a look at the table below to find other offers concerning the Xiaomi M365 electric scooter.
Our buying guide
If you want to discover other models, we invite you to consult our guide to the best electric scooters in 2020.