You are at your favorite restaurant. The most exquisite dishes land on your table, the music embraces the space with its soft notes and your partner excitedly shares with you his suggestions for your upcoming vacation together.
You, on the other hand, eat mechanically, smile abstractly and nod occasionally, when in reality your mind has already moved to the important business meeting the next day. Have you ever wondered how often your mind wanders from one place to another instead of focusing on the present?
Go out with your friends and immerse yourself in your mobile screen. You work while sneaking glances at the TV. You hug your children but at the same time you worry about the monthly bills. In a world that distracts you in a variety of ways, wouldn't it be great to be able to keep your eyes on the goal?
A fascinating tour of the recesses of your mind
Hindu priest and businessman Dandapani with the awakening book The power of attachment from the Dioptra Publications invites you on a fascinating tour of the recesses of the mind, making you partakers of the unique training he himself received from his guru during his time as a monk in his monastery.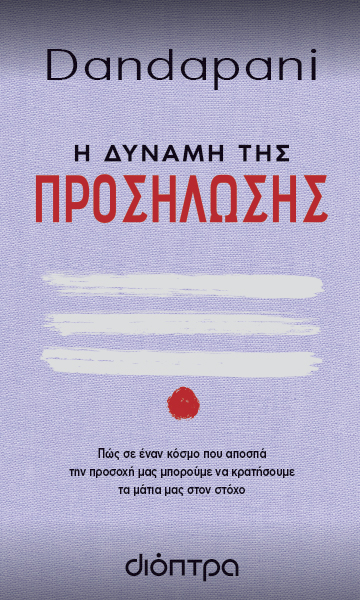 Valuable teachings, invaluable information and highly useful tools are put at your service, transforming your daily life in ways you never imagined. Are you ready to dramatically increase your performance at work, enhance the quality of your interpersonal relationships and promote your mental health?
To enjoy a purposeful and happy life, you first need to gain sufficient understanding and control of your mind, as well as the ability to focus. Did you know that the mind is the most powerful tool in the world, equipped with unimaginable functionality? In essence, it is a vast space with many different areas. Awareness, on the other hand, corresponds to the glowing ball of light that can be moved to any area of ​​the mind, illuminating it.
You are pure awareness and not the mind
"I'm stressed" you often say, but as much as you are lost in your thoughts at times, you are not your mind. To better understand this, imagine yourself as pure awareness boarding a plane at Eleftherios Venizelos Airport. A few hours later you are in Italy, but you are not Italy but the pure awareness that experiences Italy.
As free citizens of the mind you can move to any area you wish, experiencing the corresponding consequences. In the region of joy you will feel contentment flood your heart while in that of sadness your stomach will tighten with sadness. In the land of anger you'll be seething with rage and likely to say things you'll later regret, but in the city of relaxation you'll recharge your batteries, feeling like a carefree teenager again.
The effect of the environment on your experiences
In essence, the way you act and react to your experiences is based on the state of mind your awareness is in. But are you using your travel passport wisely or are you allowing your environment and the unconscious patterns of old habits rooted in your subconscious to choose the direction of your mind's awareness and therefore the experiences you will have?
Before you rush to answer, remember that time a couple was arguing in front of you on the subway. Their loud voices distracted you from the book you were reading, and you were very quickly transported to the territory of annoyance and anger of the mind that they were in as well.
And now think about your curmudgeonly boss who drags you every morning into the land of stress. Wouldn't it be better if you didn't allow his critical comments to undermine your positive mood from now on?
But has the time come for you to realize that the deeper reason you often visit the depression area of ​​the mind is the fact that during your childhood your parents constantly degraded you, eroding your self-esteem?
Invest your energy wisely
Areas of the mind that seem familiar to you have pathways leading to them, and the deeper the mental spiral the more easily awareness maintains its path to the area of ​​the mind it frequents.
Each repeated action starts the process of carving a path. If, for example, you wake up in the morning and meditate for an hour, then you are walking a path that leads to higher states of mind. So whatever you invest your energy in, sooner or later it will begin to materialize in your life.
To define your own destiny, begin to consciously choose where you wish to move your awareness at any given moment. The next time you are conversing with someone whose awareness is directed into a very negative area of ​​the mind, dragging yours along, silently ask yourself:
"Is there a reason for me to travel there too?" Then just move in your desired direction.
Exercise your concentration and willpower
If you find yourself frequently distracted, try the following exercise: Jot down five non-negotiable recurring events in your typical day that you can use as opportunities to practice your concentration, and then make a list of those specific opportunities from one to five, with the order you want to implement them.
For example, you may wish to have more meaningful conversations with your partner. Incorporate the above opportunity into your life for one month, putting the rest on hold. Throughout the day, maintain your awareness of it until you consciously choose to transfer it to something else.
Commit to your endeavor and then move on to the next opportunity. You will gradually discover that your concentration will not require as much effort as it did in the beginning, since you will have built a pattern in your subconscious.
Track your progress but remember that the ultimate indicator of your improvement is the impact your behavior change has on your own life. If you are fully present in your conversations with your partner, then your relationship with him will gradually become more satisfying, while when you listen attentively to the complaints of your employees, they increase their commitment to you, and therefore their productivity.
Strengthen your willpower as well: resist the temptation to give up on a project before you finish it and follow the arduous path to the finish line to turn your idea from vision to action. Pursue excellent project completion beyond all expectations. Always ask yourself, "Can I do better?" And each time do a little more than you thought you could.
Your personal spiritual Citadel
Dandapani with the awakening book The power of attachment he conveys to you with wisdom and tenderness the teachings that changed his life, as well as the lives of many others, offering you the opportunity of your own rebirth.
However, success is up to you. Will you walk the path of words, where you simply talk about what you have learned and read, or the path of personal experience where you apply the valuable tools consistently, experiencing a total transformation in your daily life?
Let the priceless knowledge permeate every cell of your being and practice it one small step at a time. Trust the process, showing patience and compassion to yourself. Remember, moreover, that you are a building in progress and that with every brick you add to your temple, you are building your personal spiritual Acropolis.
---
Source: Εναλλακτική Δράση by enallaktikidrasi.com.

*The article has been translated based on the content of Εναλλακτική Δράση by enallaktikidrasi.com. If there is any problem regarding the content, copyright, please leave a report below the article. We will try to process as quickly as possible to protect the rights of the author. Thank you very much!

*We just want readers to access information more quickly and easily with other multilingual content, instead of information only available in a certain language.

*We always respect the copyright of the content of the author and always include the original link of the source article.If the author disagrees, just leave the report below the article, the article will be edited or deleted at the request of the author. Thanks very much! Best regards!
---