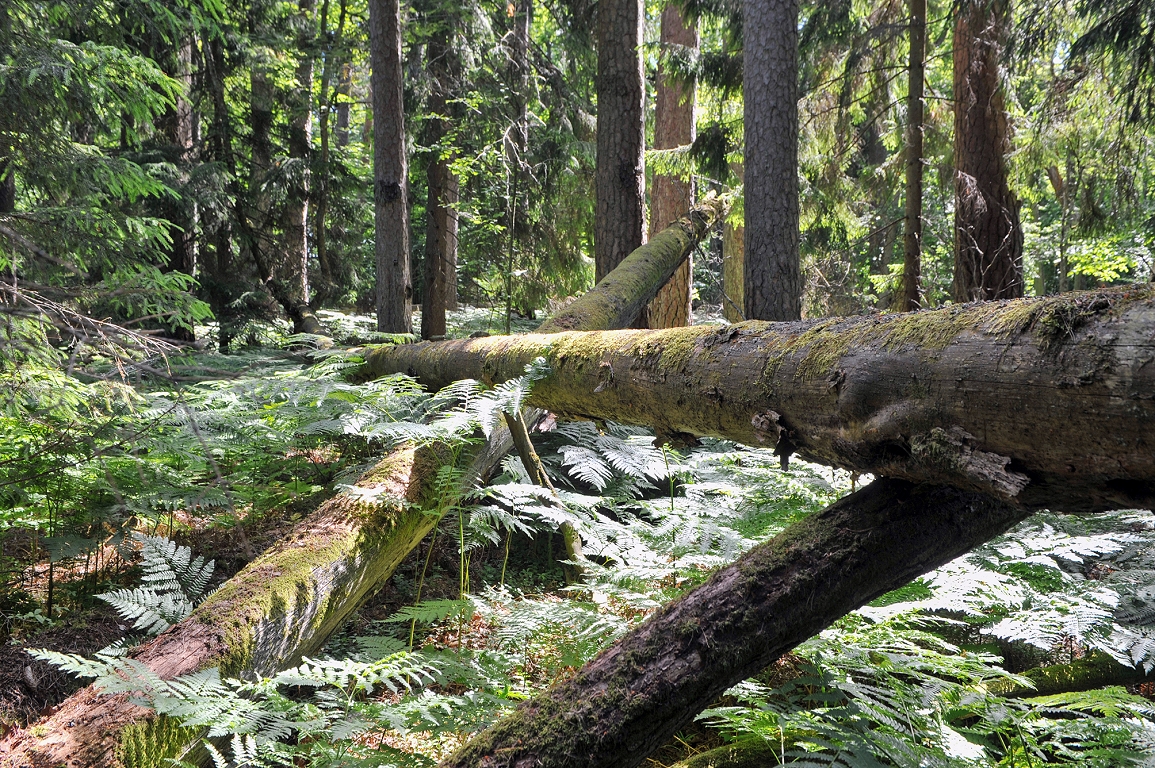 Latvian State Forest Research Institute Silava Experts have been conducting a four-year study of carbon stocks in old or overgrown stands. As forests play an important role in mitigating climate change by providing carbon stocks in growing trees and wood products, it was important to obtain the missing information on old stands, the area of ​​which is growing both in Latvia and in Europe as a whole.
It is important to understand what is happening in the forests
The aim of the study was to evaluate the carbon stock in old or overgrown, long-term unaffected pine, spruce, birch and aspen forest stands in comparison with adult stands and mature stands. A total of 117 overgrown forest stands were measured and analyzed.
"Why is it important to understand what is happening in old-growth forests? This issue is relevant in the context of climate change mitigation policy. Each EU country has its own climate goal, ie carbon sequestration, increase and / or emission reduction, including Latvia. For each tonne of carbon sequestered – CO2 equivalent) has its own market price.If it is possible to attract more than the target – it can be a source of additional revenue, if less – a loss.Therefore, it is important to know how much CO2 emissions and removals take place in Latvia and how to promote removals. that only part of the forest's contribution can be attributed to the climate target.As a result of climate change mitigation, the characterization of carbon stock in the forest is becoming increasingly important.It could be said that every tonne of carbon is by weight! The records must be accurate and checked by many controllers at national level. As part of forest monitoring, we regularly survey forests, obtain information information on stand parameters, such as tree dimensions (height, diameter), distribution of tree species, forest health, etc. We use them as a basis for characterizing the carbon stock. However, in some aspects additional data and research are needed. One such aspect is the carbon balance, the accumulation in old forest stands. There is relatively little data about it not only in Latvia, but also elsewhere in Europe, "says the Latvian State Forest Research Institute Silava Research Assistant, Ambassador of the European Climate Pact to Latvia Daiga Zute.
Decreases with age of stands
The results of the study show that half of the total carbon stock of the ecosystem in forests with mineral soils – both overgrown (47–59%) and grown (46–54%) – consists of living trees, which are the largest carbon store. Between the adult and adult stages, which were 93 years on average for conifers and 58 years on average for deciduous trees, carbon sequestration in forest stands continued. The largest additional carbon storage (on average 61% in coniferous stands, 82% in total deciduous stands) was ensured by the increase in tree biomass during this period.
Although carbon accumulation in overgrown stands continues, the results of the study showed that in old, overgrown stands the annual carbon accumulation in living tree biomass and dead wood is significantly lower than in adult stands and mature stands. So carbon continues to accumulate, only slowly. In addition, it decreases with increasing age of these stands, even if the species and age trees in question still remain the dominant element of the forest: thus, the stand has not been affected by storms, fires or other causes.
"From the point of view of the climate convention, we are interested in how to store carbon efficiently. Based on the data obtained, we can model different management scenarios. For example, if we have an 80-100-year-old forest stand, we can decide to continue growing it for another 90 years. It will continue to store some carbon for the next 90 years, but the average annual carbon stock will be 20-40% lower than if we decided in favor of regeneration felling and planting new trees. again 100 years and re-felling in this area, we would get much better carbon stock than if we did nothing with this stand, provided, of course, that we intend to sequester carbon more efficiently, and we do not claim that this is necessary in all areas. The aim of our research is to obtain, collect and analyze data that show the expected outcome of this or that decision and action. would be based on proven and verifiable facts and not on myths or conjectures. The results show that keeping a forest just to be there is not an effective way of storing carbon, "explains the Latvian State Forest Research Institute. Silava leading researcher Āris Jansons.
However, it should be borne in mind that carbon is by no means the only criterion for assessing the impact of forest age on nature in general and in the long term. As we know, old-growth forests are indispensable repositories of biodiversity and play an important role in nature!
More carbon is stored in the stands
The study shows that the age of the stand has a significant effect on the average annual carbon stock. The highest annual accumulation and the smallest difference between age groups were found for aspen and birch (annual carbon accumulation decreases from adult to adult stands by 18% on average), smaller accumulation and larger difference (reduction by 37%) – for pine and spruce. Thus, we can conclude: if the primary goal in the use of land resources is to maximize carbon storage, it can be provided more efficiently with a relatively shorter life cycle.
"Every tree has its own life. If we talk about conifers, it is very long. At the same time, there are many external factors that affect whether these old trees will continue to grow even if a person does not make any changes in his economic activity. In our region Survival of conifers is largely influenced by wind and bark beetles, and data have been compiled from Europe showing that the frequency of storms has been steadily increasing since the middle of the last century, but especially since the end of the last century. , thinking that in another 100 years our descendants will find a 200-year-old stand in the place, it may not be. "In reality, only a part of this stand is likely to survive. However, such a stand will still have less carbon storage than one in which two movements would take place during this period," says Aris Jansons.
Appropriate data analysis is important
The study provided unique European data on the carbon stock in overgrown deciduous trees and significantly expanded the knowledge on this element in overgrown coniferous stands. The information obtained will be an important support in assessing the impact of various strategic and political decisions on the total carbon stock of forests in the ecosystem.
"It should be noted that forest stand data is the basis of everything, but the level of detail of this data is also important. It is often generalized at European level, forgetting that the climate may vary from country to country. Therefore, national research is important. We need to know What processes, influencing factors are characteristic of ours, Latvia, sometimes misunderstandings.If you publish, for example, a study on Greece, it should be understood that we cannot immediately apply it fully to all European countries, especially Latvia, where it is very different from Greece "There are some trends that can be generalized at the European level, but we have to be very careful here. Information about the state of forests cannot be simplified and generalized, we have to go into the specific situation of each country," adds Daiga Zute.
Must be managed responsibly
"I would like to emphasize that we have a responsibility to store carbon, because together with Scandinavia we have a large forest cover (around 50-70% in this region). If we look at climate change maps for the next 100 years, the Mediterranean will become hotter and drier. more fires, but in the context of climate change we will still have a more favorable situation for forest growth and targeted cultivation, so our region will be the place where this carbon can be stored in the forest more efficiently than southern European countries can do. It is important for us to provide a certain number of forest areas for nature protection, but in order to ensure that climate change mitigation goals are also met, it may be important to manage other areas more intensively. The forest sector can achieve its various goals in the long term, but it requires extensive data – based decisions, "emphasizes Āris Jansons.
---
Source: Diena.lv by www.diena.lv.

*The article has been translated based on the content of Diena.lv by www.diena.lv. If there is any problem regarding the content, copyright, please leave a report below the article. We will try to process as quickly as possible to protect the rights of the author. Thank you very much!

*We just want readers to access information more quickly and easily with other multilingual content, instead of information only available in a certain language.

*We always respect the copyright of the content of the author and always include the original link of the source article.If the author disagrees, just leave the report below the article, the article will be edited or deleted at the request of the author. Thanks very much! Best regards!
---