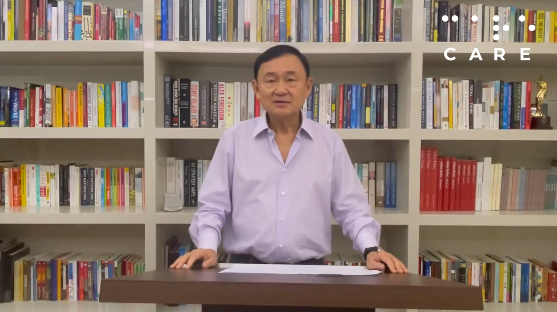 "Thaksin" shared ideas to solve poverty. From concept to system-wide formula adjustment Loudly if thinking more slowly The middle class will be the poor. Must think ahead and keep up with the world
February 14, 2021 at 1:30 p.m. fresh newsReported that at Lido Connect, CARE group organized a Care Talk event titled "Poor Thai People: Dreaming or True Stories" with speakers consisting of Dr. Surapong Suebwonglee, Mr. Duangrit Bunnag, Mr. Supawut Saichua, members and CARE Group Coordinator Mr. Phil Panchakunathorn, PhD student in Philosophy at Stanford University, Mr. Raschalichan, former senior official. Ministry of Foreign Affairs Owner of the Facebook page, Ambassador outside the row and Mrs. Sarinee Achavanantakul, a writer, translator, researcher and independent financial scholar.
In addition, there are also people in political circles, such as Mr. Siripong Angkasakulkiat, MP Srisaket, Bhumithai Party (Ph.D.), Mr. Pichai Naripthaphan, Deputy Leader of Pheu Thai Party (PTH), Mr. Phumithamavej. Chai, advisor to the party leader. Mr. Phao Phum Rojanasakul, Deputy Secretary-General of the PAT. Mr. Kanapote Chomrit, Director of Thinking for Thai Team Dr. Prommin Lert Suridet Member and Group Coordinator of CARE Mr. Chatchat Sitthiphan, former Candidate Prime Minister. PAT Party joined activities
For a period, Mr. Ras said that having a good government was one of the factors that made the country prosper. Living people Is that there must be a good government and a competent leader There must be an ideology for the people to have effective vision. And must have an awareness of their obligations Responsible for the majority These things will be able to push the country forward. People can live well.
While in Thailand We have a fairly high international reserve fund. Our cost of living is ok. But we have a lot of disparities in society. Another problem that he sees as a civil servant is that we have a problem in managing the national budget to run the country. We cannot answer how we use that budget to develop the country.
How to do that in Thailand? We have a government that has all 3 qualifications: we have to have democracy. Thais have no choice but to truly democratize our country. Which he did not consider having 250 senators from all appointments democratic
The reporter reported that At the end of the event, a clip of former Prime Minister Thaksin Shinawatra was released, with Thaksin said in a 20-minute video clip that the day I recorded the tape was February 9, which was the day I received it. His Majesty was graciously pleased to be Prime Minister 20 years ago, the time passed very quickly. But the memories of working with brothers and sisters Together with various government agencies, it still remains to ask about anything, still remember most And today's tape will go out on February 14, it is Valentine's Day. Day of love Let me send you love and good wishes. Concerns come to all Thai people at this occasion.
Today, the topic he will give me to say Is about solving the problem of poverty I would have to start with the words of Bill Gates that if we were born until It's not our fault But if we are still dead until It's our fault That doesn't try to struggle to solve problems But if we do not want to die until But still have to die until this What does it mean that we have tried? We do not want to die until But we still have to die until It's the government's fault. It means that the government is responsible for creating opportunities for all its people. In order to have the opportunity to build up Adjust yourself from the poor to the poor. These things are easy to say but difficult to do.
Mr Thaksin said that when I declared war on poverty Because poverty affects both the economy and society of Thailand. Therefore that day I declared war on poverty. Because it is considered a memory Is important So when to declare war on poverty I have to invest resources in solving problems. Because it is war It is something that has to be eliminated.
Today I would like to ask the government what the government views poverty. Will you declare war? So we can buy weapons for poverty. Regardless of technology, set iCloud to agriculture to know what the land is like here. How is the rainy season? How is the price of agricultural products? To give him knowledge to approach the source of knowledge Will there be a source of funds for him? Will there be infrastructure matters to tackle poverty?
For example, making silos, making equipment in solving problems, such as drones in spraying pesticides. This one, we'll talk later. This is something that political support has to have. Will it be serious? The war hasn't happened yet. But today it's a war of poverty. It has to buy weapons to tackle poverty. Not buying weapons for the unborn war Therefore, today Political Support is one of the most important aspects.
Mr Thaksin further argued that Leadership had a role to play in solving poverty. This must be asked. Are you ready to lead? Do you have determination? Is there really a need to get rid of it? If so, must come and play. Must throw the whole body into play, therefore Leadership is important and the subject of Know-How, we will use the same formula to solve the world that is not changing. Must adjust the formula or use some Which may not be available very much Because new items change very quickly
Today, I want to focus mainly on solving the problem of poverty. But it can't be done without serious political support. No prime minister Who leads down to practice by themselves Have to ask if it is serious or not If serious, there is nothing difficult to do. I believe that the Prime Minister And I were the military preparation students together. We have always made a vow that there is nothing we cannot do. Therefore, if we intend and strive to do it, we can
Mr Thaksin said that the key is that You must be aware of capitalist economy. Like or dislike We live in a capitalist economy. We have to find a way to understand and fight it. Stay with it And today that I am in the past or present is still the same. After I tried to fix But today I go back to the same place, that is The villagers do not have the money to make a capital. If there is no money, will make capital It is difficult to do anything. No matter how much you do everything, you have to spend all your money.
In addition to factor 4, we have to think that the constitution in 40 years is fortunate that the Constitution says to take into account the human dignity of Thai people. This is a motivator for me to especially look at poverty: the poor, the rich, the Thai together. We see the rich, we are rich, and we turn back to the poor. His living conditions It is below human standards. Therefore, solving the problem of poverty is the key to looking at four factors.
Mr Thaksin further stated that today a new idea is emerging that he calls UBI – Universal basic income and Negative Income Tax that some people tell the poor people never lose their taxes, so how do we get them? Poor people have consumed their purchases, toothbrushes, toothpaste, 7% of them hit Vats, some of which were imported from China. He also paid indirect customs duties. Because the company has to waste and then refuel his motorcycle There is an excise tax in there.
Therefore No Thai people do not pay tax. But what kind of loss He did not pay income tax. Because his income did not reach the limit Therefore, everyone has to pay all taxes, but the Negative Income Tax is a partial tax return. Which it might be more than he loses But it is making human beings equal. Human dignity And by doing that, it breaks the vicious circle. To say that you were born until Your child is the child of the poor, and you have to go on. If we have a system like this Makes his education better For the new generation to have an education
Mr Thaksin said that we cannot do the same. Specifically, now that we have an epidemic, we have a Lockdown on human behavior. Of consumption, it changed the whole world During the Yingluck government We used to have Tablet PC distribution because we know that The world's information can be retrieved through the Internet. So that people in any corner of Thailand will have the same opportunity to know
I think it is time for Thailand to consider that the modern world That are being interrupted by all technologies. How do we use these things to support the poor? These things are not aggravated. Because we are under the influence of all the global platform companies. These things take advantage of Thai people. Thai people are disadvantageous But it's an addictive thing, what do we do? Therefore, the poor must be drawn up from these limits. Give him the opportunity to study On the technology side And the Thai education system has to change Law It's completely ruined. Because the original design was impractical Must become a new form of education Until abroad now he is not interested in degree He is interested in what you know, thinking from today.
If you think more slowly The middle class will continue to be poor. It's not like bringing the poor out of poverty. Middle class, we will be relegated as well. If we don't think in advance It's time now. Think ahead and keep up with the world.
---
Source: ประชาชาติธุรกิจ by www.prachachat.net.

*The article has been translated based on the content of ประชาชาติธุรกิจ by www.prachachat.net. If there is any problem regarding the content, copyright, please leave a report below the article. We will try to process as quickly as possible to protect the rights of the author. Thank you very much!

*We just want readers to access information more quickly and easily with other multilingual content, instead of information only available in a certain language.

*We always respect the copyright of the content of the author and always include the original link of the source article.If the author disagrees, just leave the report below the article, the article will be edited or deleted at the request of the author. Thanks very much! Best regards!
---