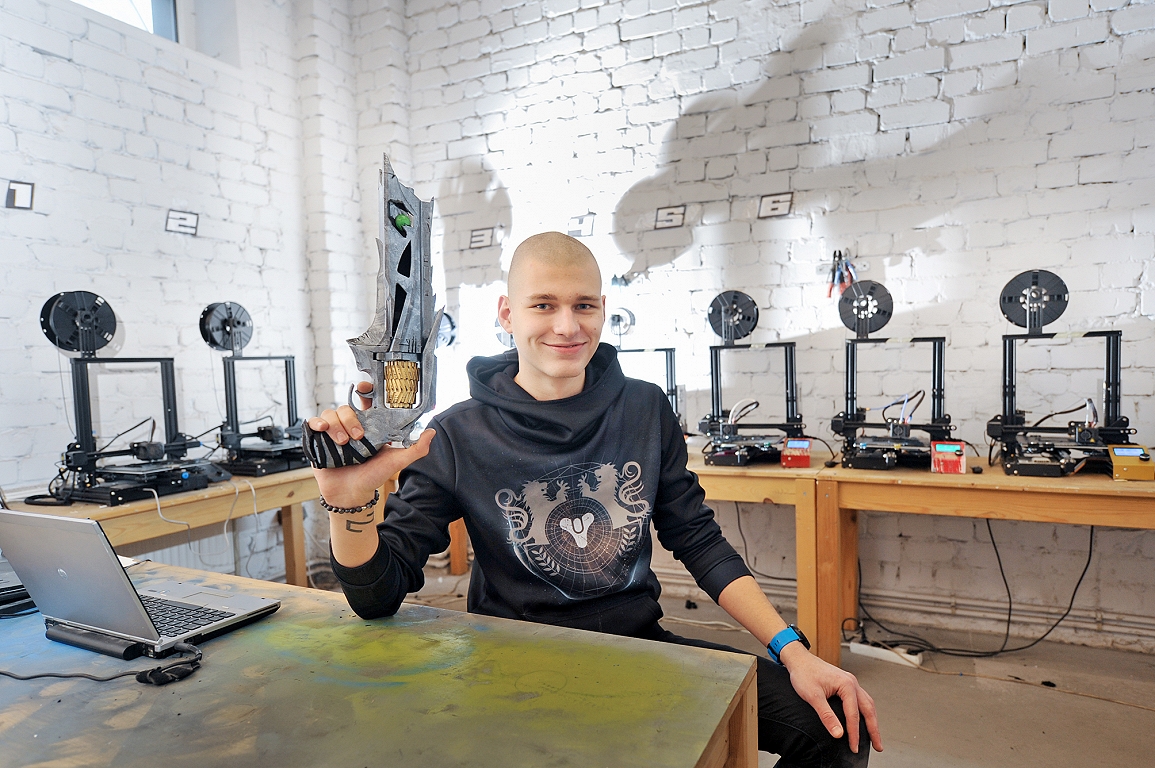 Edgar company GrandStep The 3D printer workshop in Jelgava prints video game and film souvenirs collected by fans of this field around the world – replicas of weapons and other accessories, character masks, etc. tml. Edgar has also enjoyed how to change his attitude towards life, set goals and start acting, so in seminars where he tells about his experience, he tries to inspire other young people – you can do more!

Transformation in 16 years
Edgar has always liked the idea of ​​being independent. In the 3rd grade, he tried to sell this to others at school, but until the age of 16, the desire to become an entrepreneur was nothing and no one had awakened him yet. After 9th grade, he moved from Jelgava to Riga. The idea was to study to be a programmer, but enrollment in educational programs in this field was already overdue, so Edgars entered the Riga Trade Vocational High School to learn the profession of an advertising commercial worker. The field of advertising attracted him, he had already made videos and posters.
However, this coincided with the time when Edgar attended the Outdoor Exchange's 12-hour personal growth course Charging its potential. "There was a transformation in my life, I realized – I want to be the determinant of my own life! Aris was inspired, and every day I started looking for ways to achieve goals, how to do something more, how to achieve something myself. My path of personal growth began, I started a lot. read books, "Edgar enthusiastically tells. However, he admits that since these changes, he has not delved into what the teachers have been telling him at school, but has only done so as if he has read the books he has taken or made his own business plans. Naturally, studies at the technical school began to slip, and Edgar left them.
He talks about his growth: "Ari got out of me from the very beginning, helped to formulate what I really want in life – an independent life with business. But business is not a money-related goal for me, I am most motivated by the opportunity to create something, sell something I've never been able to sell products created by others. "
Edgar had "all sorts of projects" that failed, but they were all like a ladder to the top. The guy has also gained some paid work experience. He piled peat blocks in the swamp and concluded that he did not want to return to such work. He later made advertising materials for a real estate company, but realized that he wanted to create something of his own. Saved money, at the age of 16 Edgar (then in his mother's name) founded his own company GrandStep. "The first thing I realized was an online store where I sold women's cosmetic bags – it didn't work! Then I tried to sell all kinds of beautiful socks – it didn't work either!" Edgar remembers how he tested the variants.

Wanted to create something tangible
3D printing GrandStep addressed at the end of 2019. Wanting to create something tangible, Edgar bought a 3D printer and started a 3D printing business with a friend. There was no clear vision at the time, but Edgar says: "Everyone is trying to find their perfect business idea in the beginning, but I believe that there will never be one in the beginning. For us, all goals changed by 180 degrees over time."
The guys initially tried to offer 3D printing services to customers in Latvia, which they sought and addressed, but soon concluded that their solvency is lower than the new entrepreneurs expected, and in the field of 3D printing services in Latvia there is already quite strong competition. "I think that all this could be realized now, but then we didn't have the baggage of experience and we didn't have the patience," says Edgar.
Accidentally through Facebook got acquainted with an experienced 3D printer from Sigulda, who recommended at the beginning of the business to focus on something small and study the market – what people buy better. Both GrandStep developers tried to print and sell various trivia on the platform Etsy.com, where customers were from all over the world, and it paid off – in the second week had to buy another 3D printer, in the fourth – another. They also started printing collectible souvenirs from video games and movies, and it turned out to be a wide, promising, not yet crowded business niche. "Everyone who tells us in Latvia that we print something for video game fans thinks – why should people want to spend money on a plastic pistol from a video game. But in other cultures there are such values. In Latvia we have not sold any replicas, the dominant market is America, we have sold elsewhere in Europe, Australia, Ecuador, Chile, etc. Our business plan is to connect 3D printing with artists who make beautiful, colorful products.In America and the world, there are people who do it, but in such a home made mode, so we saw a business niche here , which can expand, "Edgar says.
GrandStep cooperates with Gustav Gotauts company Future Company, which currently owns half of Edgar 's business. "They work with advertising, sales, we work with printing and production," explains Edgar, who reveals that the partners' investments helped to avoid the painful consequences of the failure – for example, the 3D printing workshop was rented out cons… Now the company is growing and considering the idea of ​​opening a brand in the summer GamingGains factory in America. Edgars admits that the business project is not yet profitable at the moment, because the sales focus and real costs are still being clarified, but the moment of stepping stone is close. GrandStep The workshop employs 15 3D printers, employs five people, Edgar is in charge of market and trend research, search for new product ideas, and team management. "I'm the captain of the ship, I'm going where we're going," Edgar describes. He has done all the work that needs to be done in the workshop before.
At the same time, he cherishes the idea of ​​creating an automatic production system that would combine all stages of the 3D printing industry – from ordering, measuring the load of various data and printers to the creation of a product. "I want to make a system that anyone can pick up, connect to their ten 3D printers and start manufacturing," Edgar says. Programming has already started.

Young people lack an example
Edgar does not hide – the further he goes with his business "ship", the more skills he has to learn himself. Often there is a lack of business management knowledge base, which he once missed in the technical school. After dropping out, Edgars completed the remaining two high school classes in distance learning during the year, now learns something new every day while practicing in his company, and says that he would like to take some business courses as well. However, the most effective way to learn for Edgar is with mentors, whom he finds in every area of ​​life. "I was a mentor in personal growth, then I was a mentor in sales – he is now my business companion – I am also a mentor in 3D printing. And I think the key is to work with people who have already achieved the goals you want. It is a "short view" (the shortest way – ed.) to get up, "Edgar says and says that a lot of emphasis on mentoring is also placed in the project Learn together with like – minded people. Dari. Earn, in which he recently participated as a growth coach in leading classes for young people, motivating them to live a more purposeful life and realize their potential.
Inspiring lectures for young people, learning in this process himself, Edgars started to create soon after the personal growth course at the Outdoor Exchange, because it seemed – I want to give everything I have learned and understood to other young people, I want to motivate them! Edgars has given such lectures both in the growth cafe Spiikiizi and in schools. At the beginning he told the theory about goal setting, also about communication with potential employers, etc. etc., but then realized: "The only thing the young people remembered was the inspiration I sowed in them. I was already building my next lectures by telling my own story of experience with all the successes and failures." Do young people lack this kind of support? "Young people lack a good example." Edgar believes that the examples that young people mostly see in their daily lives and on social networks are their peers who "drink", drink, and so on. – does not contribute to their growth and pursuit of goals. "If a young person is aware that he can and wants more, but there are ten young people around who are pulling him down, he will not change. I also turned off practically all my previous friends at the moment of my breakup, I started meeting older people. It was probably not the best method – to do so so drastically, but I urge young people to give up those friends who encourage them to drink alcohol and other bad things, because that is unlikely to lead them to the life they really want for themselves. "
Currently, Edgars has not led inspiration seminars for a while, because the development of his business takes all the time, in the evenings he also gives lectures on 3D printing at the Alfa training center, but he wants and plans to return to the youth audience. All the more so because there is a desire to share your business experience. "If it helps one in a hundred young people, it's worth doing."
Edgar notices and also recommends to others: he talks less, he does more, because the value will be created by doing. He also takes into account the borrowing: "Your actions must match your ambitions" or, the higher the goals and ambitions, the more ambitious the action must be. According to Edgar, in business you have to be able to take risks, but before jumping into a new field in cold water, you have to do a bit of what is already floating in it. The guy adds to his mistakes his lack of understanding of the basics of doing business, it has also made him feel the financial consequences and taught him to measure everything in business – what works and what doesn't, what is profitable and what is not, how real (not on paper) each thing costs business support, etc.
Among Edgar's future plans, in addition to business goals, is to continue to inspire young people and to grow on his own – also as an employer, creating a pleasant, free work environment in his company, where people would come to work with pleasure. "I like the idea of ​​service – that I can serve something bigger: young people, my company team members. Try not to think so much about selfish goals that are aimed only at me, but try to help the environment, the society around them," Edgar defines.
---
Source: Diena.lv by www.diena.lv.

*The article has been translated based on the content of Diena.lv by www.diena.lv. If there is any problem regarding the content, copyright, please leave a report below the article. We will try to process as quickly as possible to protect the rights of the author. Thank you very much!

*We just want readers to access information more quickly and easily with other multilingual content, instead of information only available in a certain language.

*We always respect the copyright of the content of the author and always include the original link of the source article.If the author disagrees, just leave the report below the article, the article will be edited or deleted at the request of the author. Thanks very much! Best regards!
---