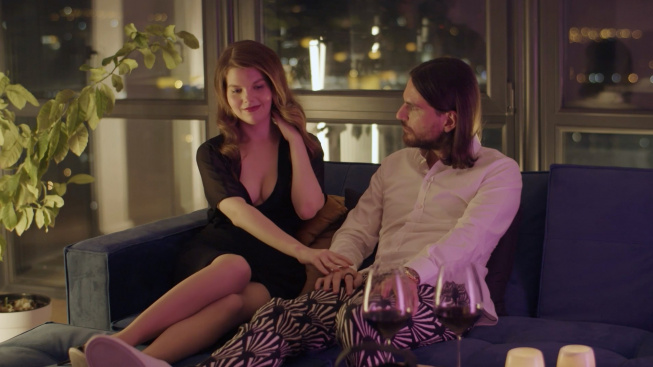 A small personal confession to begin with: Since last Christmas, the biggest theme in our country has been wedding. Although this joyous event is not to take place until almost a year and a half later, my chosen one has already begun planning with the power of a hurricane. Yes, readers (and some readers) can squeeze a tear, even this unrestrained stallion was eventually tamed, saddled, and will soon be placed in the cloak of the sacrament of marriage.
Despite the fact that I chose this path myself and knelt voluntarily with my ring, during the current regular weekend tour of potential venues and calculating costs, I can't get rid of memories of the times of freedom, when I used to be a super-seducer (illustration image). No South Bohemian skirt in front of me could be sure, the long stares over a glass of wine and the natural island opened the doors of the girls' rooms very reliably, and Friday evenings regularly earned me the reputation of the king of the parquets on which I embarrassed the other undead.
Censored seduction
But as the years passed, I settled down, thanks to video games and my fondness for junk food, it rose sharply, leaving only lost fame and thousands of thank-you letters from ordinary villagers. A few years ago, however, I received a tip for the hot Super Seducer title from my friend Aleš, who currently carries a torch of seducers in southern Moravia. In it, the self-proclaimed guru Richard La Ruina teaches socially impossible men how to cope in various everyday situations when hunting the fairer sex.
Super Seducer then had a sequel that promised advanced seduction tactics, and now the last part is coming out, concluding the trilogy. And God willing, he may conclude La Ruin's counseling practice.
Super Seducer 3 is exactly the same game as the two previous parts, except for small details. Again, we get several scenarios with a predetermined goal, and our task is to persuade the girl to go on a date with us or jump straight to the broom closet with appropriately chosen replicas.
Unfortunately, it seems that this time La Ruina went too far in its creative vision and the game was hit by a massive degree of censorship. Intermezza, in which the master himself gives advice and explains what we did well or badly, contains an ensemble of scantily clad girls. But they were an obvious thorn in the eye of Steam himself, so the hungry eye of the player will not enjoy them. In addition, censorship is extremely insensitive; in some situations, the entire screen is blurred except for the slime of a glowing relationship champion.
Nothing for anyone
Unfortunately, due to this, the game also lacks two whole chapters and it is not clear whether the patch will solve this situation in the future. At present, young greedy young people have to accept that they do not get a full fifth of the content, and if they wanted to use the game for some personal "exaggeration", they will be bitterly disappointed.
Although, hand on heart, anyone who yields to the enticing promise of penetrating the secrets and nooks of a woman's mind will be bitterly disappointed. And in fact, even the one who has already managed to peek through La Ruina and approaches the game as a series of extremely embarrassing situations.
The truth is that I've been out of the game for some time and, for example, I didn't have time to get acquainted through mobile applications. Nevertheless, if the laws presented by this "work" were to really apply in real everyday life, I would perhaps be willing to become an immediate denier of anti-anti-crime measures, because as humanity we deserve a restart.
For example, the second episode takes place in the gym. La Ruina will explain to you that when choosing a fitness center, the most important thing is to check Instagram first to find out who goes there. Then all you have to do is identify a potential victim and it is almost won.
Honestly, from my own experience I can say that the gym in particular is a place where most people are not really interested in long and protracted conversations, and many women have confirmed to me that men's attention in this place is extremely unpleasant and they prefer to choose such facilities, where men do not appear at all. Of course, La Ruina doesn't take that into account at all, on the contrary, he advises you how to drag the unfortunate person to the juice bar, tell her about your passion for video games and gradually (sweaty after riding an exercise bike) drag her to the dungeon next to the reception.
Show me melons
But dating can also take place when buying food, especially if you come across a sexy Swedish tourist, whose most positive features (in her own words) include cooking, cleaning and the fact that she is cheerful. You wouldn't believe how unbelievable suffering it can be to watch a banal conversation about cooking. But you will also learn such a trick, such as that when you pay, you should be done before your goal, so that you can wait for it and not risk that you may run away.
A bit more spicy is the scenario where you and your new girlfriend are looking for a girl in a threesome at the bar (that is, without the girlfriend knowing about it). The problem is that La Ruin's advice in advance anticipates that the objects of your love interest are either drunk literally "on Rokytka" or suffer from severe brain dysfunction.
La Ruina acts as an extremely boring patron in the individual scenes.
Virtually all conversations cause physical pain, but unfortunately they rarely reach the desired level of cringing, when the situation turns into fun. In the individual scenes, La Ruina acts as an extremely boring patron, chewing on phrases about a healthy lifestyle and scattering around it empty and barren flattery, which must reliably lead everyone to gloom, but not to the desirable ones.
In some situations, you are faced with options of which no sane person would choose either. A very typical example is a situation where you are hunting for one night and after spending a while in a bar (with a girl who, unlike the others, looks extremely decent) you have the following options to choose from:
1) Ask if you can touch her vagina
2) lick the inside of her ear
3) Lovingly pull her head into her crotch
4) start strangling it gently
5) Ask her to sit on your face
6) Gently place her hand on her erect cock
I won't lie to you, I'm unsure at this point. Honestly, in this situation, knowing La Ruin's procedures, I decided that option 2 or 4 could be correct. However, according to the researcher in the female psyche, neither of them is permissible, while sitting on the couch with a glass of wine, a woman shortly after dating longs to touch your limb. Personally, I would rather recommend that you do not try it if you do not want to rinse Riesling from your eyes and listen to the distant click of heels.
Beaver of embarrassment
Possible answers are divided into green, that is, successful, orange, that is, unsuccessful, and then into the catastrophic red, which are supposed to put some of the humorous element into the game. Sometimes they are bizarre at first glance, but other times they actually fit completely into the master's lifestyle and you don't quite understand why he wouldn't recommend this, when he appreciates other, much worse things with a commendable thumb up.
By choosing the right green answers, you are approaching the desired goal, but if you stumble too much along the way, the young lady will probably give you a basket. About three times in the game there will be a quick time event, lacking obvious meaning, once you will also play the mobile game Whack-A-Male to show your gambling skills on a date with a Russian model.
At the end of each episode, you will be introduced to a complex system of possibilities, which is an exact replica of that from Detroit: Become Human. But if you expect a path to lead to anything even remotely reminiscent of real life, think again.
Acting outbursts
By the way, during the game, it seemed to me that Richard was gradually running out of "games" willing to participate in the project and had to reach deeper and more hopeless depths. The acting performances are absolutely desperate, the girls from the East, with the enthusiasm of simple replicas, are very reminiscent of their colleagues from educational videos containing a massive leather couch, and for the most part it is very obvious that they don't really want to be there at all. After all, I wouldn't be surprised at all if Super Seducer 3 was created in a dual production and between the filming of individual scenes, the actresses bounced into the next room to shoot porn.
The biggest problem is that it's just not fun anymore. Yes, yes, I understand that Super Seducer must not be taken seriously and that the whole thing is actually a joke, but it is not. For the third time, La Ruina brings exactly the same thing, and what in the past seemed like a witty and remarkable bizarre is now just an exhausted attempt to lure a controversial and slightly erotic topic, which, moreover, has been cruelly rounded up by censorship.
Super Seducer 3 is not funny, it is not even playful and fun, it is just a show of boring, shabby and slimy dialogues of people you would not really want to know. La Ruina repeatedly talks about the Horror Seducer project during the game, and I just hope it's not a real part of future plans.
Three times and enough. And that's too much.
The only lesson you can learn from Super Seducer is the fact that alcohol solves everything, and then that if perhaps the tricks of this game work on a woman, you shouldn't sleep with her, but rather wrap her in a blanket, provide hot drink and discuss with her the traumas of childhood. La Ruina does not take personality into account, he throws you a few general guaranteed lessons that work for every "female" and let you go into a world where you have to make yourself an idiot.
I've been thinking about the extent to which Super Seducer 3 can be offensive to women by declassifying them to the level of trained animals. After the home presentation, however, I learned that it makes no sense to pay attention to something like this. It is best to simply ignore this work.
You'd better keep the money you would give for this game, and when the circumstances allow, take your dream counterpart somewhere on a date. You don't have to be a seladon or a social ninja, but I still guarantee that you will do much better without Richard's advice.
---
Source: Games by games.tiscali.cz.

*The article has been translated based on the content of Games by games.tiscali.cz. If there is any problem regarding the content, copyright, please leave a report below the article. We will try to process as quickly as possible to protect the rights of the author. Thank you very much!

*We just want readers to access information more quickly and easily with other multilingual content, instead of information only available in a certain language.

*We always respect the copyright of the content of the author and always include the original link of the source article.If the author disagrees, just leave the report below the article, the article will be edited or deleted at the request of the author. Thanks very much! Best regards!
---