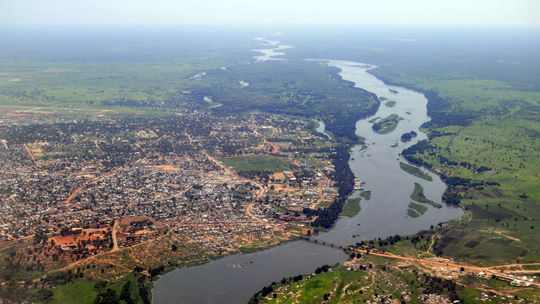 Sudan on Friday announced the resumption of negotiations with Egypt and Ethiopia to resolve a long-running dispute over the construction of a huge dam on the Nile, which the government plans in Addis Ababa.
According to AFP, the three countries have failed to reach an agreement in a few years of negotiations to build and fill a huge dam, the main task of which will be to supply water to the power plant. Once completed, the entire construction will become the largest hydroelectric facility in Africa.
Ethiopia says the project is essential for its development, while Egypt and Sudan are worried about their access to vital water resources from the Nile.
The Sudanese Ministry of Water Resources announced on Friday that negotiations on the dam being built on the Blue Nile had resumed on video afternoon on Friday afternoon. The previous round of negotiations ended in failure due to the inability of the participating countries to reach a compromise. Friday's round of talks took place with the participation of the Republic of South Africa, which holds the presidency of the African Union and also took on the role of mediator in these trilogues.
According to the original plans, the dam was to start filling this summer. Ethiopia has announced that it will start fulfilling it in the coming weeks, in line with these plans, but has also promised to try to resolve the dispute. Egypt and Sudan, lying on the lower reaches of the river, are now under pressure to reach an agreement as soon as possible.
Egypt, which sees the dam as an existential threat, called on the UN Security Council in June to intervene in the dispute. Khartoum recently stated in a letter to the UN Security Council that if the dam is filled with Ethiopia without an agreement, it will be a "great risk" for millions of lives.
Ethiopia claims that the reservoir is essential for its development and electrification. He also insists that this waterworks will not have negative consequences for the states on the lower Nile.
The construction of the work called the Dam of the Great Ethiopian Revival began in the Benishangul-Gumuz border region in 2011 and is financed exclusively from Ethiopian sources. The Blue Nile originates in Ethiopia and, together with the White Nile, is the source of the Nile River – the longest river in the world.
Do you like this article? Please support quality journalism.
The goal of the daily Pravda and its online version is to bring you up-to-date news, interviews, comments, reports, videos, other useful and practical information as well as reading and content for entertainment and leisure.
In order to be able to work for you constantly and even better, we also need your support.
Thank you for any financial contribution.