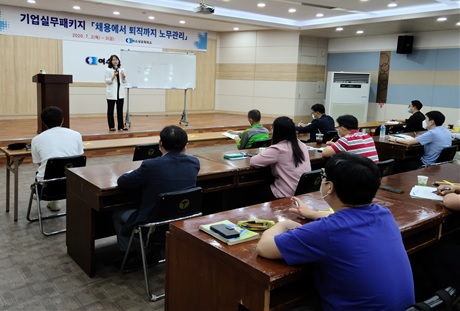 [아시아경제 호남취재본부 이형권 기자] The Yeosu Chamber of Commerce and Industry (Chairman Park Yong-ha) made the first start of the Yeosu Chamber of Commerce Education Support Center with the attendance of 50 employees in charge of human resources and labor in the Yeosu area for two days from July 2 to July 3.
The Education Support Center, as a corporate practice package course, conducted a lecture by Kim Gyeong-ha, a tax accountant and labor expert at the Korea Chamber of Commerce and Industry, and a representative of the NATO Semen Labor Relations Consulting Group, Seoul, Korea.
In this education, labor manager Kim Kyung-ha explained in a wide and in-depth manner the core matters of personnel management such as basic labor related to basic knowledge of labor, recruitment, time and attendance management, wages, vacation, and retirement. The instructor and attendees are full of passion throughout the lecture, answering questions about the management issues of the company, definition of commercial jobs, and wages accordingly.
An official from the Yeosu Chamber of Commerce said, "This training is a customized lecture tailored to the educational needs of the members of the Chamber of Commerce and Industry. I will quickly apply the training contents and training methods that fit the flow."
Meanwhile, this training was conducted by hand disinfection and temperature measurement to prevent corona-19 transmission, and participants were required to wear masks and observe distances to provide training.
Reporter Hyung-Kwon Lee, Honam Interview Headquarters [email protected]