| | |
| --- | --- |
| Genre | Strategy |
| Publisher | Funcom |
| Publisher in Russia | Not |
| Developer | Shiro Games |
| Minimum Requirements | Intel Core i5 i5-9400F 2.9 GHz / AMD Ryzen 3 3300X 3.8 GHz, 8 GB RAM, 4 GB DirectX 12 graphics card, such as NVIDIA GeForce GTX 1050 / AMD Radeon RX 580, 4 GB storage , Internet connection and Steam account |
| Recommended Requirements | Intel Core i5-9600K 3.7GHz / AMD Ryzen 5 3600X 3.8GHz, 16GB RAM, 8GB DirectX 12 graphics card, such as NVIDIA GeForce GTX 1080 / AMD Radeon Vega 56 |
| release date | April 25, 2022 (Early Access) |
| Localization | Text |
| Platforms | PC |
There have been no new Dune games for god knows how many years, so it's no surprise that Spice Wars managed to break into the top 3 on Steam already at the early access stage. In general, what Shiro Games offers at the moment is already playing quite well. Yes, and the visual style chosen is pleasant, even if the characters are reminiscent of Civilization. But the project is not without flaws. A lot can change for a full-fledged release – and, to be honest, I would very much like this, since individual elements and mechanics still raise a lot of questions.
⇡#Arrakis will be ours!
At this stage, there is only a single mode with matches against a computer opponent. You can try to conquer the planet for one of four factions: Atreides, Harkonnens and Fremen need no introduction, but smugglers turned out to be a very interesting choice for developers. In addition to the sides, they allow you to set the size of the map, the conditions for victory, and at the same time the frequency of sandstorms and the appearance of worms. And appoint two advisors represented by well-known characters like Lady Jessica, Chani and others. They provide unique bonuses to help you customize the game to suit your style.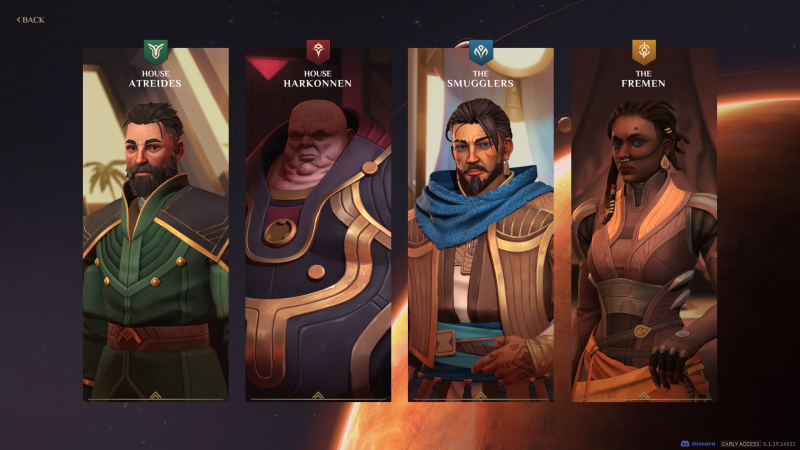 Already now we can say that Spice Wars managed to perfectly convey the spirit of "Dune". Arrakis is an extremely dangerous planet, so almost all factions need to constantly monitor their spice (or spice, if you want) harvesters – the worms are very fond of devouring them. In addition to lives, all units also have a strip of supplies – it is consumed while moving through unfavorable areas. For example, if you send a detachment through a large desert, then it will simply perish in the sands. In addition, the game makes you sweat when some kind of mess begins. Keeping track of constantly popping up notifications is not easy, especially if you are simultaneously trying to take the wounded soldiers away from the battle, vote in the Landsraad council and pay attention to other matters at different points. It saves the opportunity to pause what is happening, but even in this case, you may not have time to react – it takes time to evacuate the same collectors after pressing the button, and the worms will not wait.
As a result, it turns out that on the front line he seems to have coped with everything, however, in the rear, some of the settlements were captured by Fremen from unfriendly Sietch scattered across the map, and spice production has seriously dipped due to the loss of equipment. The Dune game wouldn't be the same if spice weren't one of the main economic components. Spice Wars offers a cool system where you need to balance between your own benefit and tax collection. Each month, the Empire (or the Space Guild in the case of the Fremen) requires a certain amount of spice, but the same resource is used to exchange for cash. It is necessary to constantly ensure that the treasury is replenished, and that the reserves are enough to pay the tribute. After all, without money it is impossible to order the replenishment of the army and protection for the settlements, and those who do not fulfill their debt obligations will face a fine to influence in the council and receive hegemony points that affect victory. The revenue split is adjusted using a slider that controls what percentage of spice to exchange and what percentage to send to the warehouse. At the same time, you can always see if you have time to accumulate the required amount of resource with the given values.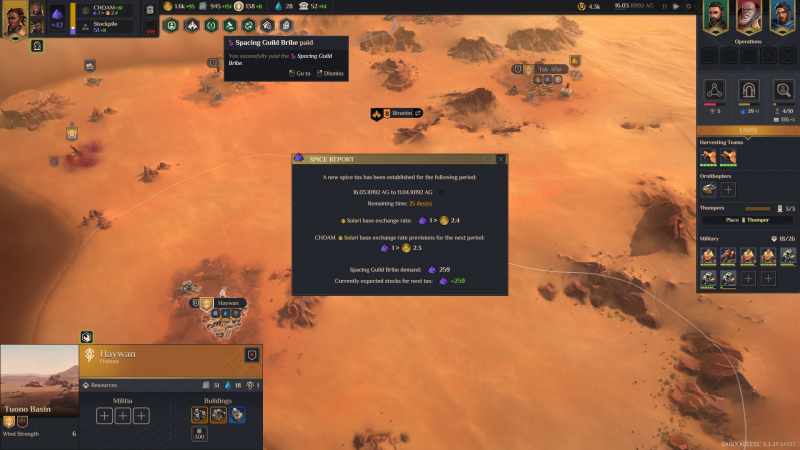 No less important role is given to espionage. Assigning your people to certain positions gives bonuses to the production of various resources, and at later stages you can even try to assassinate the leader of another faction. At the same time, spies help order various temporary bonuses, such as accelerated patching of troops in a sector or reducing damage from enemies. Practice shows that when this "couple" is activated, enemy strongholds are taken without any losses among the personnel.
⇡#Shai-Hulud is disturbed
However, the rest of Spice Wars still needs some serious filing. The main process is rather slow and is based on the capture of territories. The entire map is divided into sections, each of which has a settlement. Captured it – the zone came under your control. Some sites contain unique materials that allow you to build special buildings (they give a large bonus to obtaining resources), so the order in which territories are annexed also matters.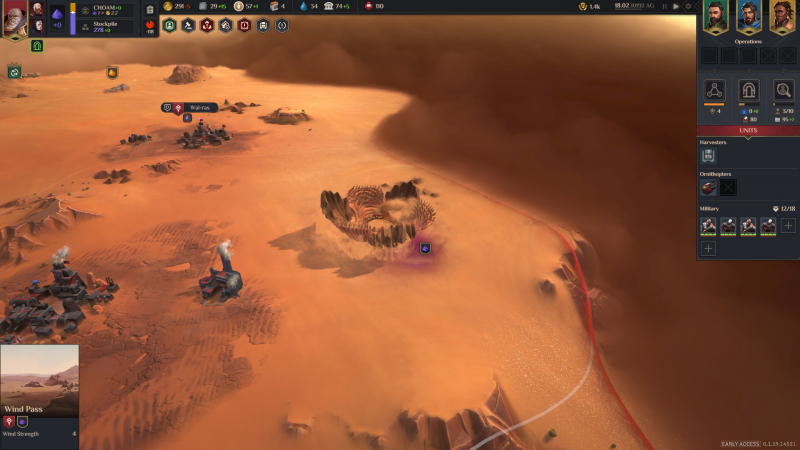 In its current form, Dune: Spice Wars is heavily tied to the economy and very demanding in terms of handling resources. Thoughtless expansion, say, will quickly lead to a shortage of water, and a large and expensive army to maintain can drive into the red even in the later stages of the game. It is easier and more profitable for one small group to slowly and methodically bite off territory beyond the territory, build it up with the necessary buildings and move on. AI is still stupid and will not be able to strain something – in matches with people, the situation, in theory, should be much more interesting, but there is no multiplayer yet.
Just a serious emphasis on collecting resources, combined with "real time" makes Spice Wars viscous and painfully boring in places. Need to build something? Wait for the required consumable. Do you want more troops? Wait until you have enough money. Capture a settlement? Wait for influence points. This is? Wait. Other? Wait. If in the same "Civilization" it was possible to quickly skip a few moves, then here in the later stages of the matches I just left to watch the video on YouTube, from time to time looking at another screen and reacting to rare attacks or riots. You can speed things up, but helps to move forward at a snail's paceonly partly.
And in general, the middle and end game of the game now leave much to be desired. After a few games, you understand which buildings and upgrades you need to install and study in the first place, and the lack of resources ceases to be a problem. Unfortunately, after this stage, Spice Wars turns into a dreary repetition of the same thing from batch to batch. It remains just to watch how everything that can be accumulated is accumulated, order the best troops for this (which, by the way, there are only five types) and crawl to victory in one of three ways. At the same time, running all over their territory to suppress riots that break out in settlements for no apparent reason. Just because of the monotony of the process of patience, playing on medium and large maps may not be enough for everyone – just spend many times more time due to the size and number of territories to capture.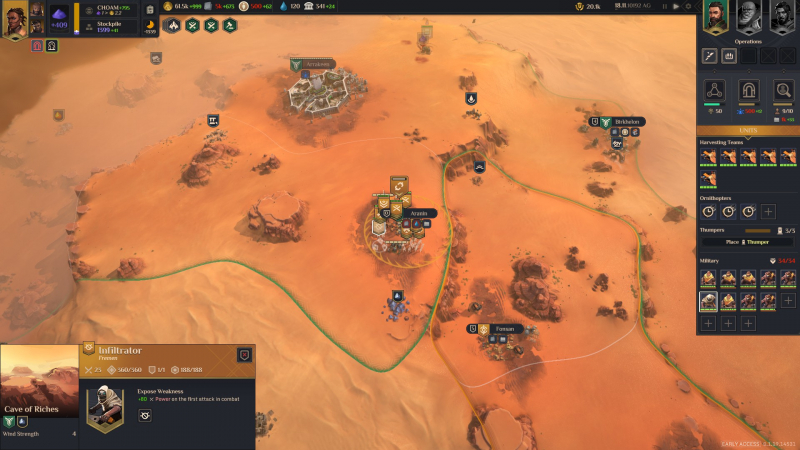 With the differences between the factions, too, not everything is smooth yet. Three of them play plus or minus the same, but the Fremen seem to have worked out the best – they have the most unique buildings and abilities. Desert dwellers don't need to keep an eye on their spice harvesters, because the worms simply don't attack them. They are able to quickly negotiate with neutral sietch, which, combined with buildings that give a huge increase in sector productivity, allows you to quickly break away from opponents. Yes, and you can quickly move your troops on worms at no extra cost, which other parties cannot boast of. The AI ​​does not know how to use any of these advantages, but in capable hands, the Fremen will certainly become a formidable force – especially if the balance remains the same.
Now the developers are actively collecting feedback and looking at what aspects of the game should be improved, polished or reworked. So Spice Wars has every chance of eventually becoming a 4X strategy not for a couple of evenings. However, if the gameplay remains the same monotonous, and most of the factions are still very similar to each other, then the project will not be able to boast of the proper depth and, as a result, caused by the interest in repeated passages.
The genre just implies the ability to replay games over and over again and try something new, but Spice Wars (at least for now) runs out of steam after 10-15 hours. It won't be the worst of hours, but subsequent games will fall into the same action sequence. In early access, this is not too scary, but will Shiro Games be able to diversify the game in the future? Will the promised story campaign succeed? Will new factions be added and will it be possible to somehow separate existing ones from each other?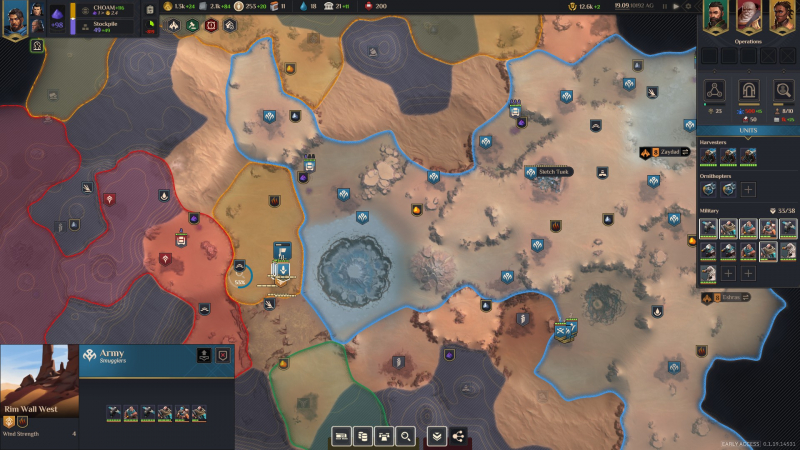 There are no answers to all these questions yet, but I will probably wait for version 1.0 with cautious optimism. Some of the ideas, like the need to balance spice mining and espionage, are already working well. Others cause yawns, especially if they decide to win by the complete destruction of the enemy or by dominance points. Early access Dune: Spice Wars offers a very good base for a potentially cool strategy, but we'll find out if it can become one with a full release. Tentatively this will happen in 9-12 months, but plans may change.
Video:
If you notice an error, select it with the mouse and press CTRL+ENTER.
---
Source: 3DNews – все новости сайта by 3dnews.ru.

*The article has been translated based on the content of 3DNews – все новости сайта by 3dnews.ru. If there is any problem regarding the content, copyright, please leave a report below the article. We will try to process as quickly as possible to protect the rights of the author. Thank you very much!

*We just want readers to access information more quickly and easily with other multilingual content, instead of information only available in a certain language.

*We always respect the copyright of the content of the author and always include the original link of the source article.If the author disagrees, just leave the report below the article, the article will be edited or deleted at the request of the author. Thanks very much! Best regards!
---