Los Cosmos Soyuz rockets are turned away from the Western market
Active in space launch service with 'overwhelming cost-effectiveness'
SpaceX and startups show signs of 'scramble for market share'
In Korea, the 'Nuri-2' is scheduled to be launched in June.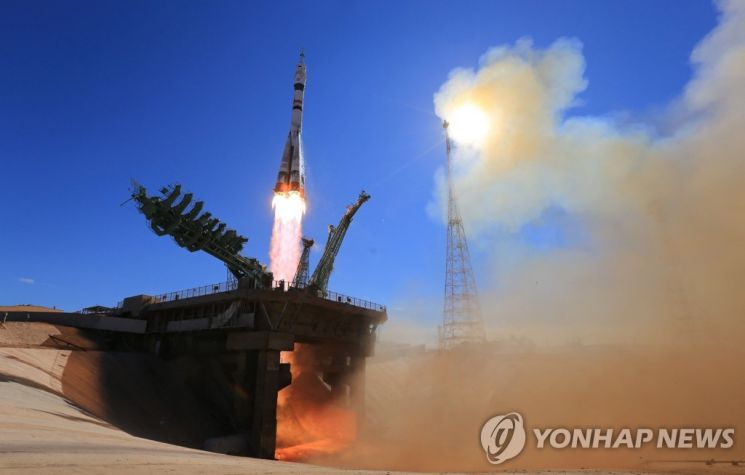 Russian Soyuz rocket launched from Baikonur space station in Kazakhstan in October last year / Photo = Yonhap News
湲 蹂肄
[아시아경제 임주형 기자] After the Russian army invaded Ukraine on the 24th of last month (local time), Western countries began to impose economic sanctions in earnest. While the Russian economy is expected to suffer massive losses from this, the space launch vehicle market is also expected to have its impact.
Russia, which has established itself as an aerospace powerhouse since the 20th century, has been active in the space launch vehicle market by promoting inexpensive and reliable rockets. However, the sanctions put the Russian rockets at risk of being removed from the market. For other competitors, a huge market worth several trillion won has been opened up.
◆Russia, a traditional space power, 'shakes' its position in the international launch vehicle market
Russia has been a space power since the days of the former Soviet Union. It also gave the US the famous 'Sputnik Shock' by developing 'Sputnik', an artificial satellite that orbits the earth before the US.
These rockets developed by Russia are also in the spotlight in the global space launch vehicle market. The most representative commercial launch vehicle is the 'Soyuz rocket' developed by the Russian Federal Space Agency (Roscosmos). Since it was introduced in the 1960s, it has been launched more than 2,000 times so far, and it has been reborn as an inexpensive and reliable product by constantly accumulating launch data and improving performance.
European countries also depend on Los Cosmos' space launch services. 'OneWeb', a British internet satellite manufacturing and service company, has also launched its own satellite on a Soyuz rocket until recently.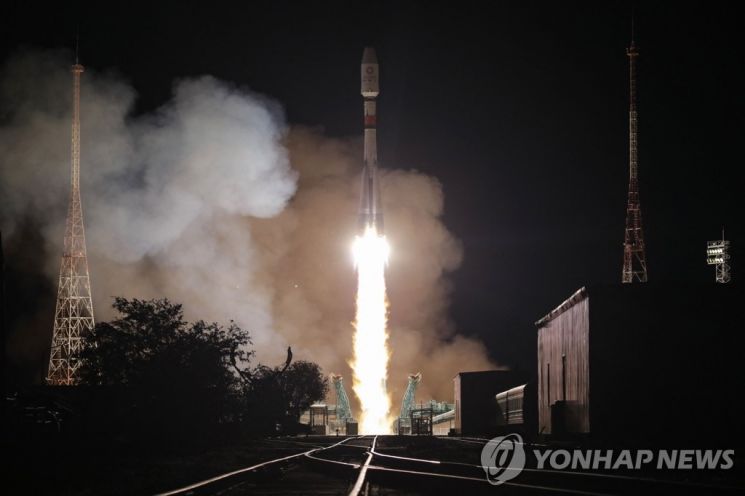 A Soyuz rocket launched carrying the payload of 'OneWeb', a British internet satellite service company / Photo = Yonhap News
湲 蹂肄
However, Roscosmos said in a statement on the 1st that it would not provide a launch service until "OneWeb removes the UK government's stake." OneWeb is a company owned by the British government with a 30% stake.
In response, the UK and other Western countries have also begun to turn away from Russia's space launch service. Immediately, OneWeb set out to find a replacement for the Soyuz rocket, and the European Space Agency (ESA) withdrew from the Mars rover project that it was pursuing with Roscosmos.
◆To enter the projectile market, Soyuz must go beyond 'price competitiveness'
As Soyuz rockets are shunned in the international market, Russia's vast share of the space launch services market will be opened to other competitors.
The space launch vehicle market is already bustling with new challengers. 'SpaceX' owned by Tesla CEO Elon Musk is a representative, and Rocket Lab, a US-New Zealand joint venture, Virgin Orbit, a US-UK joint venture, Skylora and Obex in the UK, and Rocket Factory in Germany have already reached the final stage of developing their own rockets. I did.
In order for these competitors to effectively replace the Soyuz rocket, they must first have price competitiveness comparable to that of the Soyuz rocket.
Built on 1960s technology, the reason the Soyuz is still so popular is its low price. According to data released by Russian news agency 'TASS', the price of the Soyuz 2.1 rocket is $48.5 million (about 59 billion won) with booster included, and $35 million (about 42.6 billion won) when launched without booster.
The most commonly used metric to measure the cost of a rocket launch is 'cost of launch per kg'. It is a converted value of how much money it costs per kilogram of the weight of a satellite to be put into orbit.
According to US financial media 'Bloomberg', the average launch cost of NASA is 23,000 dollars (about 28 million won) per kg. Soyuz rockets without additional boosters are at least 10% cheaper than the average cost of American rockets, making them quite price-competitive.
◆Unrivaled Space X, start-ups spurring commercialization
From this point of view, the most competitively priced commercial rocket today is from SpaceX. SpaceX is characterized by innovatively lowered launch price with the reusable rocket 'Falcon 9'.
SpaceX's 'Falcon 9' rocket, which is recyclable, has high price competitiveness by significantly lowering the launch cost. / Photo = SpaceX Twitter capture
湲 蹂肄
According to SpaceX, the current launch cost of the Falcon 9 is $67 million (about 81.5 billion won), and when converted into 1 kg, it is $5500 (about 6.7 million won). Due to the nature of the reusable rocket, there is a limitation in that it can only reach low-Earth orbit (LEO), but it has a strong advantage in that it can launch satellites at a much lower price than Soyuz.
In this regard, Musk also expressed confidence that SpaceX will be responsible for most of the space launch systems after Soyuz is withdrawn from the international market. He wrote on his Twitter on the 22nd, "SpaceX's basic plan is to secure 65% of the world's total launch weight within this year," he said. "If demand increases, it can even reach 70%. There will be no major changes in the launch market)."
Other startups that do not have reusable rocket technology such as the Falcon 9 are trying to gain price competitiveness with 'small rockets'. The most representative example is British companies such as Obex and Skyrolla, which have developed a technology that can print rocket engines that require skilled labor with a 3D printer at once. The goal is to achieve 'economies of scale' by producing as many inexpensive rockets as possible.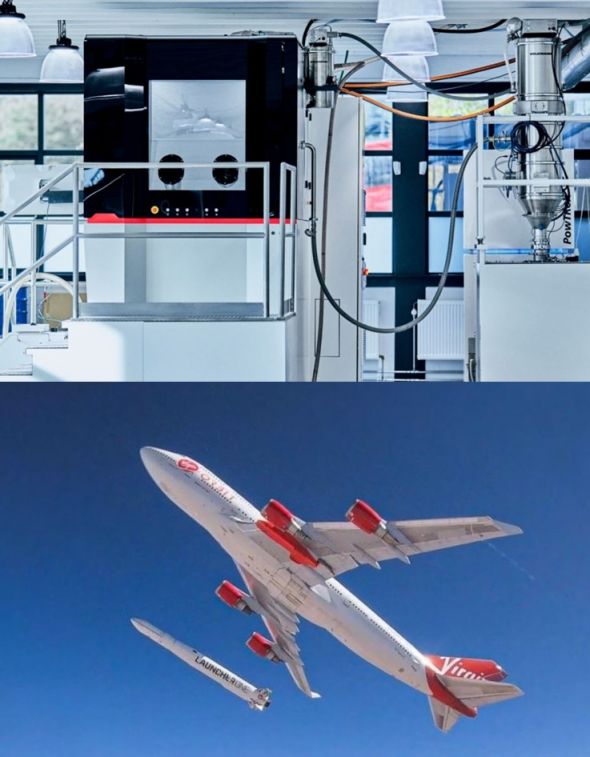 3D printer for mass production of engines of British small rocket manufacturer 'Ovex' (above) and aircraft-launched rocket of 'Virgin Orbit', a US-British joint venture / Photo = Obex, Virgin Orbit capture
湲 蹂肄
Others are trying the concept of loading rockets into the air and launching them from the air instead of using expensive fuel motors and boosters. Virgin Orbit, owned by Virgin Group CEO Richard Branson, succeeded in lowering the manufacturing cost of low-orbit rockets to $18 million (about 22 billion won) with this type of rocket.
Efforts to achieve 'space technology independence' through the development of domestic launch vehicles are continuing in Korea.
According to the Ministry of Science and ICT, the Korean launch vehicle 'Nuri-2', which can send a 1.5 ton payload to low orbit, is scheduled to conduct a second test launch on June 15. The Korean government plans to test the satellite's ability to enter orbit in the second launch test, and then actually transport the next-generation medium-sized satellite 3 next year.
Reporter Lim Joo-hyeong [email protected]
---
Source: 아시아경제신문 실시간 속보 by www.asiae.co.kr.

*The article has been translated based on the content of 아시아경제신문 실시간 속보 by www.asiae.co.kr. If there is any problem regarding the content, copyright, please leave a report below the article. We will try to process as quickly as possible to protect the rights of the author. Thank you very much!

*We just want readers to access information more quickly and easily with other multilingual content, instead of information only available in a certain language.

*We always respect the copyright of the content of the author and always include the original link of the source article.If the author disagrees, just leave the report below the article, the article will be edited or deleted at the request of the author. Thanks very much! Best regards!
---