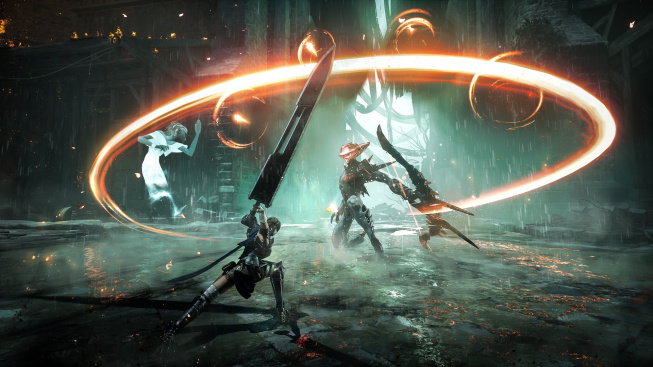 When you first turn on Soulstice and go through the prologue, you can't help but feel that the developers at Reply Game love Bayonetta with all their hearts. Bouncing over debris floating in the air, slashing countless enemies and a massive demonic creature flying around all clearly refer to the work of PlatinumGames, whose third iteration we've been eagerly anticipating for years.
Soulstice, despite its name, is not another modern action RPG that borrows ideas from the work of FromSoftware and the soulslike genre. Instead, it turns much further into the past, to the era when console slashers were released in the cadence of today's action adventures and the second PlayStation was ruled by gems like Devil May Cry or God of War.
It is obvious that Soulstice would very much like to join this noble company. Unfortunately, despite many promising ideas, she lacks the last few steps on the way to becoming champions.
It's just such a chimera
After the opening otherworldly ordeal, during which the player unfamiliar with the game systems has no chance to orient himself in any way and just desperately mashes buttons in the hope that something will happen (and luckily it does), Soulstice will make you painfully sober up from power fantasy and force you to step by step the path to being able to do a similar binchus on the screen again.
You get two heroines in one body. In the world of Soulstice, such beings are called Chimeras – ours consists of a fierce warrior named Briar, who is accompanied by the sorrowful soul of a girl named Lute. You will control both in battle. While Briar is primarily concerned with dispatching enemies with brute force, Lute helps by interrupting enemy attacks, or can summon a special magical field within which Briar can manipulate objects (or enemies) that are otherwise inaccessible.
I have to say that I needed too much time to get used to the duality of the heroines, which is mainly related to the control scheme. I played on Xbox, and while light attack is mapped to Y and heavy to X (so the opposite of the established order), Luta's ability to parry attacks is to B, and the developers hid her on the left bumper of the controller. It's hard to say what led the authors to such a cumbersome basic form of control – fortunately, even on consoles, you can completely change it.
I'll just add a personal note: I'm not a fan of the bumpers on the Xbox controller (they're bad for me) and I haven't avoided using them in combat in any meaningful control variant, which has been quite frustrating at times.
Fun, but only sometimes
Fights are fun at their core. Briar gradually complements her massive sword with other pieces of equipment, such as a bow, learns more complicated and devastating combos, and while in the beginning you don't have to turn to Lute so much and you can make do with tricks in combat, later on you will stop disdaining her ability to block the enemy's attack.
On the other hand, it has to be said that during the entire time I played this ability of hers, I didn't really get under my skin and I find her very unreliable. While an Abort key icon will appear above an attacking enemy (at least most of the time), there were far too many times when the Lute didn't work as expected even though I did everything right. Of course, I don't expect the exact rhythmic action of Sekira, which is largely based on the mechanism of deflecting attacks, after all, it is a different genre, but Batman managed it without difficulty in his Arkham series.
Another annoying element is the need to turn on said magic field when fighting certain types of enemies (and in the right variant), which repeatedly led me to think that I might have enjoyed Lute more if it wasn't in the game at all. The problem is that the magical girl does not keep those auras forever, but only for a limited time, after which she disappears for a few seconds. During this moment, you basically have no chance to do any damage to certain types of enemies, and all you have to do is jump helplessly around and hope for the nurse's return soon. I probably don't need to describe to you in detail what effect this has on the pace and feel of the otherwise pleasant mutilation of monsters.
Individual clashes are treated as separate "instances", after which you will be awarded points based on how well you did. The systems work very similarly to the aforementioned Devil May Cry, Bayonetta, or older God of War installments: Your goal is to keep the combo counter as high as possible, ideally juggling opponents in the air with a continuous barrage of punches and not letting any bad guy ambush you.
The problem with Soulstice is that the regular enemies aren't particularly interesting or memorable, and there were times when I couldn't really distinguish what I was up against at certain camera angles (the game uses classic fixed angles). The situation is slightly better with bosses, who can force the player to use all the abilities they have learned during the game.
Sad gray world
In addition to beating various monsters, the game offers plenty of platforming typical of the genre, simple puzzles, searching for hidden places with treasures and special challenges, from which you can get attractive rewards that increase the amount of health, for example.
This whole mess takes place in a really dark world, which with its unfortunate nature has nothing to do with Lordran, Lothric or Yharnam from you-know-who. The story isn't all that revealing, world Of course doom threatens and Briar and Lute se Of course they set out on a pilgrimage in a desperate attempt to close the rift in reality and save everything. But at least the developers tried for some plot twists and surprises, if you don't mind that they hold their cards uncomfortably close to their body for quite a while.
This is my last and possibly biggest gripe with Soulstice. With regard to the imperfect combat system and the not entirely lively jumping around the ruins and searching for a way forward, the game is unnecessarily long and long, without, of course, being able to meaningfully justify its length and fill it with content. Already in the first chapters, you will be struck by the emptiness of some segments, during which you just run forward and nothing happens for long minutes (which could never happen to Bayonetta or the third God of War, for example).
Although the developers work as hard as they can with Unreal Engine 4, the level design is hopelessly boring and monotonous, which makes it feel even more tedious. Soulstice absolutely screams huge ambition and a desire to match its role models, but they usually amazed us with increasingly bold ideas and bigger challenges. And it's in the ideas segment that Soulstice falters, as the ones it does come up with don't work as well as the writing team dreamed.
A little praise at the end
Not to be harsh, I can't say that I suffered the entire time I was playing. The fights can be fun, Briar can wreak one hell of a mess on screen, and until one of the annoying elements I described in the previous paragraphs spoils the experience, there are glimpses of the charm that once won me over far more famously among all the swings, chops and chunks of flesh and brains. brands.
Nice graphics help it. In particular, the backdrops can conjure up pompous scenery, and even I, an old cynic for whom nothing is good enough, occasionally nodded his head approvingly.
In addition to PC, Soulstice is only available on the new generation of consoles, where it offers three settings modes. There is probably no point in introducing Performance and Quality, but there is a third between them, which tries to balance the best possible graphics with the highest possible framerate.
I'll say straight away that I found the Quality mode absolutely unusable, although I maneuvered between Performance and Balanced. While the FPS drop is noticeable (and Soulstice is a game you want to play as smoothly as possible), the increased resolution that comes with balanced mode is just as noticeable.
Considering that the game, like its models, always freezes for a moment when hitting an enemy (I hate this mechanism, which the developers apparently use to simulate the crushing impact of blows), and considering the certain jerkiness of the camera when jumping, achieving a truly smooth experience on consoles quite a nut. But it's nothing that would really spoil the experience, and even in Performance mode the game doesn't look hideous. I didn't encounter any major technical problems while playing, in this respect the studio did a good job.
I was pleased with the musical accompaniment, which has the right intensity to awaken the monster in you during the fight (which, by the way, can happen to the main character and you need to tame her murderous rage, otherwise she will go completely insane and you're done).
In addition, I have great news for domestic players – Soulstice comes with a Czech localization in the form of subtitles, all the texts in the game are translated, so if you do not speak foreign languages, you can be sure that you will understand everything without any problems. The game also contains a codex, which stores discovered interesting things.
What to say in conclusion? I was looking forward to Soulstice mainly because in the flood of modern action RPGs, or action adventures or indie metroidvanias (are there actually any other games being released today?), its genre began to disappear unpleasantly. We haven't had Bayonetta for years, God of War has changed style, and Devil May Cry won't pull it all off, and even he last signed up more than three years ago.
Actually, I think that the developers from the Reply Games studio are well on their way to a really great next part, in which they could catch the nasty flies, get rid of the useless things and bring a game in which they will play great fun, uncomplicated battles full of eye-pleasing challenging combos, interesting enemies and perfectly precise control. I can't even wish for more.
---
Source: Games by games.tiscali.cz.

*The article has been translated based on the content of Games by games.tiscali.cz. If there is any problem regarding the content, copyright, please leave a report below the article. We will try to process as quickly as possible to protect the rights of the author. Thank you very much!

*We just want readers to access information more quickly and easily with other multilingual content, instead of information only available in a certain language.

*We always respect the copyright of the content of the author and always include the original link of the source article.If the author disagrees, just leave the report below the article, the article will be edited or deleted at the request of the author. Thanks very much! Best regards!
---