For Cosmin Dominte aka Jazz 8, his first slam poetry experience was his participation in the National Championship. He already had experience in the music and theater scene, the two elements that, along with poetry, are the pillars of his career. He discovered his passion for poetry when he was a child, and at that time he did not think that he would ever be able to reach the level he is today. After the success of the National Championship, for Cosmin followed the World Championship in Paris, and from there things naturally coagulated in a beautiful ascent.
At that time I was very upset with those who put a lot of nice words per square centimeter without saying anything other than "look how nice I can tell you anything", so I thought it was a perfect opportunity to protest against poetry. of complacency ", as I called it. So I went up on stage without caring much more to say what I had to say about anti-sweetness and complacency, believing that they would take me off the stage or even kick me out of there for how GROSS and RAW was what I was going to say. Only it wasn't like that and … I won :)).
One of the most recent experiences of Cosmin was the moment of Slam Poetry at the National Arena, within the We Are One event. There, something magical happened to him and to the 30,000-strong audience. We let him tell you more about it and how rhymes accompany it everywhere: on stage, on the bus, in the park, or at home.
About you & passion for poetry
Well, my name is Cosmin Dominte, in the underground I'm also called JAZZ 8 (it's nasty, it reads "jazz eight") and I'm an artist with 3 main lines of activity: acting, music and poetry. I've been living on this for over a decade now. I trained in my bedroom :)). There weren't too many places for people like me back then, and honestly there aren't that many now. I started at the age of 6 when I wrote a March 8 poem for my mother and grandmother. I wrote it because I realized I had nothing to give them and I still wanted to do something for them.
They liked what I wrote and were very surprised by those 4 rhymes made on their own initiative and I realized that I could cheer them up with something in my mind and I never stopped writing.
Of course, as time went on, I developed this side and it came to serve me in everything I do today, including music and acting. I have always treated rhymes with joy. I could be anywhere and never feel alone because I had them with me in mind. I used to do them everywhere, on the street, on the bus or whenever I had some time when I didn't have to do anything else. They were my secret. I never thought I would make a living from it, but then music came into my life and I realized how I could use my writing skills. The slam poetry scene came up pretty late in my life. I was a freshman at UNATC when I heard about the national championship.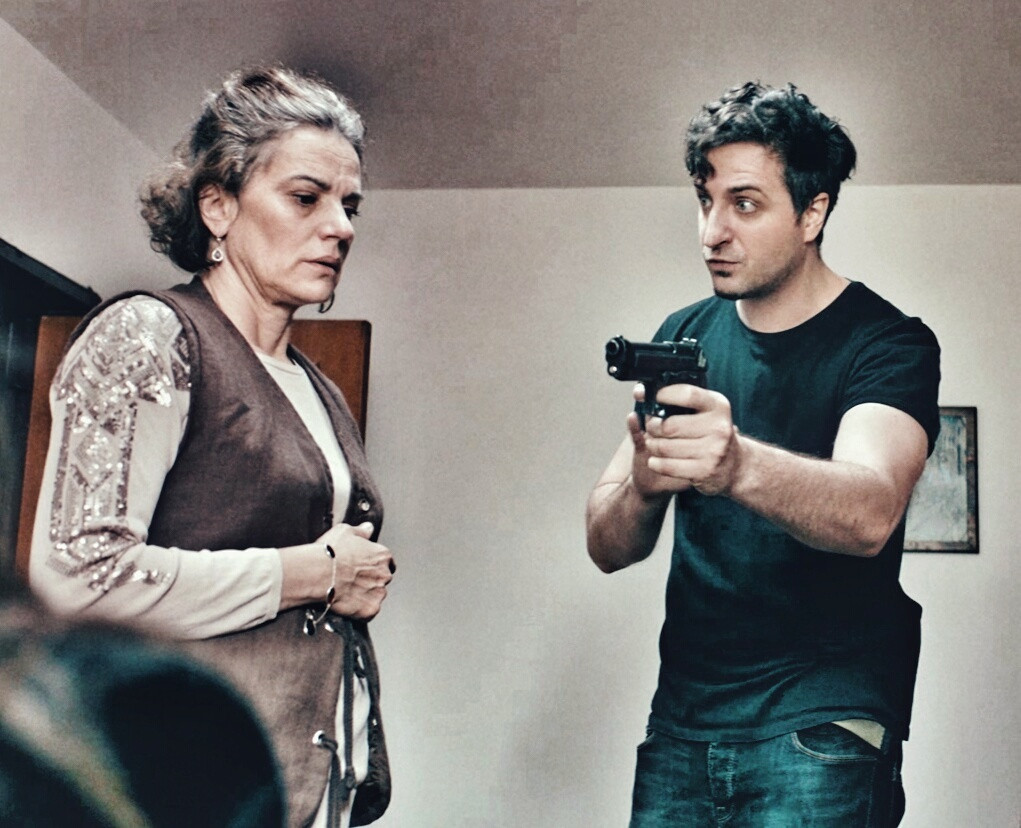 Your first slam poetry experience
My first slam poetry event was the national championship :)). I had received an invitation and went there out of curiosity. At that time I was very upset with those who put a lot of nice words per square centimeter without saying anything other than "look how nice I can tell you anything", so I thought it was a perfect opportunity to protest against poetry. of complacency ", as I called it. Then I discovered that I could compete. And I saw that there were all kinds of people there, some even from my underground rap area. So I went up on stage without caring much more to say what I had to say about anti-sweetness and complacency, believing that they would take me off the stage or even kick me out of there for how GROSS and RAW was what I was going to say. Only it wasn't like that and … I won :)). Then I was told that I would represent Romania at the World Championships in Paris. I didn't understand what was happening to me.
How would you describe your poetry
I think my poetry is unpretentious, but with pure emotion. It goes directly to the root of the subject and to the soul of the receiver. She is versatile, takes many forms and almost always asks for some humor, out there, somewhere, through her. That's all I understand about her right now. The rest of the description will be completed, most likely, by those who have contact with it. They are able to tell how it affects them or if it affects them in any way.
Everything inspires me to be inspired. Life with all its moments. I notice a lot of everything that happens around me but also inside. Then I combine them in my mind and get them out of there. Usually there is a thought that does not give me peace and it becomes the first verse of the text after which everything flows by itself.
As for the final shape, I know he got there when he didn't ask me anything. As long as she asks me for something, I feel the need to keep rereading it, and as I do so, various adjustments come to me. I know that it has reached its final shape when I read it head-to-tail and at the last word in it, in my soul, there is a kind of "click" and I feel that it is "from there". After that, I never feel the need to read it for myself, but I feel it's time to read it for or by others.
For the uninitiated: how would you explain to them what slam poetry means?
"Slam Poetry" is the competition, and "Spoken Word" is the art form put in this competition. "Slam Poetry" means an audience and a jury in front of the poet who does not simply read what he wrote, but makes a live performance to convey the poetry as he intended it to be understood and lived. It is a live interaction between authors and recipients without being mediated by the book / screen / file / magazine, etc. The competition is similar in some respects to the rap battle but has different rules and a completely different purpose. I think the most important thing in all of this is that you know how to tell the difference between serving rhyme and serving yourself in rhyme.
Fears of the beginning
When it comes to slam poetry, I never felt scared before going on stage. I just felt happy. I already had the experience of the stage or the creative act in front of the cameras from everything I did in theater, film or concerts.
But recently, I had a new kind of emotion when it comes to slam poetry, namely – a kind of curiosity combined with impatience. I don't usually feel that way on stage, I just live what I wrote and exchange energy with the audience. I don't notice him consciously. But I was recently at WE ARE ONE, on the National Arena, and I went on stage in front of about 30,000 people and for the first time I was curious and watching them. I can't wait to see, in the end, if such a large audience that didn't come there especially for this kind of performance, resonates with this art form. It was quiet all the time and in the end they exploded into applause. This showed me that they connected, listened and finally reacted. Only then would I feel that joy that I usually felt at the beginning of the performance. Then some came to ask me more about what happened there and I was even happier because I realized that these days, at a HUGE concert, someone came on stage with some rhymes and a microphone and succeeded to connect with SO MANY souls. This thing showed me that somewhere, in the heart of the man who lives in these times, there is STILL a place for poetry.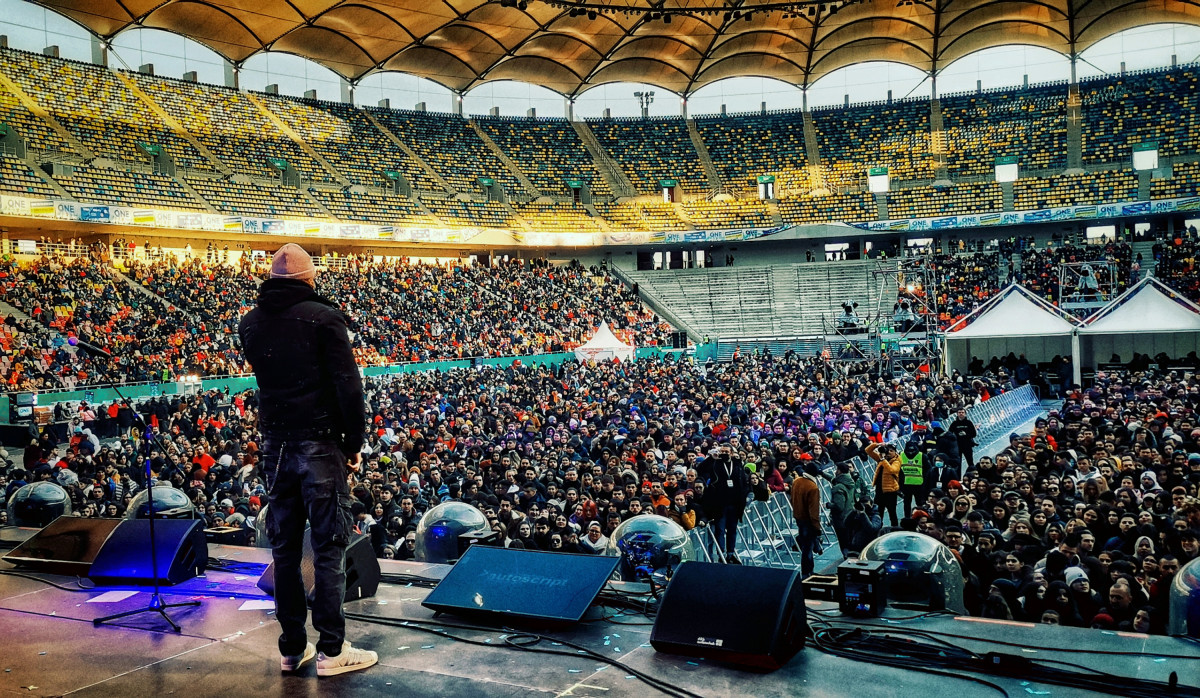 Important milestones in your evolution
I grew up with my poetry. I don't know how to put it another way :)) Of course the key moment was winning the national championship and then the fact that I won a place in the top 10 in the world at the World Championship in Paris.
If I were to take it chronologically, the course would be something like this: I went from performances in small locations to performances in various embassies, then to cultural events, then I designed an online series called # THOUGHTS and which it went viral because the world connected with the real but also funny way in which we addressed various issues of our society, then I went to the TEDxBucharest conferences, then I started to be invited to some of the big music festivals in our country, then I got to have the first spoken word show on Romanian radio, then I got on TV with that, and the most recent important point of this route was the performance on the National Arena, about which I talked a little more. up. Now that I look at this answer, as I give it, I also realize that it is a beautiful and clear path, it is an evolution.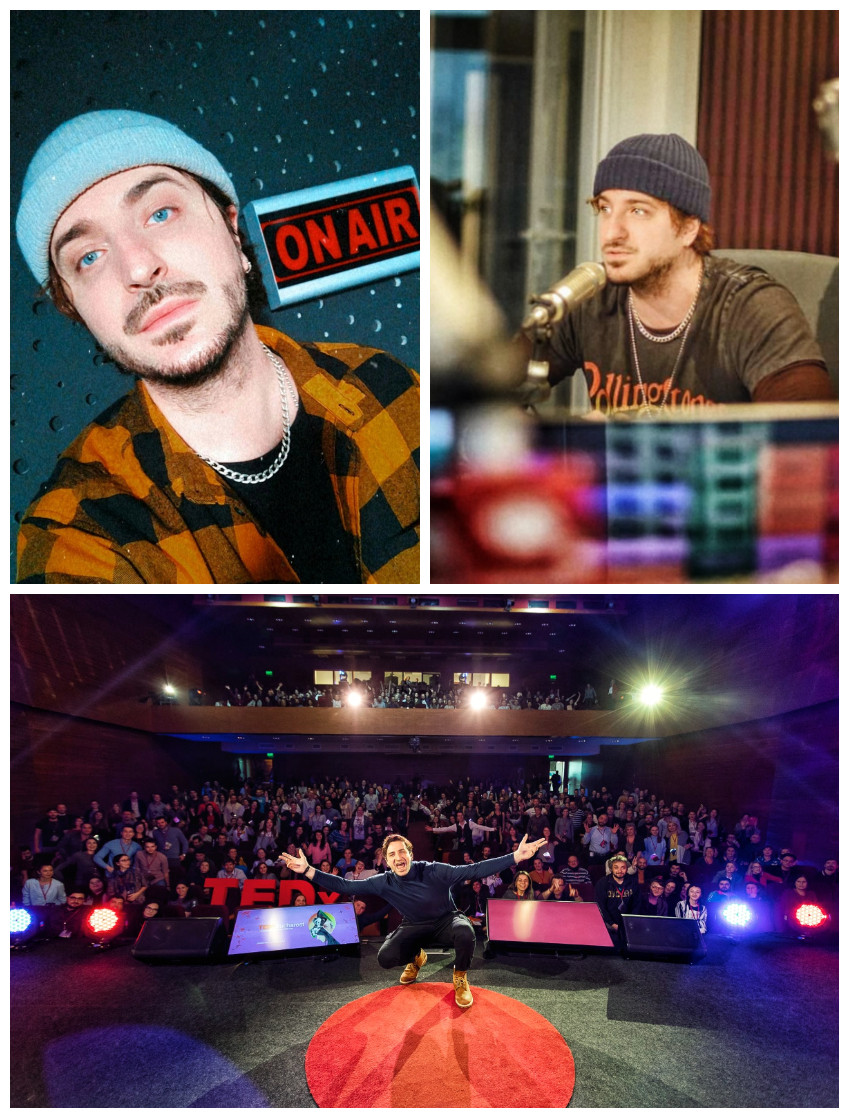 How do you know your poetry "catches"
Well, in the competition you realize that your poetry "catches" through the response of the public. In Slam Poetry the feedback is immediate. The audience also has a say, not just the jury. That's why it's called that. That "slam" comes from the phrase "Slam you to the ground" – in the sense that if the audience doesn't like you, they immediately knock you to the ground and get off the stage. It's beautiful, but it can also be brutal if you don't have the stomach for something like that :))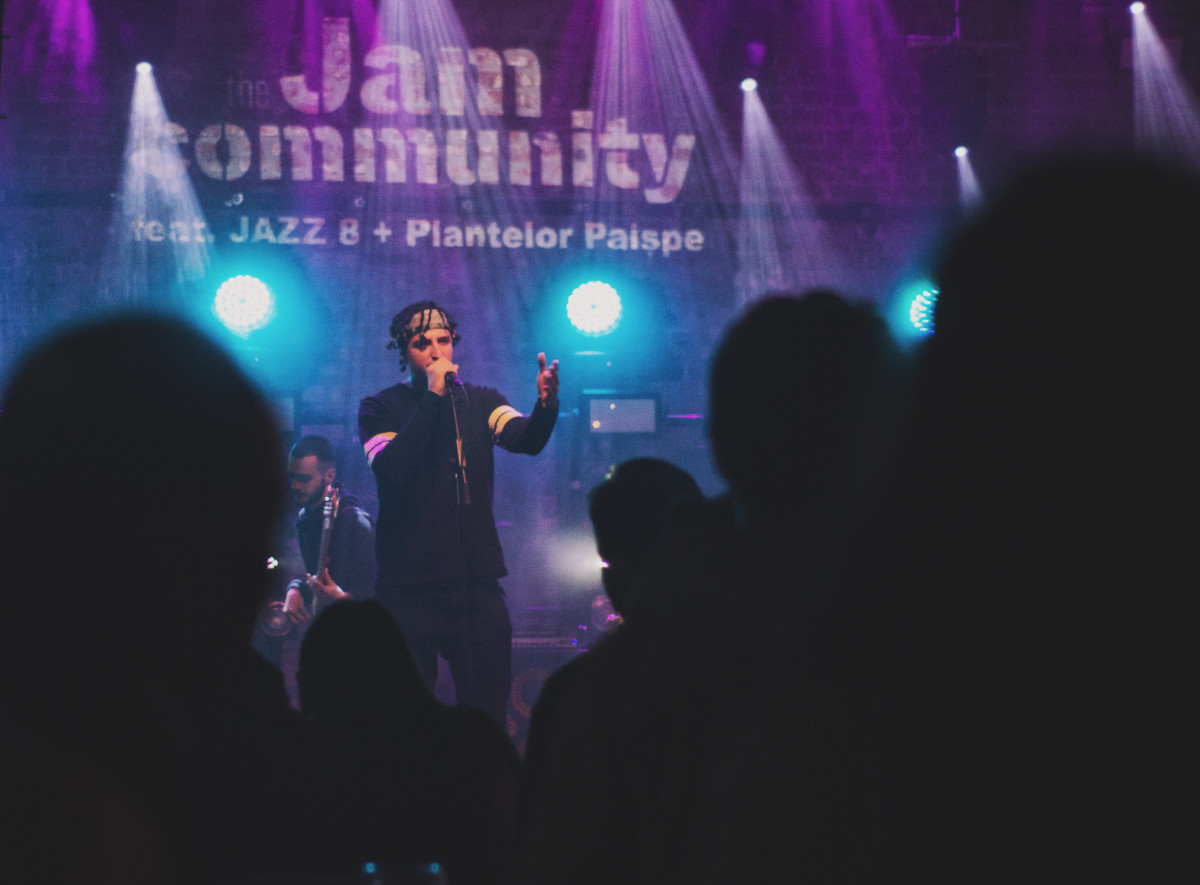 Hard question: favorite poetry
As you said, I can't have a favorite text because every text is a living capsule, it's a frozen moment in letters, and that would mean being able to know which feeling is better than all the others and I don't know how to do that. I love them all. It's the bricks of my house. All are equally important or unimportant.
Romanian slam scene & audience
The audience is beautiful and quite curious. Both young and older. To describe this scene, however, I have no idea. Honestly, I don't know if Romania has an entire Slam Poetry scene. They are small, sporadic islets. I only know a few cities in the country moving to the front. I think it can be developed a lot more, but for that we need to have a good cultural infrastructure and as we know, for the time being, the competent authorities and the models are such that they seem to be rather ashamed than to develop. culture. We still don't know how to recognize what we have in the yard. We still dream about what others have and it's a great pity. I'm trying to do everything I can to keep this thing alive.
How Romanians receive this kind of art
I feel like the genre is welcome. I think if he is put in the right context, people will quickly fall in love with him. Maybe at first I don't understand what's with these words "Slam Poetry, Spoken Word" etc. but as soon as I understand what it's about, most of them are open. He even considers it a noble matter. Some think of poetry as obsolete, dusty, and intangible. But when they see that this is not the case and that in fact poetry has evolved as well and that it has a more modern air than ever and that it blends damn well with the technology of the moment, they become mesmerized. He rediscovers it. It's great to see that on their faces.
Sources of inspiration
The art forms that formed the basis of my development are music, drawing, writing and acting. And even though it is not an art form, in my life, sport has been and is very important. I have the discipline there.
There are many who inspire me. Too many to list here. From pop culture stars and all the world champions I met in Paris and with whom I exchanged ideas, rhymes, drunks and feelings to simple people who are in my daily life. I can say, however, that my son, who is now 1 year and 7 months old, has become a fairly new but inexhaustible source of inspiration. It's a moving poem little man :))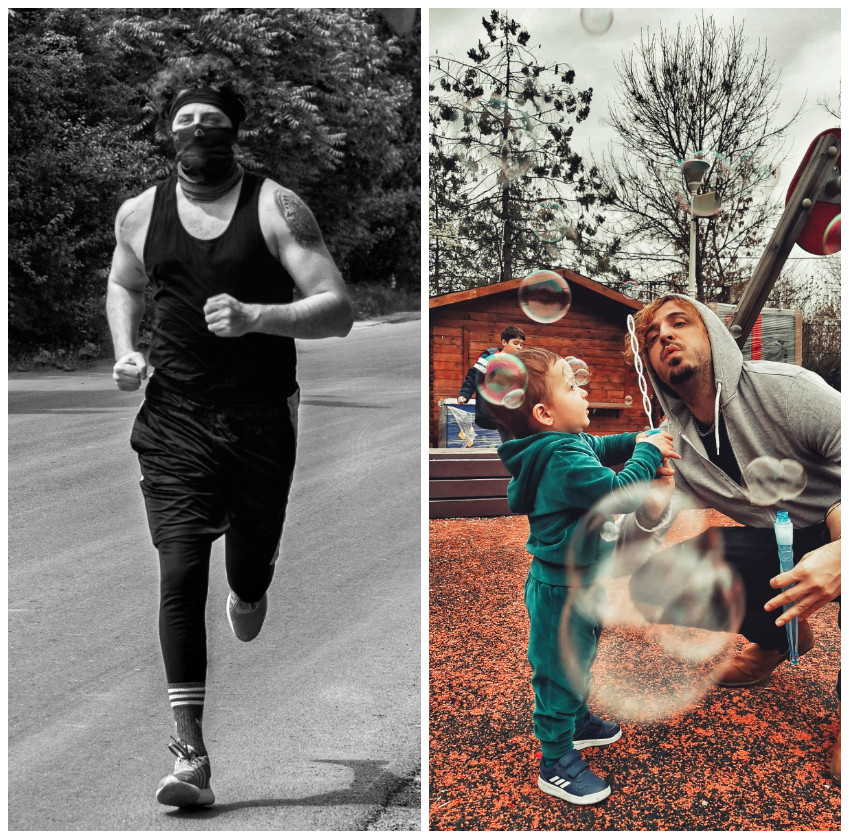 Recommendations of places & people
Now, unfortunately, there aren't many places. Or maybe they are, but I'm too busy to know what they hope for. As I said above, there are several cities in the country that Cluj hears most often have such events. Otherwise I don't see much movement. Various live events, larger or smaller, can also be seen / heard online, which, from time to time, incorporate this kind of art. And of course on the radio and TV where they can meet what I do. Other artists in this area haven't put their heads in the mainstream yet, but I hope they want to and work until they get there because I don't want to be alone. Poetry has no monopoly profit. Its evolution happens through diversity.
---
Source: IQads by www.iqads.ro.

*The article has been translated based on the content of IQads by www.iqads.ro. If there is any problem regarding the content, copyright, please leave a report below the article. We will try to process as quickly as possible to protect the rights of the author. Thank you very much!

*We just want readers to access information more quickly and easily with other multilingual content, instead of information only available in a certain language.

*We always respect the copyright of the content of the author and always include the original link of the source article.If the author disagrees, just leave the report below the article, the article will be edited or deleted at the request of the author. Thanks very much! Best regards!
---