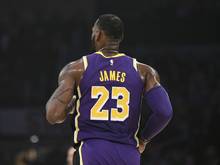 According to information from the TV station "ESPN", the NBA and the players' union NBPA have agreed on 29 slogans that will be allowed on the back of the jerseys after the restart of the basketball professional league. Many of the messages are about social justice.
"Black Lives Matter" and "I Can't Breathe", two popular protest calls from the movement that have spread again worldwide after the death of Black George Floyd in Minneapolis, are said to be over the jersey number. Also "Peace", "Enough" (Enough), "Anti-Racist" (Anti-Racist) or "Justice".
From July 30, 22 teams will play eight regular-time games at Disney World in Orlando / Florida to play the play-off seed list. Then the 16 best teams start the championship round, all series are played in the traditional best-of-seven mode.