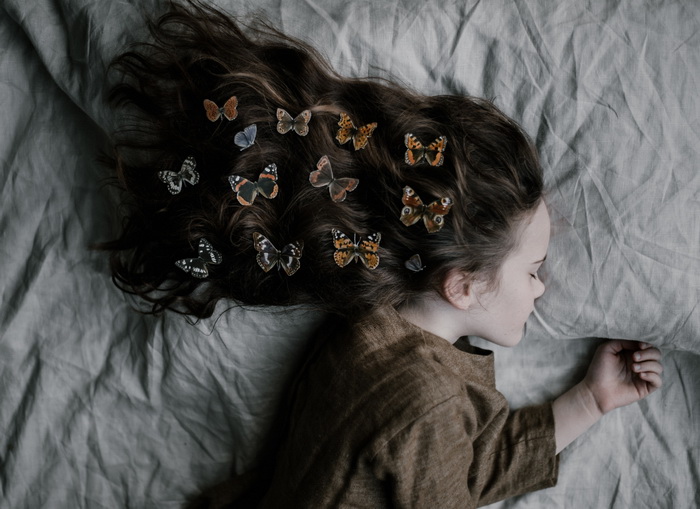 It has been said for a long time that sleep spurs creative imagination – just remember the endless historical anecdotes about great people who, having slept, solved a complex scientific problem or created a work of art. Now that the connection between sleep and creativity has been studied by neurobiological methods, the awakening of creative forces has shifted to the stage of sleep called N1. We know that there is REM sleep, or REM sleep, with rapid eye movements, and non-REM sleep, or NREM sleep. But there are several stages in non-REM sleep, and N1 is one of them. This is not even quite a dream yet: N1 looks like an intermediate state between sleep and wakefulness, brain waves are rebuilt into a sleepy state, but it seems to a person that he is not sleeping yet. After stage N1, other, deeper stages of non-REM sleep begin.
There are studies that say that inspiration comes just at the N1 stage. A year and a half ago, we wrote about an experiment in which a person had to solve a certain mathematical problem, and it was best to solve it while dozing – that is, plunging into N1 pre-sleep. Moreover, it was important not to go into a deeper sleep, otherwise the brain would forget what it had thought of. Then we said that it would be good if some apparatus appeared, tuned to wake us up a few seconds or minutes after we had dozed off – with such an apparatus we could awaken the creative forces in ourselves at will.
And now in Scientific Reports an article was published just about such a device, designed by employees Massachusetts Institute of Technology. The device is worn on the hand like a glove: its sensors monitor blood pressure and muscle tone. The data is sent to a computer, which determines from this information whether the person has dozed off or not yet. As soon as the person dozes off – that is, as soon as the N1 phase begins – the computer tells him to think about something; in the experiment, the dormant was told to think about trees. N1 is the stage between sleep and reality, so we can still catch some signals from the outside with our consciousness. The participants of the experiment were not allowed to fall asleep soundly – they were pulled out of the N1 stage by the same computer, which offered to tell what they had just dreamed of. Then everything was repeated: stage N1, a phrase about trees, awakening and a story about what he saw in a dream. Those who woke up told different things about trees: someone's hands were made of wood in a dream, someone imagined himself as a huge giant who ate trees with his hands, etc. Fifty people participated in the experiment, and many were surprised that they dreamed in phase N1 – they always considered themselves quite simple and mundane people, and could not even think that such images could come to their minds.
But the matter was not limited to the retelling of dreams from a half-sleep. Then it was necessary, already being quite awake, to write how trees can be used, what can be done with them at all, and write some story about trees. It was possible to write anything, so the trees for someone were the material for musical instruments, and for someone – toothpicks for giants. The writing was judged on originality, emotionality, sense of humor, etc.; and additionally used an algorithm that measured the semantic distance between words (for example, between "tree" and "leaves" the semantic distance is small, but it is large between "tree" and "toothbrush"). It is clear that all these parameters were needed in order to evaluate the creative abilities of the writer.
Here it is necessary to clarify that the potential participants in the experiment answered psychological questionnaires, which were supposed to show how much they themselves assess their creative abilities. And in the end, the researchers selected fifty of those whose self-assessment of ability was about the same. Only a part of them plunged into pre-sleep several times in a row, and some were not told anything in pre-sleep – they simply dozed. Among those who were awake throughout the experiment, some were also asked to think about trees, while others thought about their own until it was time to write a story about trees.
Those who went into pre-sleep N1 and dreamed about trees in their pre-sleep were 78% more creative in their texts than those who were just awake, and 68% more than those who thought about the same trees while awake. Those who went into pre-sleep without the "wooden" theme also experienced a burst of creativity. But the texts still had to be written about trees, so those who "slept off" without a given topic were still 48% more original than those who thought about trees in their pre-sleep. In general, the conclusion is that inspiration can be awakened with the help of a special device, and this inspiration can be directed to a specific topic.
Of course, some may be confused by the very idea that the "creativity" of the text is evaluated in percentage terms. But, in the end, we are already talking about films, books, podcasts, paintings, music and Youtube projects, that some of them are more talented, interesting, creative, and others are less so; so why not try to more accurately evaluate this very "more" and "less"? At the same time, it is still impossible not to admit that a brilliant, paradoxical, witty text can be written about the creation of musical instruments, but the story about a giant and toothpick trees can turn out to be banal and dull. However, one must think that the phase of sleep called N1 helps in any creativity, no matter how you measure it. The main thing is to wake up on time.
---
Source: Автономная некоммерческая организация "Редакция журнала «Наука и жизнь»" by www.nkj.ru.

*The article has been translated based on the content of Автономная некоммерческая организация "Редакция журнала «Наука и жизнь»" by www.nkj.ru. If there is any problem regarding the content, copyright, please leave a report below the article. We will try to process as quickly as possible to protect the rights of the author. Thank you very much!

*We just want readers to access information more quickly and easily with other multilingual content, instead of information only available in a certain language.

*We always respect the copyright of the content of the author and always include the original link of the source article.If the author disagrees, just leave the report below the article, the article will be edited or deleted at the request of the author. Thanks very much! Best regards!
---