When Forrest Gump steps on dog poop while running across America, he doesn't make a big deal out of it and comments on the whole situation with the statement "it happens". It is said that this very moment led to the emergence of the now established connection "shit happens", in short, that life is accompanied by terrible things. However, Wikipedia is of the opinion that these words were heard already in 1964…
Be that as it may, designer Andy Breckman decided to build a card game based on this idea, which couldn't be called anything other than Shit Happens. And not even in the Czech version, which is brought to us by Blackfire. And not because She's fucking shit wouldn't look the best on a box in a toy store, because the subtitle itself isn't afraid of obscenity: When you're sick, what can you do.
That's exactly what Shit Happens is about – really unenviable situations. And measuring them. Is the fact that your father underwent gender reassignment worse than the fact that you experience explosive diarrhea every time you orgasm?
If just this example, which I didn't make up and actually comes from the game, disgusts you so much that you don't have the slightest desire to not only eat lunch, but to continue reading, then Shit Happens really isn't the game for you.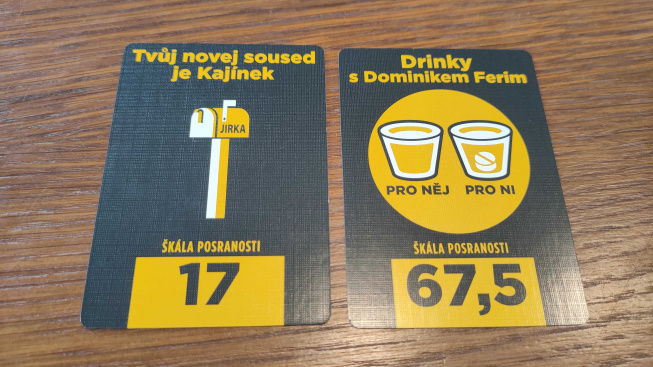 The whole game is based on similar examples – it is disgusting, foul, damn black and in this hypersensitive time, when it is easy to offend someone with your opinion, it is also very brave. In short and well, it is a game intended for a group of friends who can laugh at other people's misfortunes and are no strangers to dark humor.
From a gaming point of view, this is a rather cleverly designed system. There is one deck with two hundred situations everywhere. Each player (at least two are needed, but the more the better) starts with three cards face up, the player to the right of the player on the move takes one card from the deck and, without showing it to anyone, reads the given situation aloud.
From the cards in front of you, which boast great illustrations that perfectly illustrate the given situation, you create a scale called the pain line, in which the cards are arranged according to the professionally called scale of shit – the higher the value, the more likely you would not want to find yourself in such a situation. And your task is to place a new announced card in this scale.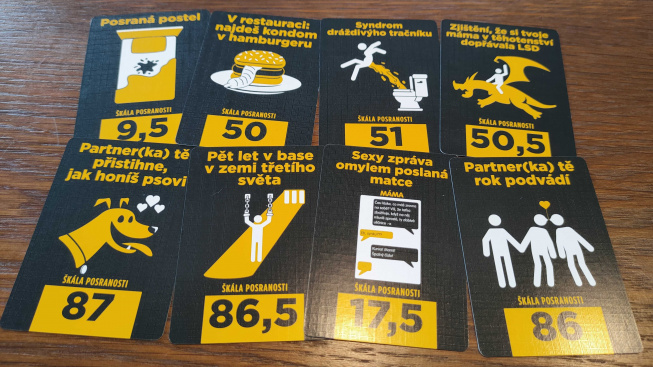 So, for example, if you have Sex with the Oldest Person You Know (58), Eating a Poop-Dirty Banana (76), and Biting Your Tongue (89) cards, where would you put the Live Gerbil Stuck Up Your Ass card? If you think it's worse than a banana, but as terrible as life without language, then you obviously think the same as the players who created this game.
In the event that you fail to correctly estimate the level of shittyness of the new situation compared to the previous ones, the player to your left gets the chance. When you guess, you take the card and add it to your pain line. Thus, guessing becomes harder and harder for you with each succeeding success, as your array of cards becomes more and more detailed and the gaps between the values ​​shrink. Whoever gets the tenth card first wins.
The principle is simple but functional, and since each player has different cards in front of him, comparing one situation with each individual player is completely different. Thanks to human natural curiosity, the game keeps you constantly in the loop, you are interested in the situations of other players and you ponder in your mind where you would place the new situation within a strange series of unenviable misfortunes.
But don't look for any strategy in it, you will often shake your head in disapproval at some of the values. I'd rather have a colleague steal my lunch than spend two hours waiting on a crappy customer service line. And yet, according to Shit Happens, losing two hours of life is the coolest thing in the entire game, while losing lunch, which I can easily replace with KFC, is worth a 7.
In short, situations are purely subjective and reflect what experiences each of us has and what phase of life we ​​are in. Some people don't mind catching their parents having sex, while others don't mind the fact that their partner is thinking about someone else in bed. And maybe there are those who consider fisting from Mike Tyson to be the best experience of life, not something appalling…
That's why you can't take Shit Happens seriously and feel hurt in the event of a loss, because you often have no control over your success or failure in the game. The core of the game is its ability to shock and surprise players with bizarre situations. At the same time, you will also learn a lot about your teammates when you play, if something bothers them much less than you, so be careful if you are even prepared for such information…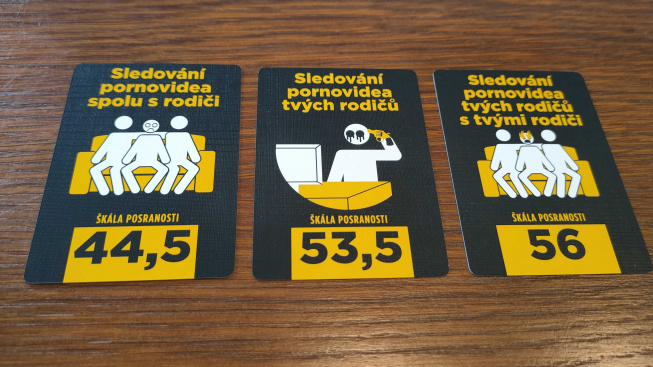 Personally, I was looking forward to Shit Happens (I like similarly evil games like Cards Against Humanity and For Whom the Streetcar Tolls), and I was definitely not disappointed. The game is as far-fetched as possible and uniquely fecal enough to deserve its place on the shelf.
With each subsequent game, the experience got weaker, but never downright weak. That's because the first great phase of discovery, where every next card surprises you, surprises you, and disgusts you accordingly. But over time, you start to see the same cards over and over again and you willy-nilly become more numb to them. However, because there are so many cards, you will always compare an already well-known situation with something that has not yet appeared next to it.
If you have a group of friends with whom you can tell everything and no one is overly sensitive, then Shit Happens guarantees you more than one laugh-out-loud evening. I can also imagine the game as a suitable gift for a suitable friend, perhaps even as a wedding gift for a relaxed couple.
We are all different and what makes one person laugh makes another person cry. Where one sees a four-day power outage as the end of the world, another sees it as a luxurious opportunity to finish reading a book by candlelight. So don't take life too seriously. What's meant to happen will happen, it's often shit, but that's just the way it is…
---
Source: Games by games.tiscali.cz.

*The article has been translated based on the content of Games by games.tiscali.cz. If there is any problem regarding the content, copyright, please leave a report below the article. We will try to process as quickly as possible to protect the rights of the author. Thank you very much!

*We just want readers to access information more quickly and easily with other multilingual content, instead of information only available in a certain language.

*We always respect the copyright of the content of the author and always include the original link of the source article.If the author disagrees, just leave the report below the article, the article will be edited or deleted at the request of the author. Thanks very much! Best regards!
---