Frogwares is one of my favorites. I always enjoyed his adventures with Sherlock Holmes, and in a way I enjoyed the more horror, more fantastic The Sinking City, although in many ways it also disappointed me. But in the end, I'm very happy that the creators created this Lovecraft detective story, as it laid a solid foundation for their best adventure yet – Sherlock Holmes: Chapter One.
The title of the game, Chapter One, does not refer to its episodic nature, but to the beginnings of Sherlock himself, who returns to the Mediterranean island of Cordona at the age of 21, where he spent his childhood. Then still with the whole family.
He is driven here from London by the desire to say goodbye to his deceased mother, who years ago succumbed to tuberculosis, after which the then 20-year-old Mycroft and ten-year-old Sherry moved to Britain.
Of course, with her mother's death, it's not as easy as little Sherlock was implanted. It was such a traumatizing experience for an inquisitive boy that he pushed him out of his head and your job is to help him remember the old events and come to terms with the truth.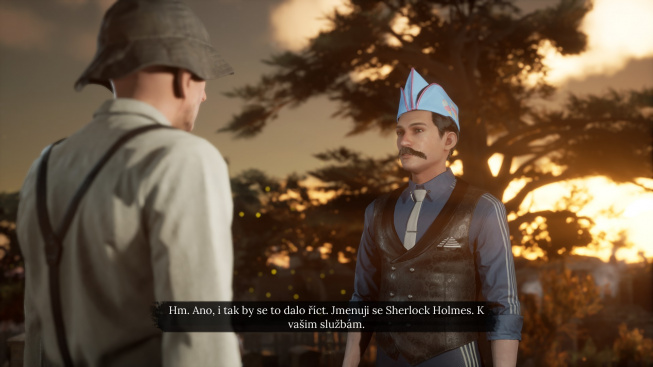 The tracks show that an elephant passed through here
Trying to find out what happened to your mother will lead you to seemingly unrelated cases of strange murders. As part of the main story, five extensive investigations await you, in which you use your observational and deductive skills. There will be great situations with an elephant and an unforgettable perverted cream party. There is also the already familiar palace of thought, in which you put together various clues and choose from two possible explanations of events, until you finally find out who is the real culprit and what is its motive.
But in Sherlock Holmes: Chapter One, you can hardly make a mistake, at least not one that would cost you the procedure. You may be wrong to determine the profile of the suspect, but no one will cut your head off for it, the game will not punish you. Of course, you can only accuse the wrong person, and since you are a detective, a police officer and a judge in one, your word is valid and you will no longer know whether you have fallen for the real culprit or whether an innocent person is beating you because of your bad judgment.
The game will not let you know the correctness of your decision. Each of the suspects is resisting the final verdict, and it's so up to you, the players, to really recognize the real evil. There are always more suspects who have one motive for a given murder and have committed other criminal offenses in addition to it. You will hardly come across a black and white situation here, and moral values ​​will always speak out.
If you have the seed of doubt in making conclusions, you will not get rid of it even after the judgment. And this ignorance or limping belief in your own deduction is guaranteed to evoke in you pleasantly distressing feelings that make you think about the power with which you are influencing other people's lives.
Each of the five cases is something compelling, and with each new one, you become more and more interested in the fate of the Holmes family. Sherry's recollection of childhood eventually turns out to be a very dark story with a highly emotional conclusion, which you will stare completely breathless to the very end and with which you will forever penetrate under the stiff skin of the title genius.
My name is Jo (h) n
Chapter One is not only the story of a genius detective, but also of a mentally disturbed boy who invented the imaginary friend Jon in his own solitude. He accompanies you throughout the game instead of the usual John Watson, as he has not met Sherlock yet.
Jon has been your partner since no one else. And this mutual relationship is simply a joy to watch. Jon treats Sherry like the best friend in the world, he cares about him and would make the first one for him, while Sherlock feels the same way about him.
Jon even keeps his own diary, in which he admires Sherlock for his intelligence, or begins to doubt her when you're not doing well. True, over time, these recurring tales are a source of mild frustration. When you can't come up with something and just try as hard as you can, a repetitive message won't really help you: "Sherry, you're not trying at all, concentrate!"
Otherwise, Jon's presence is absolutely necessary and welcome, and I like to memorize every cutscene and tasks with him. Sherlock just needs a partner, without him it would be boring. It is Jon who, while exploring the picturesque Cordona, draws your attention to more and more of the many memories.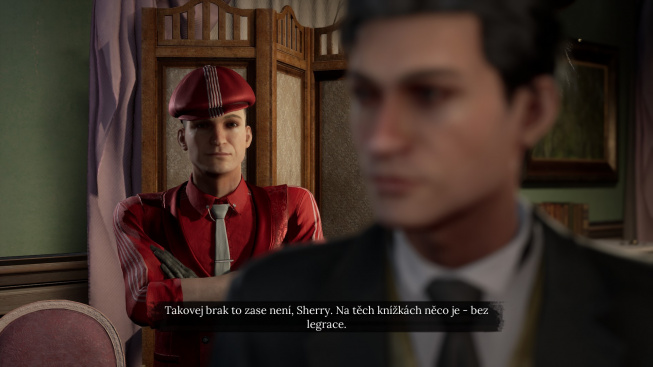 Don't get lost here, Sherry
This brings me to how Frogwares managed to deal with the open world in an adventure detective story. The developers talked about Cordona Island before the release, but the truth is that it is the city divided into many neighborhoods. A city that is really beautiful and full of life. Someone is constantly in a hurry, carrying something, selling something, talking to someone, fixing something and show horses with beautiful carriages are proudly standing everywhere, just to jump.
And this city is literally packed with voluntary content, which, with one exception, fits perfectly into the whole concept. Such as the memories mentioned. You are walking down the street like this when you suddenly come across a very old ruin and you are already beginning to remember how you climbed it as a child and found something there. Then you follow in your ancient footsteps to find it buried in sewers after a decade and expose it to your family home.
Other times, for example, you hear a conversation between two people, which brings you to one of the many incidental cases (how can the owner of a safe claim that he is not responsible for the corpse found in it?). In the same way, you can solve several ongoing investigations for the local police, take part in a competition to identify Cordona areas according to photos, and Brother Mycroft himself supplies you from London with his Cordon spies for the most important tasks for the good of the whole British Empire.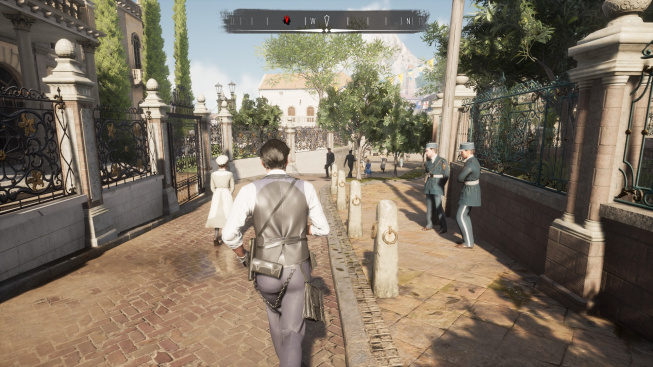 He is also the one who brazenly took your coin collection and hid it around the island. What may sound like a boring collectible hunt at first is actually a fun pastime when, according to Mycroft's tricky clues, you're trying to find a specific place with a hidden coin.
The creators managed to strike a great balance between hand guidance and your own contribution. There are only a few icons and indicators (there are none in the world, you have to follow them in the inventory), they are just instructive, but not all-encompassing, and the emphasis on orientation in space and attention to detail, even the composition of the population in different neighborhoods most things really come to you, not just on the basis of a glowing question mark or navigation arrow. In this game, you often have to think instead of running confused and waiting for something to happen …
In short and well, you really won't be bored here. The side activities are fun, meaningful, and finally there is no need to sigh the fact that the game ends after only five big cases. As a result, there are several dozen smaller ones, and in some of them, ingenious disguises also come into play.
With Sherlock's sight, you will quickly learn the most basic information about each character on the street. You will find out, for example, her nationality, occupation and attitude towards you. When you need to extract some information from a poor worker, he will look down on you if you are dressed in an expensive suit. So even shopping for clothes and makeup and figuring out what to wear for a given situation has something to do with it.
Sherlock: Faster than shadow
But what makes an unnecessary impression are the controversial fights from the very beginning, which have already caused a lot of suffering in The Sinking City. The creators took the criticism to heart and let you turn the fights off completely, but to my surprise, in the end, I wasn't bothered as much as I expected.
It's a bit like the action arcades from the movie Sherlock with Robert Downey Junior. Battles can make you feel superior when you playfully deal with ten incentives holding knives, pistols and shotguns without shedding a single drop of blood.
You can use the environment, so you need to disarm your opponent by shooting a valve from which steam starts to gush. Then all you have to do is jump in, solve a very trivial QTE situation and the aggressor is stunned. So the fights didn't offend me, but if they weren't in the game, it wouldn't matter at all.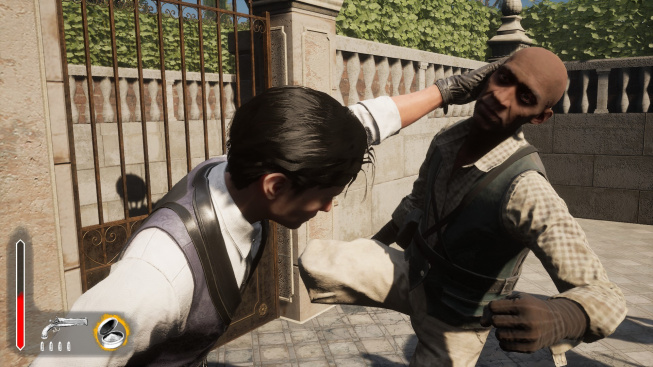 The individual arenas are reprehensibly repetitive, and blasting small pieces of armor on opponents' bodies simply doesn't make sense. And the biggest nonsense of the whole game is the criminal lairs scattered on the map, where you can jump in and fight for the highest possible score.
Why the creators incorporated something like this into the game remains perhaps the only unsolved mystery of the game for me. Their fights really aren't so miraculous that you want to go through them voluntarily, and it's not a good idea for a young Sherlock to find the truth about his mother and remember his troubled childhood to shoot people for fun. Fortunately, no one is forcing you to climb into these lairs, and I recommend that you ignore them completely and completely.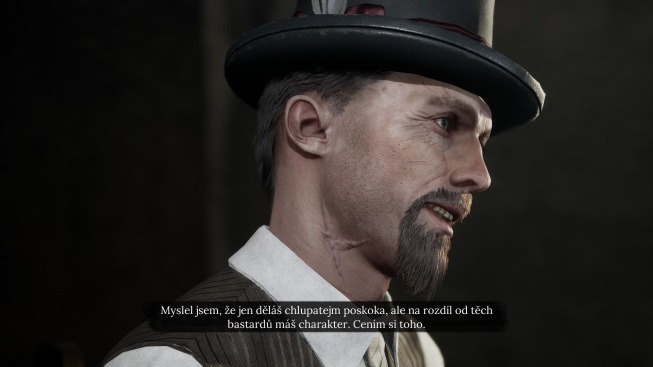 Achievement: Well done, you've managed to find new foundations for future detective stories
The action component is superfluous for a strong story detective story, but the few passages in the story can be skipped without much harm to the experience, and Sherlock Holmes: Chapter One is not only a great game, but also a very nice surprise, as the creators managed to promote their own bar from previous games. And by a considerable amount.
Young Sherlock is a welcome change from the old well-known investigator, and Frogwares managed to really portray not only his still infinite character of a conceited genius, but also brilliantly mastered the characters of other characters (I probably won't get a peculiar gallery owner) and content that gives them purpose.
If you should only play one game with a famous detective, it must definitely be this one. And I really hope to see another chapter, because this particular Sherlock, his certain innocence, naivety and ability to admit his own mistakes, has grown to my heart the most of all Sherlock games. I spent a really wonderful two dozen hours with him.
---
Source: Games by games.tiscali.cz.

*The article has been translated based on the content of Games by games.tiscali.cz. If there is any problem regarding the content, copyright, please leave a report below the article. We will try to process as quickly as possible to protect the rights of the author. Thank you very much!

*We just want readers to access information more quickly and easily with other multilingual content, instead of information only available in a certain language.

*We always respect the copyright of the content of the author and always include the original link of the source article.If the author disagrees, just leave the report below the article, the article will be edited or deleted at the request of the author. Thanks very much! Best regards!
---