Publisher:
Return Digital
Developer:
WolfEye Studios
Website
System requirements:
Minimum: 64-bit Windows 10, Intel Core i5-2380 or AMD FX-6100, 6 GB memory, GeForce GTX 650 Ti or Radeon HD 7770, 16 GB free storage
Recommended: 64-bit Windows 10, Intel Core i7-6950X or higher, AMD Ryzen 7 2700 or higher, 12 GB RAM or more, GeForce GTX 1050 or higher, Radeon RX 460 or higher, 16 GB free space
Similar Games: Dishonored, Wasteland 3, Deus Ex
Category: action role-playing, adventure
In the Weird West, we can experience a dark fantasy-style wild west with a level of freedom rarely seen today. The basic concept of the game is that we, the players, can explore this strange world as we please and shape our own story. We have all the possibilities for that: a physical engine, a magic system, a combat system and dialogues.
Not only does its name suggest that strange things are happening in the West, it will be constantly before our eyes throughout the story. While there's a fixed story that accompanies the five playable characters, it's more of a suggestion than an actual guide. The story changes dynamically as we operate in the world. Our first character gets a classic revenge story as the ultimate goal, starting with killing her child and kidnapping her husband. We used to be bounty hunters, but we gave up the profession because of starting a family. With the help of a cleverly executed tutorial, we will dig out our weapons and equipment and then follow in the footsteps of our malice.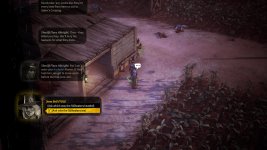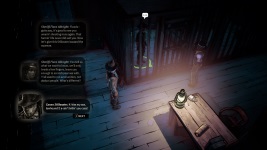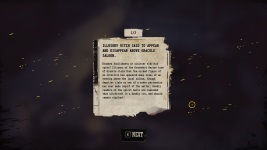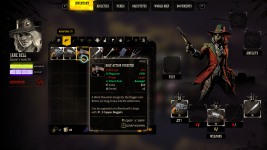 If we choose the guide, we can go through the pre-written story and find out the fate of our characters by following the path imagined by the creators. But we can even choose to have our character steal and harm everyone. It is also an option available to us to kill every living thing that comes before our eyes. Each of the three directions listed is optional and is an equally valid choice. In order for our actions to have weight, there will be a kind of "karma system" to help us. It sets a kind of black and white, good or bad level for our character, and the world will treat us accordingly. If our judgment is very low, don't be surprised if the whole city opens fire on us when we show up in the main square. In addition, the world is dynamically adapting to our actions. For example, if we kill everyone in a city, in a short time, for example, hostile bandits will loot empty buildings and beat a homestead in the vacant area.
I mentioned earlier that the story is just a guide. This is true to the level of the game that we can even kill all the NPCs that complete the quests and still be able to move on. The pig man character also has an idea of ​​what the story will end with, but we can even completely confront him and build a different kind of character than what the main mission expects of us. However, the actions will not only have an immediate impact, they will also have an impact on the overall story. If we complete the main mission with our first character, our character will essentially be an average NPC in the world and retain his equipment, upgrades, and live his life independently of us (provided he doesn't die in the background due to a random factor).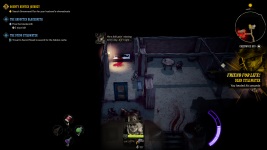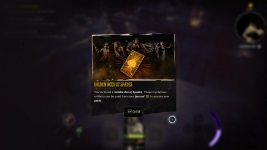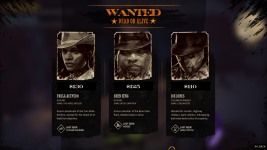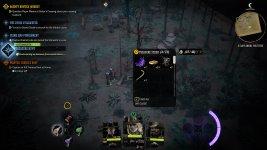 Improvements due to this mechanism are divided into two groups. One of the systems, the perkes, requires the collection of gold cards. This unlocks permanent development for all five characters. Examples include increasing life or increasing the height of a jump. The other development unlocks character-specific skills and disappears when the protagonist changes. We will also be able to acquire our actively usable skills from here. Of these, four unlock options that match the character's character, and the rest add extra abilities to weapon types. To use these, a purple stripe of the same color as the buttons provides a resource. This can be recharged either by flashing, which is also marked in purple, or by sleeping. This metric is also used by the time-lapse sowing that evokes Max Payne games, which we can also further develop.
A true western story would be worth nothing without a cool team. We can hire many teammates around the world in exchange for some money, but we can also take on characters relevant to the main story. These characters not only have their own equipment, but also respond to what they see in our actions. For example, we'll get a comment from our teammate if you find it a little weird to eat corpses as a piggy for life points. We must also take care of our companions, for they cannot be revived in the event of their death.
In addition, we can get partners around the world. If we do good to someone or possibly save them from certain death, we will have a lifelong friend in their person. This means that if the character is still alive at the time of the battle (however strange it may sound), there is a chance that accompanied by a cool introductory music will contribute to the success of the battle. He will fight on our side until we kill all the opponents or our helper dies.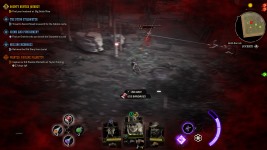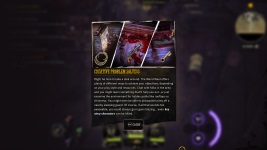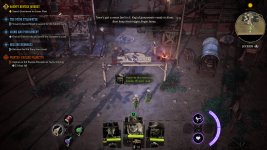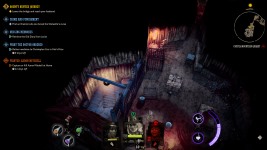 We can gain enemies in the same way. If we do something horrible against a character, they will most likely want revenge on us. That's when we get a vendetta. Most of the time we will come across this mechanic when we kill a gang leader based on a Wanted poster and one of the members successfully escapes. In this case, it is better to be careful, because as in the previous case, the character and his companions will be randomly joined here during a battle (or even traveling on the map). In this case, the opponent's side will be strengthened.
We can also turn things in our environment into destructive weapons or supportive things in quite creative ways. For example, plenty of barrels can be blown up and combined to be a good way to play video. The poison, combined with fire, for example, explodes nicely and then a high column of fire stays in place for a while. Incidentally, a fire burns things dynamically as long as there is combustible material around it. But by pressing the tip of your bow into a torch, you can also get a fiery arrow that you can use to light barrels or opponents. Such elemental damage also has its own defense system and can be combined. The weather also contributes to this system. For example, when it rains, the fiery things go out. But if we throw away a dynamite and it falls into a puddle, it also goes out. The time of day is also a factor that can be changed. There are things that get a bonus day or night, but there are also events that are tied to a certain time. Of course, the daily activities of NPCs are also affected by time.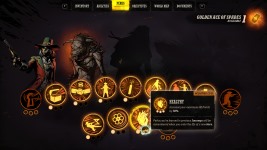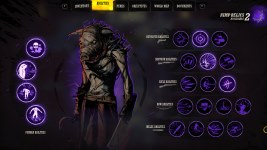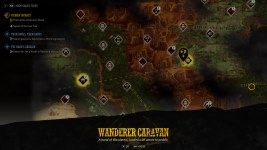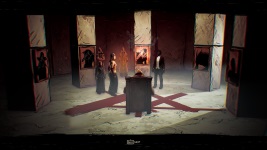 Graphics:
The visual world is quite unique. I could compare it a bit to the look of the comics. The creators have paid attention to the very small details of the environment. For example, shelves that can be kiloted tend to contain items that can be found on them. Camera positioning is sometimes a blessing, but in many cases it is a curse. In the case of shots, I couldn't always tell clearly if I was going to hit it. Even though a laser stripe essentially marks the path of the projectile. There were also cases of slow motion dropping in a crazy way while throwing.
User interface, controllability: It takes a little getting used to targeting with a mouse and keyboard, but it's easy to play with a controller. The menus are transparent and nothing is overly complicated. All our abilities are clearly legible in the picture. The dialogues are magnified to the speakers and are legible.
Playability: There are countless opportunities to shape our story. The physical motor allows us to pick up objects and corpses and place them or throw them away. In one mission, for example, I took a barrel to the door of a closed cell and, in combination with the big jump, jumped into the prison cell instead of finding the key, so I simply solved the mission. In the other elements, the game is at least as flexible. Nothing is set in stone and we approach situations the way we want to. There is a comprehensive story for each character, but they each represent a completely different style of play.
Intelligence, difficulty: With the help of the four difficulty levels, the level of the challenge is right for you: story, normal, hard, very hard. Even if we have chosen only the normal option, we will still be in a lot of steep situations if we do not choose the right solution. I mean, we can even be in story mode, but if we choose to jump on a level 50 gang leader and his team, we'll have to tie up our pants if we want to get out of there alive. The difficulty level of the game controls several properties. It mainly affects the detection of opponents and the speed of their attack, but the level of friendly fire and our recovery also depends on it. Luckily, the game's auto-save feature saves you quite generously, and it also goes into multiple slots, so if the auto-save isn't at a favorable moment, we still have a few chances to go back in time. I would say an interesting mistake, however, is that if we sneak up next to a wall, they are sometimes discovered without any indication of it. I think this could be some kind of programming error, and nothing seems like a hotfix can't fix.
Sounds, music: Apart from the narrator and the shouts of some dying people, there won't be many spoken words during the game, but I think that's a planned thing. The game is too free to have recorded dialogues in the game. The narrator's voice, on the other hand, fits the story brilliantly and adds some information and commentary to the more significant events. The music brings the western vibe perfectly, but they still have some mystical themes in them. The background music changes dynamically as it happens. However, I could still bear some extra songs from the battle music. The sounds of the weapons also adequately reflect the extent of their destruction. The spaciousness of the areas is also indicated by the echo. For example, in a cave we hear shots much louder than in a spacious wilderness.
Summary: We got a brilliant role-playing game in which the game respects the curiosity and creativity of the player. There is no one-size-fits-all, linear solution to a situation. He throws us into a world that "lives" outside of us and entrusts us with the way we want to go. There are plenty of background stories available for us to enjoy reading. The separate story of the five characters alone is worth the walkthroughs, but they all have a big, comprehensive story, so it's worth following them down their journey.
---
Source: SG.hu Hírmagazin – Játék by sg.hu.

*The article has been translated based on the content of SG.hu Hírmagazin – Játék by sg.hu. If there is any problem regarding the content, copyright, please leave a report below the article. We will try to process as quickly as possible to protect the rights of the author. Thank you very much!

*We just want readers to access information more quickly and easily with other multilingual content, instead of information only available in a certain language.

*We always respect the copyright of the content of the author and always include the original link of the source article.If the author disagrees, just leave the report below the article, the article will be edited or deleted at the request of the author. Thanks very much! Best regards!
---