Publisher:
THQ Nordic
Developer:
Experiment 101
Website
System requirements:
Minimum: Intel Core i5-4690K 3.5 GHz or AMD FX-8350 processor, Nvidia GeForce GTX 960 or ATI Radeon R9 380 graphics card, 8 GB RAM, 25 GB free space
Recommended: Intel Core i7-6700K 4-Core 4 GHz or AMD Ryzen R5 1600 processor, Nvidia GeForce GTX 1660 Ti or ATI Radeon RX 590 graphics card, 16 GB RAM, 25 GB free space
Similar Games: The Legend of Zelda: Breath of the Wild
Category: action role-playing game
We've been waiting for Biomutant to come out for years, and while it didn't disappoint us immensely, overall it still couldn't bring us immaculate pleasure. Our game test already reveals why!
What has been happening around the house of THQ Nordic over the last few years is particularly interesting. Since the Austrian publisher has been in existence under the name Nordic Games since 2011, it has not really managed to put too many original works on the table. This is due in part to the fact that the team based its long-term success on acquiring a bunch of studios, along with several contemporary success stories that are still being revived with steam power. Sometimes great creations like Pillars of Eternity II or Desperados III are born, but with a brand new idea-based video game, they haven't managed to blow big yet.
Many thought that Biomutant would change everything, as this special action game was heralded with great promise at the time, but as the approach approached, unfortunately, our mouths curved lower and lower. In the videos close to the premiere, the shortcomings became more and more visible, where the creators saved, and although the end result was far from bad, we did not expect this at all on the basis of the first promises. Even though this is the very first rehearsal of a studio with experienced staff that will probably be followed by more in the future!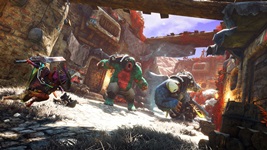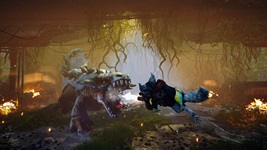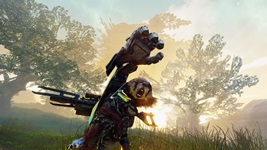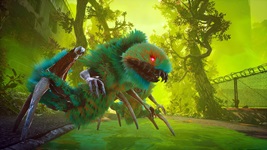 From this, the history of Biomutant is, of course, distinctly cliché. Not bad, but we've seen or heard a lot of things before. The plot could even start today, as a gigantic company called Toxanol was said to have completely exploited and destroyed the Earth in the past, triggering a kind of global catastrophe with chemical waste and drastic environmental pollution that gradually grinded our planet. After almost all life is extinct, the Tree of Life has not yet given up the fight, it has created a new life, however, the population of the planet has not faded as before.
The reason for this is that the previous pollution has not yet disappeared without a trace, and this has had a fundamental effect on the new species, their appearance, their behavior, while new problems have also hit their heads. Somewhere at this point, we join the story, as we have to solve a series of problems to make the Earth a prosperous, livable, happy and cheerful place again, but to do that we will have to complete a series of tasks on the side of our intelligent but rather animal-looking protagonist.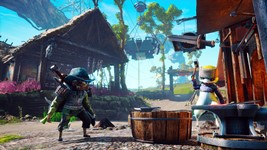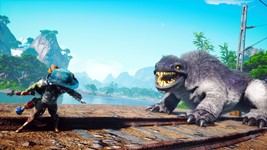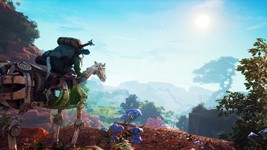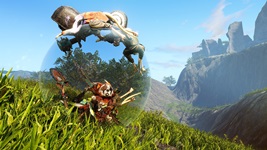 This was split between the creators into main and side missions, which with a hint of sarcasm they did so "well" that in fact great freedom became their greatest enemy. It is a fact that Biomutant reveals a huge world, this universe is even more interesting, but it has about the same effect as the refrigerator the week before payday: there are special things inside, familiar ingredients, but none of them can be something delicious and tasty. to cook food that would lick all ten fingers.
This feeling of lack remained in us throughout the testing, and was very often associated with some annoyance, as it is especially difficult to review, for example, the mission system, what we should do in the game, but most importantly where. Meanwhile, the handling of quests is also a problem, so that various side tasks can easily collide, errors and shortcomings occur that can be forgiven from a semi-finished game, but such a work, which is otherwise only disguised as triple-A, does not result in a sincere smile.
Yet there are basically not too many problems with the gameplay. The creation is an action-adventure with powerful role-playing elements, a bit like the recent The Legend of Zelda. Accordingly, extremely thorough systems network through the work. From the outset, there will be morality about how good or bad we will be in rolling up the story based on our choices – which can greatly affect our chances – as there are so many tribes, so many conflicts and misunderstandings waiting for us here. Although the creators have tried to complicate things a bit, all in all, all the way here will lead to Rome, that is, we will have to decide, fight and skill for the Tree of Life, as we will be able to play our part abundantly in all of them. All this with a fairy-tale and humorous garnish, which provides a pleasantly easy basis for the end result!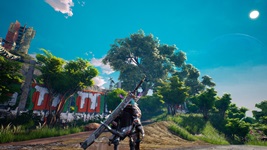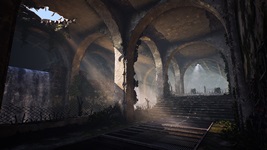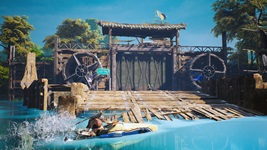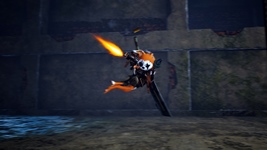 Probably the main game element of Biomutant is the combat system. Wherever we walk in a world that is otherwise sufficiently diverse, yet built from ordinary clichés — mountains, deserts, winter locations, factories, ancient ruins, wetlands — most of the time, we will have to hang our mustaches with someone. The fights were approached noticeably from the hack and slash line by the creators, but we will also have tremendous freedom here. In terms of our weapons and abilities, we can be ranged fighters, silent snipers, but our hero will noticeably feel best if he can split the slaps close to his body. We can stack combos in combos at this time, and while nothing is bad, everything works, even the camera system is completely tolerable, but the whole effect encourages yawning, with the kind of "we've seen this a few times before" added.
And all this was expanded by the creators with a number of other elements, which can be collectively called role-playing solutions. From the very beginning, we can influence the appearance and qualities of our animal protagonist in the direction in which we develop, as this will be essential in the future. In addition, a specially complex craft system was included in the creation. As part of this, we can create virtually anything from a variety of raw materials, making it worthwhile to keep an eye open and collect. So it's not nearly bad what we see and what we get from the game under the name, however, none of the many elements that might be better than elsewhere or we haven't seen anywhere before could be highlighted. The creators tried to be noticeably sure, but in several places they felt like that was why they stumbled on their own feet.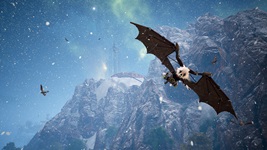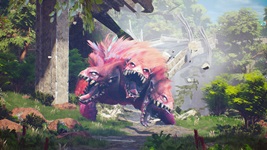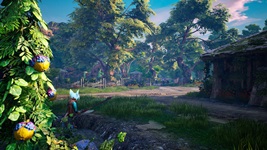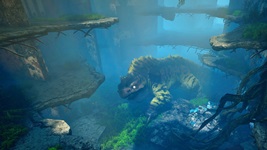 Graphics:
As mentioned above, Biomutant promises a powerful cartoon effect, painting an extremely colorful, pleasing overall picture in front of us. Although there are sometimes problems with elaborating the details, just as the occupancy of the sites is not always the luckiest, but overall it makes a good impression, it is good to look at the end result, while there is no particular problem with optimization.
User interface, controllability: Unfortunately, the interface requires getting used to the game. The makers have made particularly unpleasant design mistakes in this area, which is not so annoying from the keyboard, but it can cause a lot of inconvenience in the case of a controller, and like most exterior games, using a joystick can often come in handy. So at this point, somewhere between the two chairs, the makers managed to fall under the bench, as the control wouldn't be bad basically, but our eyes can sometimes widen from the interface.
Playability: A specially extended game called Biomutant, you can have many, many hours of adventure in it while exploring the special fantasy world, however, another question is how receptive players will be to this due to the many self-repeating features. To be sure, we can run into a lot of discomfort in the first few hours, which for most people will be enough to make no sense to suffer with it anymore.
Intelligence, difficulty: You could say average in this area of ​​the game. Artificial intelligence is not bad, but its outstanding qualities could not really be appreciated, it hardly sweated us depending on the degree of difficulty. The end result is a bit monotonous in this field as well, the fight takes place almost immediately before our spiritual eyes, so the end result will hardly come as a surprise after a while.
Sounds, music: The music sinks into average performance, with distinctly nonsensical melodies waiting for us, but the sound effects are okay, but why they saved up with dubbing in a game of this caliber is incomprehensible. There's an ongoing narrator, which was a good idea, but outside of that, maybe just one or two of the main characters talking, the others just humming or giggling in their own language alongside the subtitles. It makes a pretty cheap effect making the game.
Summary: After what has been said, we can say that Biomutant was more disappointing. We would not say that the end result was bad, but it is very far from good. We expected a lot more unique ideas from him, as the special background, the original world alone, doesn't take it all on its back. Too bad for it, because there are plenty of great options in it anyway, but the implementation was pretty toothless. Maybe a second part could beautify!
---
Source: SG.hu Hírmagazin by sg.hu.

*The article has been translated based on the content of SG.hu Hírmagazin by sg.hu. If there is any problem regarding the content, copyright, please leave a report below the article. We will try to process as quickly as possible to protect the rights of the author. Thank you very much!

*We just want readers to access information more quickly and easily with other multilingual content, instead of information only available in a certain language.

*We always respect the copyright of the content of the author and always include the original link of the source article.If the author disagrees, just leave the report below the article, the article will be edited or deleted at the request of the author. Thanks very much! Best regards!
---