Publisher:
Funktronic Labs
Developer:
Funktronic Labs
Website
System requirements:
Minimum: Intel Core i5-4460 3.2 GHz or AMD FX-6300 processor, Nvidia GeForce GTX 950 or ATI Radeon R9 270X graphics card, 8 GB RAM, 8 GB free space
Recommended: Intel Core i5-6600 3.3 GHz or AMD FX-8350 processor, Nvidia GeForce GTX 970 or ATI Radeon RX 480 graphics card, 16 GB RAM, 8 GB free space
Similar Games: Tony Hawk's Pro Skater
Category: racing game
What would it be like to combine contemporary Tony Hawk games with the cute animal world of the Animal Crossing series? The developers of Funktronic Labs under the name Wave Break wanted to answer this question, but unfortunately the end result was far from rosy.
It is especially difficult these days to implement an idea in the gaming industry that has not been baked many thousands of times before. It is especially characteristic today that developers used to mix well-proven styles in order to create something new. As has been reassured recently: this can often be a good tactic, but many times an idea worth millions of dollars is given in vain if implementation falls far short of the right stimulus threshold. Something similar happened with the Wave Break developed by Funktronic Labs, which we adored in vain because of the theme, unfortunately our preliminary expectations were not justified at all by practice, so the end result was a huge disappointment. Let's see why we came to this conclusion and why the game, which started with excellent odds, failed on the exam.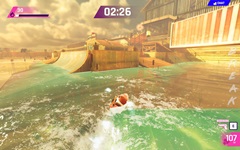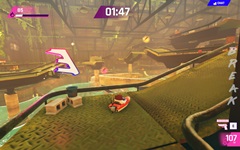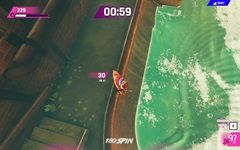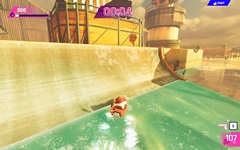 Like most racing games, of course, Wave Break doesn't have a real story either. However, the creators have figured out well how to capture fans as they chime the artwork like the world's first boat skateboarding game – English "skateboating" sounds a little better – played by contemporary skateboarding classics Tony Hawk et al. inspired. Here, however, there is no end to the attention-grabbing, as the creators threw it all up with a garnish that was strongly inspired by Miami Vice, haired for the eighties.
Anyone who, like us, can be considered a real old fox in the game world will surely come up with such a description, since at that time everyone loved skateboarding titles based on skill – we couldn't have imagined cooler or "more American" then – while the eighties were probably for everyone. it remains love, once struck in its life by the winds of a period referred to as the golden age of mankind.
So we can safely say that Wave Break painted a fabulous concept in front of us. Unfortunately, in practice, the game wasn't really that interesting anymore. On the one hand, the content is funny little. There are a few levels that have been surprisingly tight, and the goal in each case is to complete the challenges in single player mode and defeat all our opponents in multiplayer mode – at least in terms of scores, although we will have a gun if we are more violent. The experience has a powerful effect, as if we had a huge, exclusive skateboard, on which we have to perform stunts with small animals or boats. The experience is a total arcade, so it is completely secondary whether the boats have excellent driving characteristics even on solid ground, or whether a stunt completely dares to oppose the laws of physics.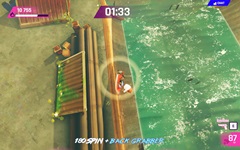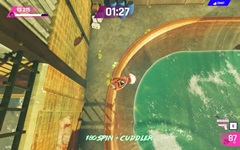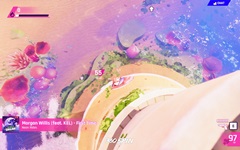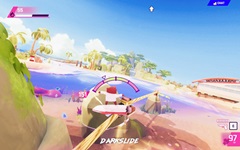 Unfortunately, however, there are bigger problems with the game as long as it's an arcade experience that wouldn't be a problem anyway. On the other hand, yes, Wave Break is uncontrollable in many cases. With a keyboard, we will have virtually no chance of always achieving a balanced, constant performance, we will not be able to take control of our boat with complete confidence after several hours of practice, so we can perform a task many times just by chance.
This is a huge problem because in single player mode, to put it mildly, it's not even enjoyable, and in multiplayer, there aren't many futures for creations that are problematic in terms of control. It should be emphasized, however, that a controller can improve the experience by miles, but since we tested the PC version, it was a basic expectation on our part that we wanted to control it with a keyboard and mouse. Another issue is that we didn't even dare to touch the mouse, we managed to optimize it all so badly.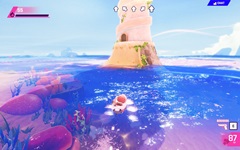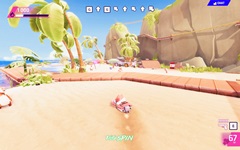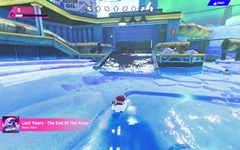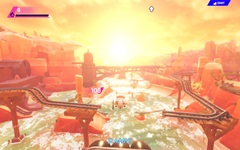 It is important to emphasize, however, that control is not the only problem with the game. The situation is not at the height of the situation either. Although there are about five tracks that enchant us in different environments, basically all of them have a distinctly dull effect, they are noticeably made as alternatives to each other. What's more, the single-player mode couldn't be filled with content. It could have been a developmental system, a series of interesting things that can be solved extra, but it is noticeable that the tasks presented here only serve as a kind of teaching way to stand up against others, either in cooperative or competitive mode.
Single-player fun is a really good alternative for this purpose, but much more would have been needed, since at the time, the big skateboard games that served as a model did not suffer from a lack of tasks or often replayable tracks. Unfortunately, there is no such thing here, the whole thing is nowhere near the early Tony Hawk experience, only the alternating, constantly displayed song titles cause some nostalgia. It is a great pity that the quality of the performers is also questionable!
What makes the situation worse is that the makers released Wave Break in a noticeably semi-finished state. We found tons of bugs, bugs, and anomalies in the game during testing, while the built-in level editor definitely suggested that the creators here would want to entrust the dirty work to the community. Therefore, the few levels and game modes. Another issue is that, unfortunately, the level editor won't do a miracle with the end result either, as few members of the community can manage the tools and the servers seemed outright dead so far, it didn't look like where an active community is beginning to take shape, quite the contrary. The semi-finished character shines from all its elements, it can be said that it has typically become a game for which they have dreamed up an award-winning concept, and the haste of the creators – unfortunately – can easily make their mark on the future of the end result.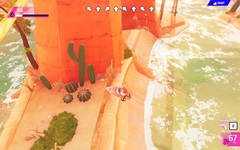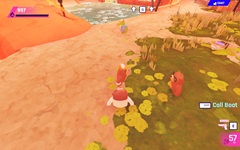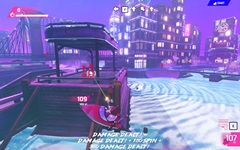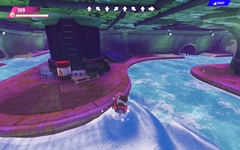 Graphics:
The creators voted for the cartoon graphics when making Wave Break, which is pretty good for the end result, but there are issues with it. In the case of the PC version, we encountered a lot of graphic bugs, interlocking or completely disappearing textures, as well as bugs that can cause inconveniences. Foam on the cake is that all of this looks require an amazingly powerful machine for some reason, and even so, the whole thing tends to stumble, so optimization wasn't a strength for the makers either.
User interface, controllability: If we want to briefly describe the game in this area, we have to say that its controllability is downright awful. While the interface is fine, with the keyboard and mouse, the whole thing is unusual without exaggeration, but with a controller, the overall picture can be better.
Playability: In terms of content, the game isn't the best either, the single-player mode, for example, is downright weak, it could even run as a tutorial, and while there are few people in multiplayer, track editing isn't able to capture attention for too long in this state.
Intelligence, difficulty: Artificial intelligence does not disturb a lot of water in the game, if we try to enjoy boating with others, typically the common experience will be the key anyway, and the difficulty will not typically be the challenge, but rather the mistakes. This includes graphic bugs or total uncontrollability.
Sounds, music: While we wouldn't call the game bad in terms of sounds and music, we didn't like the synthwave style for this fast-paced gameplay. Although the best of the genre are said to be heard here, we missed the snappy punk-rock songs that made a Tony Hawk game even more memorable at the time.
Summary: All in all, our hearts are bleeding a lot for Wave Break, mostly because we had high hopes, but unfortunately it ended in a huge disappointment. Although it all seems to work well on the console and it looks good, on PC it made a bad impression on us in terms of both appearance and control. Yet some light-hearted Tony Hawk nostalgia would have gone very well in this great summer heat.
---
Source: SG.hu Hírmagazin – Játék by sg.hu.

*The article has been translated based on the content of SG.hu Hírmagazin – Játék by sg.hu. If there is any problem regarding the content, copyright, please leave a report below the article. We will try to process as quickly as possible to protect the rights of the author. Thank you very much!

*We just want readers to access information more quickly and easily with other multilingual content, instead of information only available in a certain language.

*We always respect the copyright of the content of the author and always include the original link of the source article.If the author disagrees, just leave the report below the article, the article will be edited or deleted at the request of the author. Thanks very much! Best regards!
---