Publisher:
1C Company
Developer:
Slipgate Ironworks
Website
System requirements:
Minimum: Intel i5 2.5 GHz processor, Intel HD 4400 graphics card, 4 GB RAM, 8 GB free space
Recommended: Intel i5 3.5 GHz processor, Nvidia GTX 470 or ATI Radeon 6870 graphics card, 8 GB RAM, 8 GB free space
Similar Games: Witches, Quake
Category: FPS
Another evocative video game unfolding its wings is titled Graven, which took us back to the 1990s not only in terms of experience but also in terms of looks, and we sincerely thank him for that, despite his mistakes.
Time passes relentlessly. So fast that even though we face it every day, we still don't notice it. We, too, can hardly believe that it has been more than 20 years since we spent our free time with video games such as Half Life, Doom, Quake or Hexen, which are now practically considered fossils and classics.
Obviously, we could have listed dozens of other works, but it wasn't by chance that they were singled out, as Graven's testing of Graven by the Danish Slipgate Ironworks, which has existed for more than 10 years, swirled in us with exactly the same feelings as these legendary works once did. Not coincidentally, as the goal of the developers was not secretly to take us back to that era in every way, so not only in terms of experience, but also in terms of graphics solutions. How did you succeed? Although there is only one early access available from the game and he has childhood illnesses, he was able to impress us, especially in light of the fact that we could even welcome the long-awaited resurrection or forgotten continuation of Hexen.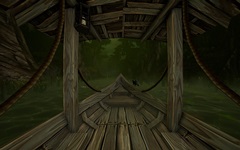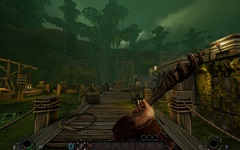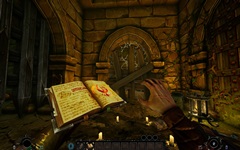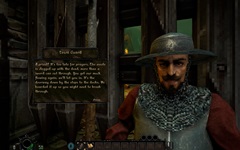 It's no coincidence that in the background, there are developers working on the work that just commands respect for that reason alone. For example, here's Chuck Jones, who is in charge of character designs and once oversaw Duke Nukem 3D as well as Half-Life, but also the name of Stephan Weyte, who contributed his voice to the work after works like Blood. , Fire Emblem, or Dusk. Graven, by the way, is basically an extremely dark-minded action-role-playing game based heavily on medieval fantasy clichés, in which FPS-viewed actions, ongoing research, or solving puzzles were given the lead rather than development or huge dialogues.
The end result is really like Hexen, we could compare to that the most, but the effects of many other works are there as well, lurking in the background. Often, for example, it was as if we saw Morrowind, elsewhere the Thief jumped in, but in all cases it was common for all such recognitions to come up with a recollection of the past, from which many receive screams – as we write 2021 – but we welcomed and embraced to our breasts what we see is exactly like when a beloved but long-unseen child returns home to the family circle.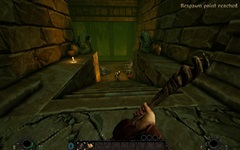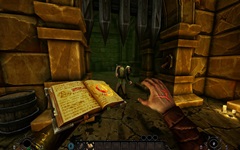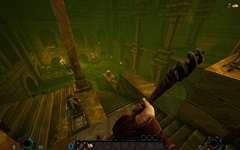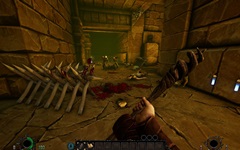 In terms of the story, Graven would still need some support, that's a fact. It is basically too simple and too confusing for the whole, starring a priest exiled to the depths of a swamp – rather a wizard – who is brought back to land by a mysterious alien because humanity needs ancient knowledge, the help of a magician with great power. These will be us! Immediately after landing, it turns out that there are big problems in this dark and strange fantasy world, mysterious horrors and other things that make the lives of the inhabitants bitter, so the task is to try to roll up the background of the events and find some solution. Although we had many, many hours of adventure in the world of Graven, unfortunately we did not get much closer to the essence of the plot, but fortunately the gameplay sniffed us despite the fact that it became clear to us from the very first moments: only those who have passed on the third X, and even towards the fourth.
In terms of gameplay, Graven is in many cases a spit-out copy of Hexen. There will be a huge, practically free-to-travel world with a central location, a larger city from which we can march here and there. Unfortunately, the depiction of the world, in addition to being cozy, boringly boring at the same time, is completely extinct, while the tasks are also exhausted in simple courier work or assassination, at the same time the makers made a noticeable effort to at least try to smuggle variety into its still empty universe. Basically, however, Graven is an action game, so wherever we go, we are spoiled by zombie-like creatures, oversized monsters, while the number of our weapons and spells are constantly expanding.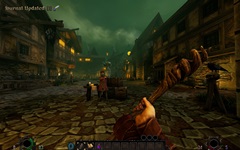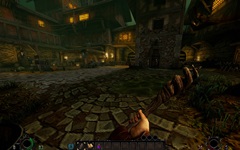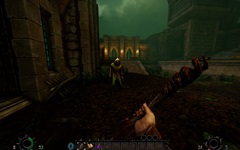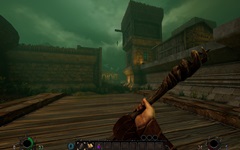 As long as we have only a simple stick at our disposal, practically everything will be very dangerous, it may be more worthwhile to run away from opponents than to face any of them, but at the same time the time will come when the dice turn. We get bows, swords, and a variety of firearms that can make us much more effective against attackers, but it can also be great fun when we try our luck opening the magic book. Our spells are constantly expanding, but in the beginning we hardly use them, they require a lot of energy, and they are not so much against the monsters as they will help to solve the tasks.
As an example, we can fire exploding barrels with fire magic, while we can start various machines with lightning, but of course we can also use them against opponents, just not with very high results. There is no major development system yet, but there will be plenty of collection. What I really missed was that even though we needed it, we still had virtually no help in the game.
We often have no idea where we should start or where we should look for the next task, the map practically doesn't help much in orientation. At these points, it was still very lucky that we only had luck with an early version, which isn't bad at all in this form either, but if you want to sample the big ones of the nineties, you'll also need to tweak the gameplay a bit. increase quality.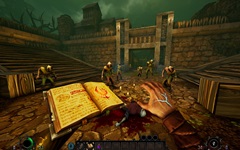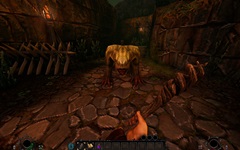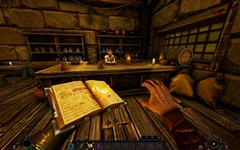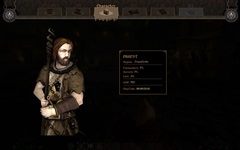 Graphics:
As highlighted above, Graven drives us to recall the legendary nineties not only in terms of experience but also in terms of appearance. It worked practically well, I in many places completely believed that I was part of a time travel. What's more inconvenient is that this ultrapixel, ax-carved garnish couldn't be associated with proper optimization. The game is surprisingly frequent and places particularly high demands on us compared to this.
User interface, controllability: Since this is an FPS in the case of Graven, it could not have been simpler to manage. It is characterized by lightness and clarity in all respects, while there is no problem with camera operation and accuracy, and even the user interface is transparent.
Playability: We managed to kill at least 8 hours into the early version so that we didn't even seem to be near the end of the story, or so to the end of anything in general. We wouldn't dare guess how much of a warranty the game can boast, but we're sure we won't have a reason to complain in this area once the final version is ready.
Intelligence, difficulty: In the field of artificial intelligence, we are waiting for the somewhat funny solutions we are used to in the nineties, so the game is downright silly, outright aggressive in this respect, and it will certainly be felt on the difficulty. Graven is as difficult as we make things difficult in it, we would basically call it more balanced.
Sounds, music: In terms of sounds and music, the game is still pretty semi-finished. There are almost no dubbings – the monologues are great, of course – and while the music is surprisingly promising, sometimes the overall picture seemed a little empty, so there's still room for the work to evolve.
Summary: All in all, we easily fell in love with all the cartilage of the game, but we admit: not necessarily because in 2021, it would meet expectations in this form. Much more because we understood what the makers wanted with this, that they probably grew up and started their playing careers at the age when Hexen was a huge number. For us, our heart is the period, so we are watching with grim eyes what the fate of Graven will be, as the early version could be a real time machine for many of us!
---
Source: SG.hu Hírmagazin – Játék by sg.hu.

*The article has been translated based on the content of SG.hu Hírmagazin – Játék by sg.hu. If there is any problem regarding the content, copyright, please leave a report below the article. We will try to process as quickly as possible to protect the rights of the author. Thank you very much!

*We just want readers to access information more quickly and easily with other multilingual content, instead of information only available in a certain language.

*We always respect the copyright of the content of the author and always include the original link of the source article.If the author disagrees, just leave the report below the article, the article will be edited or deleted at the request of the author. Thanks very much! Best regards!
---