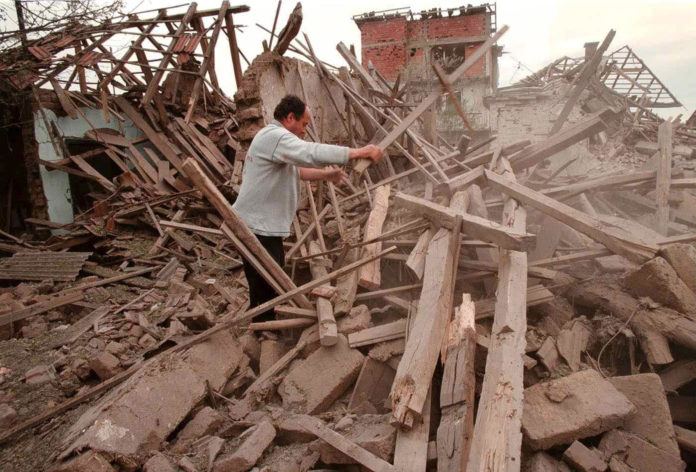 The hearing on five lawsuits against NATO should continue before the High Court in Belgrade this fall. Former members of the Yugoslav Army and the Serbian Ministry of the Interior filed lawsuits and compensation claims, stating that they had cancer due to the use of depleted uranium ammunition during the aggression against the FRY in 1999.
While NATO claims that the 2005 agreement with the FRY exempts it from this type of dispute, their lawyers say that at least another 3,340 cancer patients are determined to sue them, convinced that they will win the dispute, as was the case in Italy. where more than 300 sick Italian soldiers sued the Ministry of Defense – and won those lawsuits!
In an exclusive interview for "Vesti", Vincenzo Rico, president of the National Association of Uranium Victims of Italy, explains that the citizens of Serbia should not give up the fight for the truth and that the best solution is to seek justice in court because, as he points out, a crime that does not become obsolete ".
Rico served in the Italian Air Force for 24 years and participated in several peacekeeping missions around the world, after which doctors determined in 2010 that he had a rare form of cancer and that it was a direct consequence of exposure to depleted uranium.
Italy is the first country in the world to reveal the fatal consequences of the use of depleted uranium ammunition. However, the patients only managed to exercise their rights through court proceedings?
– The National Association of Victims of Depleted Uranium consists of soldiers and civilians suffering from cancer and relatives of the deceased, and the cause of these diseases is exposure to depleted uranium. Our association aims to help and protect victims. Unfortunately, in our country, despite clear evidence and the long struggle for uranium victims to be recognized by the state, Italian politics has never had the will and courage to resolve this issue. It took us 15 long years to succeed in our fight for the truth. A total of four investigative committees investigated the effects of depleted uranium, and only the fourth commission in its final report confirmed that "shocking security and health problems were discovered during the missions of Italian soldiers abroad that contributed to sowing death and disease."
Horrible testimonies
However, it is only in the court proceedings that have been initiated that this has actually been proven.
– That's right. Despite numerous scientific studies, the findings of parliamentary commissions, nothing has happened in practice. When we lost all hope that the problem could be solved politically, we sought justice in court through our lawyer Angela Fiore Tartaglia. He also suggested to us that the best way for victims is to exercise their rights in court, and he has already received more than 300 convictions against the Italian Ministry of Defense.
There is a lot of controversy. What are the indisputable facts when it comes to the cause-and-effect links between cancer and ammunition with depleted uranium?
– It is indisputable that depleted uranium ammunition was used in the Balkans, Iraq, Afghanistan, Somalia, Libya. The same NATO military leaders, especially the United States, have acknowledged this. It is also indisputable that the Italian military leadership did not inform the personnel engaged in peacekeeping missions in these regions about the danger of depleted uranium, nor did they provide them with any personal protective equipment. Also, there are indisputably more than 300 convictions against the Italian Ministry of Defense, in which Tartal's lawyer proved this cause-and-effect relationship at all court instances. In the end, the results of the analysis performed by Dr. Rita Celli, a specialist in forensic medicine, a former consultant to the Commission of Inquiry into Depleted Uranium, are completely indisputable. She proved that the existence of uranium 238 in the bone marrow of Italian soldiers returning from missions from the mentioned countries. These are soldiers with an "above-average incidence of oncological diseases", just as it is now the case with soldiers and civilians from Serbia who were in those parts of the country where depleted uranium ammunition was used.
How much is NATO directly to blame for the diseases?
– As for the Balkans, and especially Serbia, NATO was the military alliance that directly entered the conflict, using, among other things, tons of depleted uranium ammunition. However, Iraq is a country that is an infamous world record holder for the amount of contamination. Several scientific studies show that between 1991 and 2003 alone, about 2,000 tons of bombs containing depleted uranium were dropped on the country. In the province of Babil, south of Baghdad, 500 cases of various forms of cancer were recorded in 2004, and only five years later, that number was an incredible 9,082 cases.
Your organization collects and publishes horrific testimonies of sick Italian soldiers. What do all these confessions have in common?
– The testimonies are dramatically similar. No one, from soldiers to command personnel who have participated in missions around the world, has ever been informed about the dangers and fatal consequences that depleted uranium ammunition causes. This was not done before the Italian soldiers went on missions, during that engagement, or after they returned to their homes. Hence, none of those soldiers was equipped, they had any valid protection. But all those Italian soldiers we spoke to stated that at the same time, not only American soldiers but also their officers used conspicuous protective suits and masks during missions using depleted uranium munitions, and that they limited their efforts as much as possible. stay in certain zones of action, ie contaminated areas. There is another dramatic similarity between all the testimonies of Italian soldiers. That is the speed with which their disease developed. In my case, the cancer was diagnosed after two missions in Iraq.
They are covering up the truth
War veterans and civilians from Serbia set out on the path of Italian soldiers to find justice in court. What do you advise them?
– We are aware of the intention of military and civilian victims from Serbia to file a lawsuit against NATO, and that is a decision to respect, which is why we wholeheartedly support them. We are also convinced that they acted correctly in deciding to be represented in those court proceedings by Srdjan Aleksic and our lawyer Tartalja. Undoubtedly, these are very important legal battles that are ahead, which is why it is very important that the victims are represented by lawyers who have vast experience and expertise. The fact that Tartalja managed to win as many as 300 of these lawsuits shows that he is in the right place and that he knows how to fight for justice in the legal sense.
Do you expect success like in Italy?
– I am sure that military and civilian victims from Serbia will get the justice they deserve. But for us, this fight has not stopped. We must continue to fight for all family members of soldiers and civilians who have died as a result of exposure to depleted uranium and other pollutants, but also for all those who are seriously ill. Also, we do not stop fighting for the state to finally recognize the truth. We are aware that this is a sensitive issue because it touches on military issues, but that must not be a reason to give up and come to terms with covering up the truth. Omer (vow of silence) must be broken.
How certain is it that the Serbs will succeed in that, considering that NATO invoked immunity before the Serbian judiciary?
– The use of depleted uranium ammunition is a war crime. There is no immunity for war crimes.
8,000 soldiers fell ill
What is the situation with sick soldiers in other NATO countries that have also participated in peacekeeping missions?
– We have very little data coming from other NATO member countries. There is much less talk about this problem in those countries than in Italy, so the data are different and depend on the source. In Italy, after many years of painstaking research and collection of materials, we came to the conclusion that we can talk about at least 8,000 people suffering from various forms of cancer, as well as 400 Italian soldiers who died due to this disease.
The battle with cancer
When was your cancer diagnosed?
– It was in 2010. I have been on missions in Iraq on two occasions before. First in 2004, and then two years later. In 2010, doctors diagnosed me with galloping neuroendrocrine cancer with liver metastases. I was 39 when I ended up in the hospital where doctors were trying to save me. It was not easy to get out of bed, but I succeeded with the strength of will, the desire to live. It turned out that I was not the only one who fell ill during the mission of our army. But what hurt me the most was that after 23 years spent in the army, I was suddenly left to fend for myself. At that time, the consequences of radiation from depleted uranium ammunition were still whispered in offices and medical commissions. It was this silence that produced a stampede of dissatisfaction among the sick, but also for all those who care about justice. In a harder, brutal way, I realized that you are in a system as long as it needs you, and then you are left to yourself. During these 12 years of fighting for the truth, many of my colleagues have lost the most important battle. I was left without many old friends. If we exclude the pain and suffering of each of us and our families, in all these stories the common denominator is the stubborn determination of the state not to recognize us as victims and to deny us that recognition in any way, and thus pensions, compensations, but also to take self-responsibility. Their silence and rejection hurt more than our wounds.
Vicious circle
Vincenzo Rico points out that at the beginning, the biggest problem for the victims of depleted uranium for members of the Italian army was the initiation of an investigation into whether they fell ill in the service or outside it.
– We got involved in a vicious circle of competencies, so the person who was supposed to investigate something was also the person who was supposed to cover it up. In theory, the Ministry of Defense, through the Verification Commission, should deal with the protection of its members in peacekeeping missions and prescribe certain levels of protection, as well as later verify the veracity of claims of patients who received cancer during those missions. But, in practice, it was an impossible mission because the leaders of the army tried in every way to protect the Ministry of Defense and vice versa. Thus, we had an absurd situation that out of 7,500 reported cases of cancer, the Ministry of Defense rejected 7,300 of them – says Rico and adds that he is convinced that a catastrophic mistake was made not only by the military but also by the political leadership of the country. with the attitude that it is better to ignore or silence something than to face the problem.
– It turned out, unfortunately, that the issue of disease due to the consequences of depleted uranium is not a finished story, something that happened in the past. Even today, there is a large number of soldiers who are diagnosed with various forms of cancer. Many of them, fearing that they will lose their jobs, go to chemotherapy without reporting it to anyone. This is "silent sickness."
---
Source: Vesti online by www.vesti-online.com.

*The article has been translated based on the content of Vesti online by www.vesti-online.com. If there is any problem regarding the content, copyright, please leave a report below the article. We will try to process as quickly as possible to protect the rights of the author. Thank you very much!

*We just want readers to access information more quickly and easily with other multilingual content, instead of information only available in a certain language.

*We always respect the copyright of the content of the author and always include the original link of the source article.If the author disagrees, just leave the report below the article, the article will be edited or deleted at the request of the author. Thanks very much! Best regards!
---