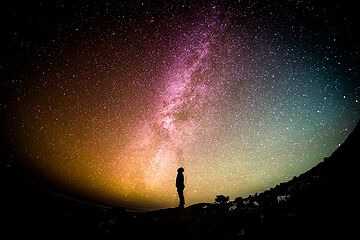 We don't know (yet) whether other animals also wonder how they ever came to be, but it is certain that people do. What is the origin of man? How did the very first life come about? Is there life beyond Earth? These are all questions that scientists – and many others – have been pondering for centuries.
Apparently they are rather complicated questions, while they seem simple. These apparently simple questions contain a lot of other questions that you will inevitably run into. Because what exactly is life? How can you tell if something is alive? Or that something has lived somewhere? How do you recognize life when it may not look like 'our' life at all? And when do we speak of a 'human being'? There is still a lot of uncertainty about all these points, which of course makes the investigation very complicated.
Then there are all kinds of technical problems. The universe is so much bigger than we can comprehend: how are we going to investigate whether there might be life there? Can you ever know for sure? In addition, there is the problem of proof. Scientists prefer to see a theory or assumption confirmed with an experiment. But can we simulate the origin of life experimentally? Because we cannot get back the conditions of billions of years ago. We do not know exactly what those circumstances were.
In short, asking questions about the origin of life is a lot easier than answering them. Yet that is not an obstacle to science, on the contrary. If there's one thing scientists love, it's a complex problem whose solution is not within reach. And at NEMO Kennislink we love those stories. About the search for answers to questions that affect us all.
In the theme 'Origin of Life' we dive deep into that quest and to keep it all a bit manageable, we cling to three main topics:
Life in the Universe
From lifeless to alive
The family tree of life
Life in the Universe
Mars rovers collect soil samples on the red planet.
Are we really all alone in that vast space in which we float? Has there really been life anywhere else? We really want to know that, but searching for extraterrestrial life is not easy. Where should we look and what exactly are we looking for? Carts on Mars can examine real monsters and we may also get direct information from other planets and moons 'nearby'. But from planets that are much further away, we have to make do with sound and light signals that (radio) telescopes pick up. How do you determine whether such a signal comes from life? Perhaps in order to find life beyond Earth, we need to look very closely at our own planet. Here we know for sure that life originated. What made the earth so suitable? What characteristics do you need to make life possible? To unravel that, we also need to know more or how the earth came to be. We cannot see life outside the earth and life on the earth separately from each other.
From lifeless to alive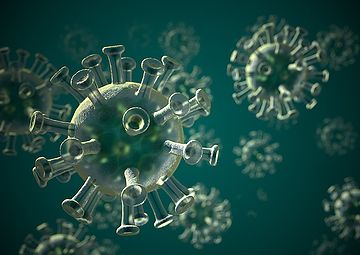 HFCM Communications, CC BY-SA 4.0 (via Wikimedia Commons)
We succeeded on earth: here is life. The big question, of course, is how that came about. How could 'something' happen on a completely lifeless planet that was the first step towards revolutionary change: the very first life. Something that behaved completely different from anything that had been around until then. Something that could sustain itself, that could generate its own energy, that could make more of itself and that, over time, could slowly transition into other life forms. Most likely it all started with a simple, tiny cell. But even such a simple cell did not just fall out of the sky (or the sea). What steps are required to arrive from separate molecules into a cooperating whole that we call 'life'? To find out, scientists are looking for traces of the oldest life on Earth. And they try to take those first steps again in the laboratory: bringing simple substances together and see if you can come up with something new – in other words, making life in the lab.
The family tree of life
So there was a suitable planet, where the very first life could arise. And then? That first cell set in motion something that has led to an incredible amount of life in all shapes, shapes and sizes: evolution. Life can be found everywhere on earth, in all kinds of places, from freezing cold to sweltering and from bone dry to soaking wet. How did that process go from single-cell to everything that is now or has already disappeared? What exactly is evolution? What allows life forms to transition into new species? Does evolution always follow the same pattern? Was it inevitable that after the single-celled organisms also multicellular organisms arose? And what about us? Could it have gone differently and would we not have been there? Is evolution done? Or are we also a step in the long series of life on earth? To learn more about this, we look back in time, but also ahead. With scientists trying to understand evolution with computer simulations and with real life forms in the lab. Fascinating and also confronting. What comes after man?
In the three storylines, we approach the questions and the research in different ways. We talk to scientists and watch their experiments, but we also put you to work ourselves. Through a quiz or game, or during interactive events in which scientists and the public engage in conversation. Thinking together about the origin of life. That's what we're planning here. Will you join us?
---
Source: Kennislink by www.nemokennislink.nl.

*The article has been translated based on the content of Kennislink by www.nemokennislink.nl. If there is any problem regarding the content, copyright, please leave a report below the article. We will try to process as quickly as possible to protect the rights of the author. Thank you very much!

*We just want readers to access information more quickly and easily with other multilingual content, instead of information only available in a certain language.

*We always respect the copyright of the content of the author and always include the original link of the source article.If the author disagrees, just leave the report below the article, the article will be edited or deleted at the request of the author. Thanks very much! Best regards!
---