The Saudi newspaper Asharq Al-Awsat provoked anger in Iraq after it published a cartoon they said offended the country's top Shiite authority, Ali Sistani.
Iraqi figures denounced the drawing, forcing the newspaper to clarify later, and to blame the Iraqi media for what it said was "non-compliance with professional rules."
The Badr parliamentary bloc denounced the drawing, which it said was offensive to Sistani, and the Iraqi government demanded a stance from the Saudi newspaper.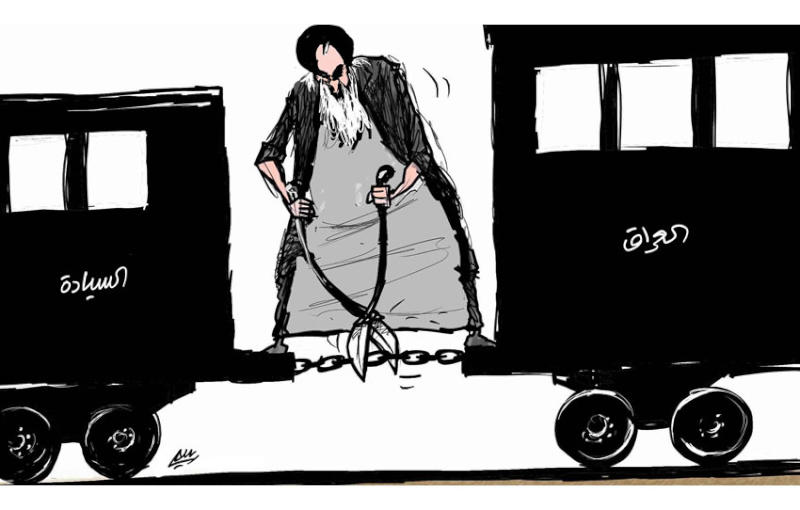 The drawing published by the newspaper

The Al-Fateh bloc in the Iraqi parliament issued a statement accusing the Saudi regime of crossing the red lines and the highest values ​​of the Iraqi people, and described the newspaper as "yellow."
The head of the coalition, Hadi al-Amiri, said that the newspaper's action "adds to their other ugly deeds and their blatant interference in Iraqi affairs, and it is the achievement of the deviant behaviors of the aggressive march of the evil kingdom that had started years ago."
Also read: Iraq announces agreements with Saudi Arabia … and an important decision on Iran
And the newspaper clarified: "Some media websites in Iraq have given the cartoon that appeared in the Friday issue of the Middle East, dimensions that do not include it and intentions that do not exist."
And she continued: "The Middle East, which adheres to the professional rules in its dealings with countries, people and references, confirms that the drawing was not intended at all to refer to a person, Ayatollah Ali Al-Sistani, who is respected and appreciated, and did not target abuse from a relative or from a distance to him or to a person Or an Iraqi organization, but rather intended to refer to Iranian interference in Iraqi affairs. "
The newspaper did not delete the cartoon published on its pages.