The usual life of a bestseller, after the first edition, is to switch to pocket format, to versions of reading clubs, then to translations, sometimes TV serialization and, rarely, comic book album. Also, it is common to do a comic book version more as a simple derivative that will bring a little more money over the famous name, than as an authentic book.
The comic "Sapiens – a brief history of humanity" (Albin Michel, 245 boards) has nothing to do with derivatives of the bestseller, but is an authentic adaptation of the famous Harari book. The album was released in 35 languages ​​with a circulation of half a million copies.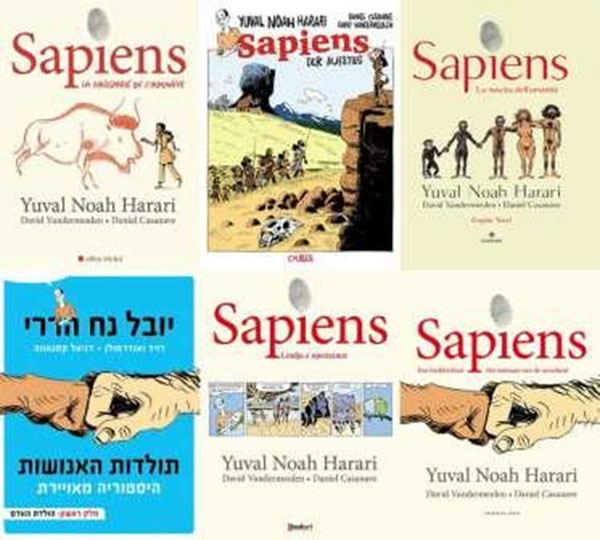 The comic album "Sapiens" has been released in 35 languages ​​in a circulation of 500 thousand copies
Cognitive revolution of homo sapiens
The book "Sapiens – A Short History of Mankind" was published in 2015 and very quickly became a world bestseller with a circulation of 10 million copies in 40 languages. The author, Juval Noah Harari, is a historian by profession, a specialist in medieval and military history, a professor at the University of Jerusalem and the author of several books of speculative science that have become world bestsellers.
His essay "Sapiens" tells us how, 70 thousand years ago, homo sapiens, a marginal hominid, set out on the path of evolution to become the largest predator and kidnapper on the planet. He was not distinguished by greater strength and greater brain than his competitors at the time, but he was characterized by greater aggression in relation to his surroundings. A series of coincidences, combined with elements necessary for survival, was the basis of evolution.
Harari, however, believes that the decisive element was the cognitive revolution of homo sapiens, that is, man's ability to narrate, from which common myths and religions emerged, which enabled the creation of larger human groups.
"To understand Christianity or the French Revolution, it is not enough to understand the interaction of genes, hormones and organisms. It is necessary to take into account the interaction of ideas, images and fantasies," says Harari.
In order to create an authentic comic book from Harari's essay, screenwriter David Vandermelen and cartoonist Daniel Kazanav decided to mix science with humor in the narration and to set the author Harari himself as a guide through the history of mankind, from primates to the agricultural revolution. In order not to fall into theoretical explanations, they took on a slightly casual and humorous tone, not in concept, but in approach.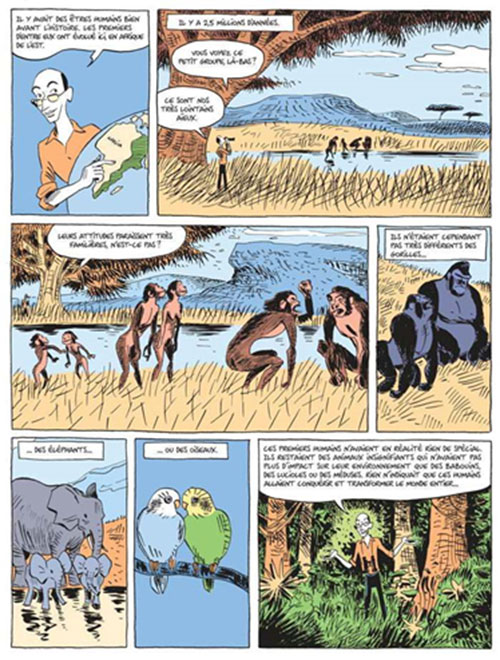 The reduced and stylized drawing of Kazanava, as well as simple editing, allow readers a wide use of imagination
Adventure-detective comic essay
The work was complex, but both authors have extensive experience behind them. Vandermelen lives in Brussels and has been working on adaptations of history and science for comic albums for 15 years. He wrote biographies and collaborated with scientists, so he already had a methodology. In addition to comics and illustrations, Kazanav regularly works on scenographies, drawings for television as well as drawings from the trial, and at the same time he is a long-term associate of Vandermelen.
Avoiding vulgarization, Vandermelen and Kazanav gave Harari's essay a new approach and a new narrative. Harari came out to meet the authors and in certain places, where the narration dictated it, he gave specific examples that do not even appear in his book. Belonging to the younger generation of scientists (1976), the comic book medium is close to Harari, and he even adapted his examples to the general cheerful tone of the album.
In order for the theoretical work to acquire a dynamic comic form, the authors turned it into a kind of dialogue between different protagonists. Avoiding any professorial tone, they opted for an adventure novel with a touch of detective investigation. Thus, through hundreds of thousands of years of history, Harari moves with the help of fictional scientists, because he, in writing his essays, relied on the knowledge and works of many colleagues. With their knowledge, these fictitious interlocutors of Harari illuminate the history of man and the consequences of evolution, which are visible even today in everyday life.
At the same time, in order to give the narration the necessary relief, Vandermelen and Kazanav introduced, as episodic writers, well-known characters from pop culture, understandable to a larger number of readers. Thus, for example, in order to evoke God, the authors sought artistic solutions not only in biblical narrative and Greek mythology, but also in the works of Michelangelo and Robert Kramb. This element was of special importance, because the authors knew that their album would be released in more than thirty countries.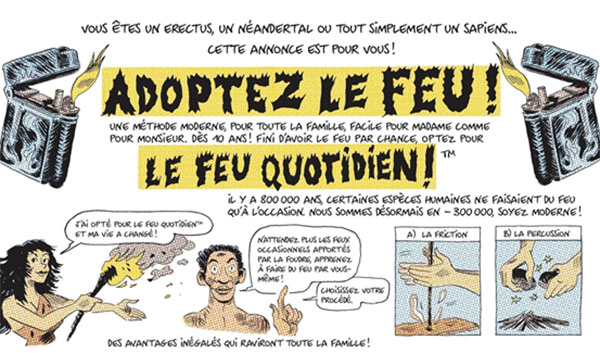 The humorous approach gives relief to the narration and enables a faster understanding of the presented hypotheses
Reduced graphics and rhythm of narration
Without a doubt, it can be said that the most important element of this album is its inventive narration. Despite a multitude of scientific references and research, the authors turned the essay into a story and added a series of perfectly inserted digressions of a parodied tone from the world of art, film and comics.
Daniel Kazanav's graphic art, reduced and stylized, is completely in the function of narration and thus provides the comic book reader with a wide use of imagination. Dynamic and well-rhythmic drawing enables fluent narration without dwelling on unnecessary graphic details. Despite the entertaining tone, this album has a high density of information, and certain hypotheses require thinking and reasoning.
Finally, it is important to note that, in scientific circles, Harari's liberal theories were not accepted as an innovation, but were seen as a large collection and compilation of various scientific papers. According to certain opinions, the parts that are originally his do not have much scientific significance.
Unlike academic circles, the general public has something to learn, reading Harari's essay and having a good time, thanks to Vandermelen and Kazanav. That's why everyone is looking forward to the second album in which we will discover how homo sapiens – the winner among all known and unknown human races, the exterminator of animals and known as the planetary bully – lost the battle against a modest plant and became a slave to wheat.
---
Source: Balkan Magazin – Aktuelnosti by www.balkanmagazin.net.

*The article has been translated based on the content of Balkan Magazin – Aktuelnosti by www.balkanmagazin.net. If there is any problem regarding the content, copyright, please leave a report below the article. We will try to process as quickly as possible to protect the rights of the author. Thank you very much!

*We just want readers to access information more quickly and easily with other multilingual content, instead of information only available in a certain language.

*We always respect the copyright of the content of the author and always include the original link of the source article.If the author disagrees, just leave the report below the article, the article will be edited or deleted at the request of the author. Thanks very much! Best regards!
---