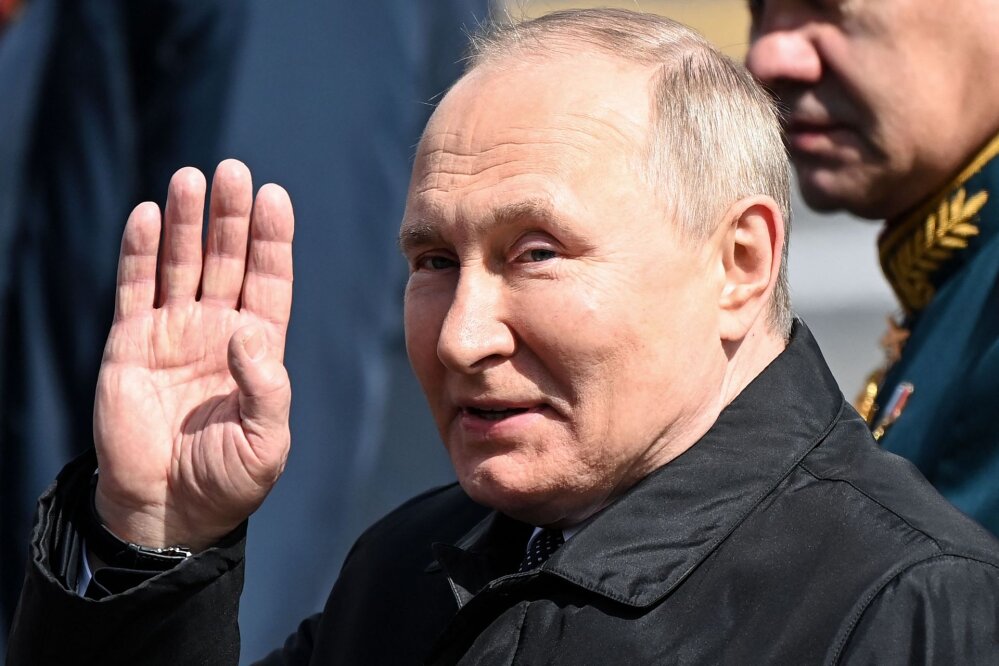 Russian President Vladimir Putin.A photo: Kirill Kudryavtsev, Scanpix
Whether to think that the sanctions imposed against Russia, as an aggressor country, in some cases hit those who do not deserve it, or whether such unfortunate manifestations of the implementation of a general noble principle should be neglected, the question is by no means idle and goes beyond the unanimous approved solidarity policy, writes Far East political observer Elkond Libman.
Analyst and columnist Raivo Vare, in his "Economic Blog of the Ukrainian War", which he publishes in Delovye Vedomosti, describes in detail and clearly, without any emotion, the sanctions already in force and in preparation, designed to somehow force Russia to peace. Sanctions should weaken Russia economically enough that, combined with the increasing volume of military assistance being provided to Ukraine, the possibility of a Moscow victory on the battlefield is eliminated. And we really see that the Kremlin's chances of declaring a military victory, including a list of tasks set – "denazification", demilitarization, salvation from the genocide of the "Donbass people", protection of the sacred borders of the Fatherland and all other nonsense – have actually become illusory.
However, it is more or less obvious that as long as Vladimir Putin and his inner circle are at the head of Russia, Moscow's aggressive policy will not be replaced by a peaceful one, and the recognition of an unpleasant truth will not replace a triumphant lie. Sanctions are getting stronger, and shells continue to fall on Ukrainian cities. So sanctions don't work? In general, of course, they work. But, firstly, the sanctions have a long drive, so to speak, in other words, their effect manifests itself only over time. And, secondly, Russia still has enough and, perhaps, will have enough of its internal resources for a long time to come. Both material and, moreover, propaganda, which is important.
The trouble with Western politicians is that they have a poor idea of ​​what the people of Russia are mentally. It is poorly understood that the population outside of Moscow, St. Petersburg and a couple of other large cities has long been living in conditions that should have been the result of economic sanctions. For him, little will change, and in the country of the all-conquering TV, it will repeat the sacred "if only there was no war", not really thinking about the fact that it is already underway.
The calculation of Western politicians for any noticeable split in the Russian elites also turned out to be naive, and, most likely, they themselves have already understood this. In any case, even if its representatives think something about themselves, they will not carry these thoughts beyond their mansions. Well, with rare exceptions. Therefore, the calls of the Russian oppositionists to impose sanctions against the oligarchs, people from Putin's inner circle, were not very productive from the very beginning. Like, they have real estate in the West, bank accounts, children study, and so on, and, they say, they won't forgive their national leader for this. But, dummies!
More recently, I have shared my recognition that those who believe that it is not so much a divisive embargo on Russian energy imports that should be imposed as much as the implementation of an already existing embargo on exports to Russia of those products that it can and wants to purchase with the proceeds for gas and oil money. Now I am ready to agree with the opinion of those who believe that in fact there are no oligarchs in Russia. Yes, under Boris Yeltsin oligarchic capitalism and oligarchic rule took shape. The names of the then helmsmen are well known: of course, Boris Berezovsky, undoubtedly Vladimir Gusinsky, albeit in a more secretive form. They were the main ones, because they owned two of the country's leading TV channels. Mikhail Khodorkovsky, and Roman Abramovich, and many others were also selected there.
With the advent of Putin, everything has changed. "Equidistant", as he was then called, President Berezovsky was squeezed out of the border, Gusinsky was expelled through a short term in prison and the TV channel was taken away, Khodorkovsky, having previously been robbed, put him behind bars for a long time, and Abramovich – for some time in the chair of the head of Chukotka, forcing him to their money to "raise the edge".
Today, all those who have survived and those who have appeared in Putin's inner circle are, in essence, officials who are allowed to have or pretend to have big money, but to which the words of Pope Francis, who called on Patriarch Kirill not to to be Putin's altar boy. They do not have any influence on state policy, they cannot and do not want to.
Of course, they began to complain about injustice and a bitter fate, but these moans were like petitions to the tsar-father, who, if you recall, protected the neighbor boyars ahead of time from sanctions misfortunes. On the other hand, the honest people of Russia, for the most part, are only happy about these lordly sorrows, which only makes it easier for Putin to "hold them by the Faberge eggs." So no protest manifestations from this side can be expected today.
The middle class, which rebelled in 2011-2012, was quiet and frightened by the scope of the repressions. But he just, as they say, fell under the distribution. It is clear that they cut down the forest – the chips fly. It's a shame and not very fair when the forest continues to stand, and the chips scatter in all directions. Western financial sanctions, which will be supplemented, as Raivo Vare writes in his blog, by a ban on providing financial, legal and other consulting services to Russian entrepreneurs, crushingly fall on the heads of not "Putin's altars", but those who ran their business, which was by no means a multi-million dollar one. in Russia, and now, having fled from the aggressive totalitarian Putin regime to a blessed, democratic, as it seemed, world, he is trying to save at least something – and to no avail.
The country in which such a person finds himself, instead of finding an active, active, able to easily support himself and his family, a new member of society, receives a confused, ruined, offended and dissatisfied recipient of social benefits.
Is this correct even from the point of view of a unanimous desire to support Ukraine and punish the aggressor?
Want to always be in course, what write DV на this topic? Use My DV, choose key words i receive personal alerts!
---
Source: https://www.dv.ee/ by www.dv.ee.

*The article has been translated based on the content of https://www.dv.ee/ by www.dv.ee. If there is any problem regarding the content, copyright, please leave a report below the article. We will try to process as quickly as possible to protect the rights of the author. Thank you very much!

*We just want readers to access information more quickly and easily with other multilingual content, instead of information only available in a certain language.

*We always respect the copyright of the content of the author and always include the original link of the source article.If the author disagrees, just leave the report below the article, the article will be edited or deleted at the request of the author. Thanks very much! Best regards!
---